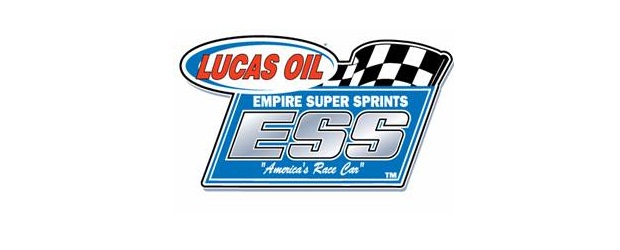 By Dean Reynolds
While tracks such as Cayuga County, Brewerton, Fulton and Canandaigua carry the weekly cards for DIRTcar here in the Northeast. The Rolling Wheels Raceway Park spice up the summer months with specials held on various nights.
Under the direction of Cory Reed once again, the big, half-mile is back with an aggressive schedule of specials. This hasn't been the case the past few years but with more on the docket this year, the fans have been coming back to one of their favorite tracks.
The "Fast Track" has hosted major events throughout the years for their mainstay big block modifieds but it will also showcase many different versions of dirt track racing machines including winged sprint cars. Two days in July (23 and 24) the Lucas Oil Empire Super Sprints will join some of the best 360 sprint car drivers in the northeast and Canada for the first ever Fast Track 360 Summer Shootout. The United Racing Club and the ASCS Patriots will also be part of the fun.
Super DIRTcar Series events for big blocks, small block and sportsman will be held this year with the season culminating with the World of Outlaws sprints on Saturday night of Super Dirt Week. A total of 11 events make the 2010 season one of the most talked about in a long time.
Rolling Wheels has always been a favorite, wide, multi-grooved surface, spacious pits, grandstands, concession areas and drive-in section just makes the facility fan friendly.
ESS stars of local interest include Dan Kaszubinski, Doug Emery, Tommy Wickham, Jason Barney, Shayne Ely, Zach Weigand and others. On the Summer Shootout fans can expect car counts close to the 50 range.
For more information on the Lucas Oil Empire Super Sprints please visit www.empiresupersprints.com
ESS Facts – Rolling Wheels:
ESS Events Run: 19
Different Winners: 15
Most Wins: Kramer Williamson (3)
Last Event Run: 10/11/08
Most Recent Winner: Curt Michael
Rolling Wheels Facts:
Location: Rt. 5, Elbridge, NY
ESS Date(s): July 23rd & 24th Summer Shootout
Track Manager: Cory Reed
Track Phone: (315) 689-7809
Website: www.rollingwheelsraceway.com
Sites of Interest:
DIRTcar Classic car and Hall of Fame Museum 5 min. away in Weedsport.
City of Syracuse 15 min. away.
Beautiful Wine Tour and Country Area just south of Elbridge
The Lucas Oil Empire Super Sprints are brought to you by: Lucas Oil, Northwood 2 Construction/LaSalle Motorsports, SUNY Canton, 730 Truck Stop, Hoosier Racing Tires, Les Constructions Ultra, Cooks Contracting Services, Fondations 4 Saisons, Car Mate Trailers, The National Parts Peddler Newspaper, WestFront Construction, Cobra Coaches, The Ohsweken Speedway, Mohawk Racing Parts, Engine Research, Brodix Cylinder Heads, Total Race Supply, Riverside Bar and Grill, Coffrage Daniel Lampron, Mohawk Valley Community College, FX Chevy and many, many associate sponsors.