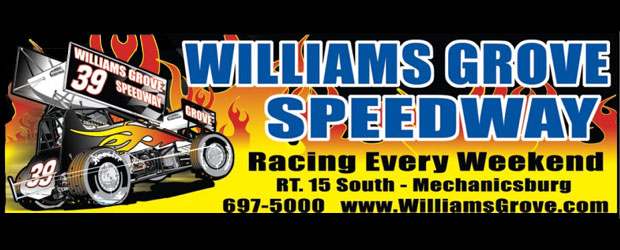 From Williams Grove Speedway
Mechanicsburg, PA — Brent Marks waited until the last night of the season to score his first career victory in sprint car competition at Williams Grove Speedway.
Marks was scheduled to start third in Saturday night's 25-lap main event but pole sitter Justin Henderson crashed on the first lap allowing Marks to slide to the inside of the front row for the restart.
Marks set the early pace, but soon had serious competition from Lance Dewease, who started sixth.
Despite several restarts Marks never conceded the top spot to Dewease and in the closing stages began to stretch his lead, which reached a margin of 3.06 at the finish.
Marks earned $3600 for his performance and became the 18th different driver to win a sprint car feature at Williams Grove in 2010.
Dewease settled for second with Aaron Ott third. Greg Hodnett, who started 12th, finished fourth and Mark Smith completed the top five. Fred Rahmer, Chad Layton, Rick Lafferty, Adam Wilt and Steve Buckwalter finished in positions six through ten respectively.
Frankie Herr opened the night's "features only" program with an impressive victory in the 20-lap super sportsman run. He started tenth and was up to third on a tenth lap restart. When the race resumed Herr drove around Russ Mitten in turn one, the shot under Scott Dellinger on the backstretch to take the lead.
The track champion rolled to his sixth win of the season at Williams Grove and his third in succession pushing his career total to an unprecedented 16 sportsman victories.
Rich Eichelberger, Dellinger, Rick Barr and Paul Miller completed the top five.
Chad Trout outlasted the field to win the 20-lap 358-sprint feature.
Eric Tomecek led the first eight laps before flipping over the fourth turn guard rail. Kevin Nouse took over at that point, but dropped out before a lap could be completed. Ted Thomas led until lap 17 when Pat Cannon passed him. A lap later Cannon stopped on the front stretch giving the lead to Trout who scored his second victory of the season.
Kyle Moody, Thomas, Logan Schuchart and Nate Hammaker completed the top five.
Charlie Schaffer survived a lengthy side-by-side duel With Bobby Beard to win the 20-lap 358-late model feature. DJ Mease, Bernie Beard and Gene Knaub completed the top five.
Kyle Hieber won the ten-lap Speedstr feature.
Williams Grove Speedway Feature Finishes – October 23, 2010
Sprint Feature – 25 laps – 1. Brent Marks, 2. Lance Dewease, 3. Aaron Ott, 4. Greg Hodnett, 5. Mark Smith, 6. Fred Rahmer, 7. Chad Layton, 8. Rick Lafferty, 9. Adam Wilt, 10. Steve Buckwalter, 11. Don Kreitz, Jr., 12. Bryn Gohn, 13. Johnny Mackison, 14. Troy Fraker, 15. Danny Dietrich, 16. Derek Sell, 17. Alan Krimes, 18. Tim Glatfelter, 19. Bill Stine, 20. Keith Kauffman, 21. Brian Montieth, 22. Justin Henderson.
358 Sprint Feature- 20 laps – 1. Chad Trout, 2. Kyle Moody, 3. Ted Thomas, 4. Logan Schuchart, 5. Nate Hammaker, 6. Matt Boland, 7. Billy Johns, 8. Jay Reichert, 9. Dale Hammaker, 10. Rich Eichelberger, 11. Michael Ruttkamp, 12. Tim Hershey, 13. Pat Cannon, 14. T. J. Stutts, 15. Kevin Nouse, 16. Jay Galloway, 17. Eric Tomecek, 18. Danny Massey, 19. Cory Haas, 20. Brian Garland, 21. 22. Glenndon Forsythe.
Sportsman Feature – 20 laps – 1. Frankie Herr, 2. Rich Eichelberger, 3. Scott Dellinger, 4. Rick Barr, 5. Paul Miller, 6. Mike Enders, 7. Jay Fannasy, 8. Carmen Perigo, Jr., 9. John Garman, 10. Greg Robinson III, 11. Leroy Martin, 12. Chad Criswell, 13. Lanny Hake, 14. Dave Berkheimer, 15. Stan Wanner, 16. Jared Miller, 17. Russ Mitten, 18. John Stehman, 19. Gary Johnston, 20. Bobby Hockenberry, 21. Chris Meleason, 22. Steve Wilbur, 23. David Socks, 24. Greg Foster, 25. Eric Walker.
358 Late Model Feature – 20 laps- 1. Charlie Schaffer, 2. Bobby Beard, 3. D. J. Mease, 4. Bernie Beard, 5. Gene Knaub, 6. Cody Fairchok, 7. Travis Mease, 8. Mark Billet, 9. Scott Richwine, 10. Pat Beard. 11. Alex Updegraff, 12. Steve Weikel, 13. Bob Stough, 14. Roger Myers, 15. Mike Goodwin, 16. Dave Lightner.
Speedstrs – 10 laps – 1. Kyle Hieber, 2. Rich Tobias, Jr., 3. Mark Smith, 4. Gary Huber, 5. Gary Hieber, 6. Brittany Wixon, 7. Scott Monroe, 8. Tyler Potts, 9. Brandon