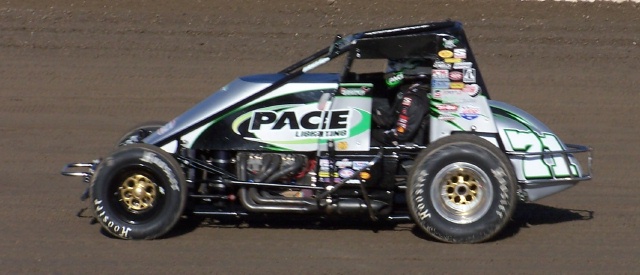 From Scott Daloisio
(NOVEMBER 23, 2010, PERRIS, CA) The final Southern California Sprint Car race of the 2010 season will take place this Saturday when the Amsoil USAC/CRA Series contests the 3rd Annual Glenn Howard Memorial at Perris Auto Speedway. To add a little spice to the final race, Damion Gardner is enterng the prestigious event. Spectator gates will open at 5:00 PM and the first race will be at 7:00.
Saturday will also be a part of The PAS Annual Food Drive. Fans who bring $5.00 in canned food will receive a free ticket to a March 2011 race. The collected food will go to the Family Service Association of Redlands who will donate it to needy families for the holidays.
One of the stars of the recently released Sprint Car documentary, "Follow the Corn," Gardner finished second in the Budweiser Oval Nationals three weeks ago at The PAS. The Concord, California native just completed his best ever season in the Amsoil USAC National Sprint Car Series by finishing second in the point standings with five main event wins (two at The PAS).
In 2005, Gardner drove the Ron Chaffin owned bright red #50 car to the championship in the USAC/CRA Series. Heading into Saturday's race, 29-year old Mike Spencer of Temecula already has sewed up his third straight USAC/CRA crown in that same red #50 car. The title also gives Chaffin and his crew, led by noted mechanic Bruce Brommer Jr., four of the last six USAC/CRA titles.
Santa Maria's Danny Sheridan has second locked up heading into Saturday's finale. Yorba Linda's Matt Mitchell leads 2006 USAC/CRA champion Cory Kruseman of Ventura by 25 points in the fight for third. Blake Miller, who also resides in Yorba Linda, has a lock on the fifth place spot despite being out since early October with a broken jaw and cheekbone.
The battle from sixth through tenth is still wide open and those spots are separated by only 53 points. Up and coming Austin Williams of Yorba Linda is sixth, but he is only 20-points ahead of Visalia's Greg Bragg. Tony Jones of Orange, the 2007 series champion, is only 11-markers behind Bragg. Riverside's David Cardey is 8 points behind Jones and would be breathing down his neck, but last week Cardey was involved in a grinding crash at the Western World Championships in Tucson and is out for the weekend. Cody Williams, Austin's older brother, is tenth and only trails Cardey by 14-points.
You can keep up with all of the latest news from Perris Auto Speedway on Twitter at: http://twitter.com/perrisautospdwy.
For more information call The PAS at: (951) 940-0134.
Perris Auto Speedway is located on the Lake Perris Fairgrounds (home of October's Southern California Fair), approximately one hour east of Los Angeles and one hour North of San Diego. To get to the track, take the 215 freeway, exit on the Ramona Expressway and go three miles east to the fairgrounds.
Video and DVD productions of all racing events at Perris Auto Speedway are available from Jeff Kristensen's Raceway Video. For more information on these productions you can call: (818) 618-9764 or visit the web site at: racewayvideo.com.
racesatthepas@aol.com is the only authorized Internet address to issue official media news released from The Perris Auto Speedway or Oval Entertainment
2010 AMSOIL USAC/CRA POINT STANDINGS
1. Mike Spencer – Temecula, CA – 1402
2. Danny Sheridan – Santa Maria, CA – 10443. Matt Mitchell – Yorba Linda, CA – 9633. Cory Kruseman – Ventura, CA – 9385. Blake Miller – Yorba Linda, CA – 7706. Austin Williams – Yorba Linda, CA – 6417. Greg Bragg – Visalia, CA – 621
8. Tony Jones – Orange, CA – 610
9. David Cardey – Riverside, CA – 602
10. Cody Williams – Yorba Linda, CA – 588