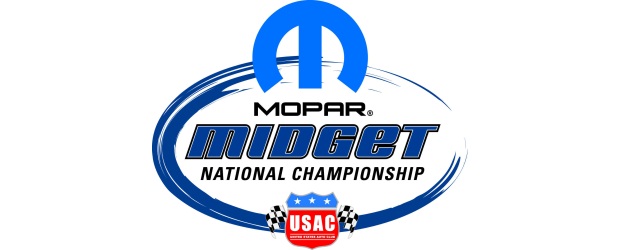 From Dick Jordan
Dodge City (Kansas) Raceway Park serves as the opening venue for USAC's 2011 Mopar National Midget campaign, which contains 27 preliminary dates spanning the country.
The April 29-30 races at Dodge City mark USAC's first National events at the 3/8-mile banked clay oval.
Once again, the series is scheduled to conclude with the 71st "Turkey Night Grand Prix" at Toyota Speedway at Irwindale, Calif. on Thanksgiving Night, November 24.
"Indiana Midget Week," as always, is a highlight of the schedule, with five races from June 8-12 at Hoosier dirt venues.
The Milwaukee Mile returns to the schedule June 17-18 as the USAC Silver Crown cars and Mopar .25 Midgets share the billing in an event held in concert with IndyCar.
The series' fastest track, Iowa Speedway in Newton, Iowa, also returns with a June 24 program also featuring the Silver Crown cars.
The popular "Hut Hundred" once again unfolds May 21 at Tri-State Speedway in Haubstadt, Ind., the "Night Before the 500" is scheduled May 28 at O'Reilly Raceway Park at Indianapolis, Angell Park Speedway in Sun Prairie, Wisc. hosts the "Hall of Fame" and Pepsi Nationals" classics in August and September and the "4-Crown Nationals" is set for Eldora Speedway in Rossburg, Ohio September 24.
Tri-City Speedway in Pontoon Beach, Ill. once again plays host to the "Gold Crown Nationals" in October.
New events include a July 23 date at North Wilkesboro (N.C.) Speedway in conjunction with the Silver Crown cars, a 100-lapper at the Indianapolis Speedrome July 29 and a date at the LaSalle (Ill.) Speedway September 2.
2011 MOPAR USAC NATIONAL MIDGET SCHEDULE
4/29 – Dodge City, KS, Dodge City Raceway Park
4/30 – Dodge City, KS, Dodge City Raceway Park
5/14 – Sun Prairie, WI, Angell Park Speedway
5/15 – Sun Prairie, WI, Angell Park Speedway
5/21 – Haubstadt, IN, Tri-State Speedway
5/28 – Indianapolis, IN, O'Reilly Raceway Park at Indianapolis
6/8 – @ Gas City, IN, Gas City I-69 Speedway
6/9 – @ Putnamville, IN, Lincoln Park Speedway
6/10 – @ Bloomington, IN, Bloomington Speedway
6/11 – @ Lawrenceburg, IN, Lawrenceburg Speedway
6/12 – @Kokomo, IN, Kokomo Speedway
6/17-18 – Milwaukee, WI, Milwaukee Mile
6/24 – Newton, IA, Iowa Speedway
7/1 – Toledo, OH, Toledo Speedway
7/2 – TBA, TBA
7/23 – North Wilkesboro, NC, North Wilkesboro Speedway
7/28 – Indianapolis, IN, O'Reilly Raceway Park at Indianapolis
7/29 – Indianapolis, IN, Indianapolis Speedrome
8/21 – Sun Prairie, WI, Angell Park Speedway
9/2 – LaSalle, IL, LaSalle Speedway
9/3 – Sun Prairie, WI, Angell Park Speedway
9/24 – Rossburg, OH, Eldora Speedway
10/6 – Pontoon Beach, IL, Tri-City Speedway
10/7 – Pontoon Beach, IL, Tri-City Speedway
10/8 – Pontoon Beach, IL, Tri-City Speedway
10/22 – Indianapolis, IN, O'Reilly Raceway Park at Indianapolis
11/24 – Irwindale, CA, Toyota Speedway at Irwindale
@=Indiana Midget Week