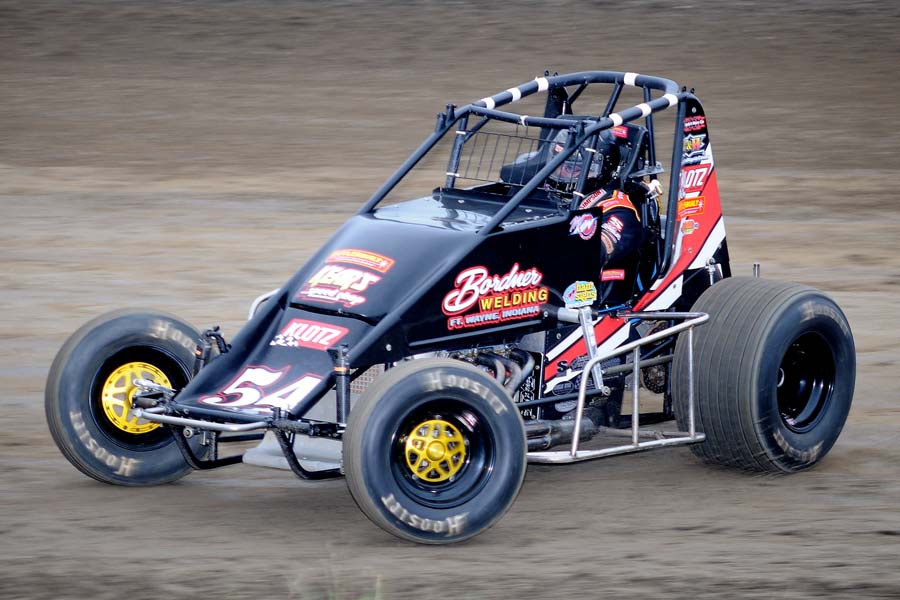 By Gerry Keysor

Waynesfield Raceway Park was the site of another great night of racing on Saturday as 123 race vehicles filled the pit area. Opening ceremonies were held with VFW Post 9381 Chaplain and retired United States Army Command Sergeant Major Allen Conley delivering the invocation, with two members of Bill Gross' family, Adam and Jason Brunson singing the National Anthem in an emotional start to what would be a great night of racing. The only damper on the night was a brief rain delay during UMP Modified heat race action that left the track tacky and fast all night long.
Leg 2 of the Ohio vs. Michigan Challenge, featuring the Lane Automotive MTS Sprints taking on WRP's S&H Nerfs Non Wing Sprints, kicked off feature action. It was "The Flyin' Buckeye" Matt Westfall in family owned #54 picking up his 6th win of the year in dominating fashion over #19 Joe Bares. #37k Dustin Smith, #5J Joss Moffatt, and #2H Dallas Hewitt completed the top 5. Westfall was able to take the lead from his outside front row starting spot in a non-stop 20 lap feature that showcased the best Non Wing Sprint Car Drivers that Ohio and Michigan have to offer.
Next up were the Dave's Reliable Motors Tough Trucks in the inaugural Bill Gross Memorial A Main feature. "The Enforcer" Mike Hicks picked the win in the #33 over a charging #1x of Jerry Butler. Earlier in the evening, the Tough Trucks took part in time trials for the first time ever, with Butler setting the quick time and new track record of 16.516 seconds. Before the A Main started the field fell into a "missing man" formation for a parade lap to honor the late Bill Gross who passed away during the off season. Bill's family and friends on hand released balloons as the field took the green flag. #25G Gabe Twining led the first half of the race before making contact with a lapped truck and losing the lead to Mike Hicks. Hicks tried to pull away, but in the closing laps, Butler would close to within a truck length, but that would be as close as he could get. Gabe Twining was 3rd with his brother #1w "Fat" Matt Twining 4th, and #37 "Racin Roy" Miller in 5th. The Gross family joined the Hicks' in victory lane, and an emotional Larry Gross thanked all of the drivers, teams, and fans for helping honor his late father.
Next up were the Block Thunder Stock Cars in their 15 lap A Main, and it was #7B Shawn Valenti picking up his 2nd WRP win of the season. #58p Jim Post jumped out to the early race lead, but #22T Tony Anderson took over on lap 4. Valenti found a groove he liked and took off on lap 5. The field got bunched back up as Post, #27 Frank Paladino, and #19 Bill Reimund piled up in turn 4, bringing out the caution on lap 9. Valenti would hold off Anderson for the win, with #16 Jeff Koz 3rd, #71 Keith Ralston 4th, and #48 Tim Cole completing the top 5.
In Post Agri Service UMP Modified action, it was #ZERO Brent hole picking up his 2nd win of the year at Waynesfield Raceway Park in a caution filled A Main. Hole made his way to the front despite 5 cautions throughout the race. #5x Jerry Bowersock would finish2nd with #22T Tony Anderson third as he pulled double duty. #112 Chris Ullery was 4th and #20B Brad Hess finished 5th. #36 Brandon Vaughan joined the field as first alternate when #20H Matt Westfall scratched from the event.
The Performance Powder Coating 1000cc Mini Sprints were next up. #7R Nick Daugherty ran away with the win after his brother Luke in the #14, and #7 Drew Pollock both tried to get an early jump on the field and both caused starts to be called back. Third time was the charm for Nick Daugherty, as he made a great move to the inside of the front row, and never looked back. The race was slowed by 1 caution period for debris on the track on lap 7, but Nick Daugherty took off on the restart and picked up the win over Pollock, Luke Daugherty, #23 Devon Dobie, and #55 Rob Winks.
The JR and Sons Service Center Compacts completed the nights racing action, with #11 Jordan Iiams picking up his 1st career win in a near photo finish over #31 Jeff Kimes. Iiams jumped out front early, leading the first 3 laps, before #17 Justin Durflinger charged to the front on lap 4 with #31 Jeff Kimes in tow. Iiams would be credited for leading laps 5 and 6 before Kimes led the next 8 laps on the inside of the track while Iiams kept fighting back on the high side. As the pair exited turn 4, Iiams was able to find that "little bit more" out of his #11 and beat Kimes to the line. Kimes was 2nd with Durflinger 3rd, #1s Mike Sawmiller was 4th, with #82 Harvey Yoder rounding out the top 5.
Waynesfield Raceway Park will be back in action next Saturday night August 27th with a regular sho featuring the S&H Nerfs Non Wing Sprints, Dave's Reliable Motors Tough Trucks, Post Agri Service UMP Modifieds, Block Thunder Stock Cars, Performance Powder Coating 1000cc Mini Sprints, and JR and Sons Service Center Compacts! Pit Gates open at 4PM, Grandstand Gates open at 5PM, Hot Laps at 6 PM and Racing at 7PM. General Admission prices for ages 16 and older just $12, ages 11 to 15 $6, and kids 10 and under are always FREE at Waynesfield Raceway Park!
Waynesfield Raceway Park – 8/20/2011
S&H Nerfs Non Wing Sprints (34 Cars)
[#]-Starting Position
Heat 1 – Heat 1 (8 Laps – Top 4 finishers transfer to the A-feature)
1. 41-Jason Holt[2] ; 2. 54-Matt Westfall[3] ; 3. 17R-Kyle Robbins[4] ; 4. 5J-Joss Moffatt[6] ; 5. 31-Chuck Wilson[7] ; 6. 14-Chad Wilson[9] ; 7. 7R-Nic Rogers[1] ; 8. 3-Mark Irwin[8] ; 9. 100-Jim Payne[5]
Heat 2 – Heat 2 (8 Laps – Top 4 finishers transfer to the A-feature)
1. 59J-Kirk Jeffries[2] ; 2. 19-Joe Bares[7] ; 3. 18-Todd Keen[8] ; 4. 34-Luke Hall[4] ; 5. 8C-Lewie Christian[1] ; 6. 32M-Derek Hastings[3] ; 7. 97-Devon Dobie[9] ; 8. 43G-Rob Guy[5] ; 9. 14F-Aaron Fry[6]
Heat 3 – Heat 3 (8 Laps – Top 4 finishers transfer to the A-feature)
1. 2H-Dallas Hewitt[2] ; 2. 21H-Tyler Hewitt[6] ; 3. 1H-Kevin Hawk[4] ; 4. 31M-Tom Rhoades[7] ; 5. 4U-Frankie Luchini[1] ; 6. 42-Rick Horne[5] ; 7. 18B-Jamie Davis[3] ; 8. 48-Tommy Kerce[8]
Heat 4 – Heat 4 (8 Laps – Top 4 finishers transfer to the A-feature)
1. 23S-Kyle Simon[3] ; 2. 37K-Dustin Smith[7] ; 3. 9N-Jon Nelson[4] ; 4. 82-Mike Miller[1] ; 5. OO-Joey Irwin[6] ; 6. 82X-Nick Landon[5] ; 7. 12B-Mike Baker[8] ; 8. O-Steve Irwin[2]
B-Main #1 – (10 Laps – Top 2 finishers transfer to the A-feature)
1. 31-Chuck Wilson[1] ; 2. 14-Chad Wilson[3] ; 3. 32M-Derek Hastings[4] ; 4. 97-Devon Dobie[6] ; 5. 8C-Lewie Christian[2] ; 6. 7R-Nic Rogers[5] ; 7. 3-Mark Irwin[7] ; 8. 43G-Rob Guy[8] ; 9. 14F-Aaron Fry[10] ; 10. 100-Jim Payne[9]
B-Main #2 – (10 Laps – Top 2 finishers transfer to the A-feature)
1. O-Steve Irwin[8] ; 2. 48-Tommy Kerce[5] ; 3. 4U-Frankie Luchini[1] ; 4. 12B-Mike Baker[6] ; 5. OO-Joey Irwin[2] ; 6. 42-Rick Horne[3] ; 7. 18B-Jamie Davis[7] ; 8. 82X-Nick Landon[4]
A-Main – (20 Laps)
1. 54-Matt Westfall[2]; 2. 19-Joe Bares[1]; 3. 37K-Dustin Smith[8]; 4. 5J-Joss Moffatt[13]; 5. 2H-Dallas Hewitt[4]; 6. 41-Jason Holt[6]; 7. 21H-Tyler Hewitt[7]; 8. 23S-Kyle Simon[3]; 9. 18-Todd Keen[10]; 10. 59J-Kirk Jeffries[5]; 11. 31M-Tom Rhoades[15]; 12. 17R-Kyle Robbins[9]; 13. O-Steve Irwin[18]; 14 9N-Jon Nelson[12]; 15. 34-Luke Hall[14]; 16. 14-Chad Wilson[19]; 17. 82-Mike Miller[16]; 18. 1H-Kevin Hawk[11]; 19. 31-Chuck Wilson[17]; 20. 48-Tommy Kerce[20]
Hard Charger: 5J-Joss Moffatt[+9]