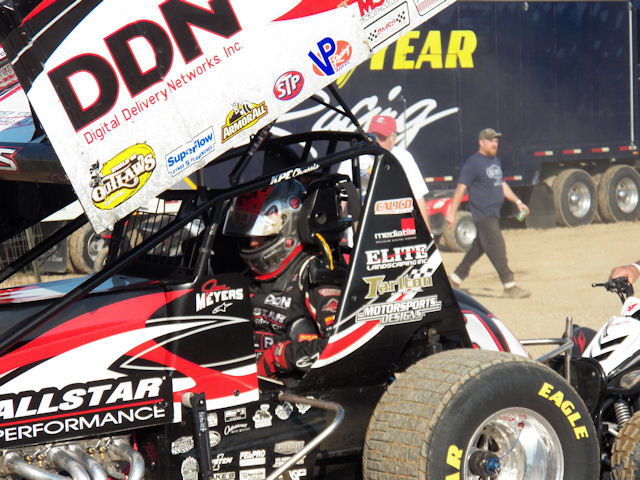 From the World of Outlaws
SARVER, Pa. — Sept. 24, 2011 — The World of Outlaws Sprint Car Series season is entering its stretch run, and Jason Meyers knows the pressure is on if he's going to repeat as champion. On Saturday night in the Commonwealth Clash at Lernerville Speedway, Meyers and his Elite Racing team rose to the occasion and captured their fifth victory of the year and extended their lead in the standings at the same time.
"Wins have been so hard to come by this year," said Meyers, of Clovis, Calif. "We had a great car all night and then when we got to lap traffic, you never knew where they were going to go. Some went high, some went low. You had to be very patient tonight when it came to getting through all of it. Our car seemed to work really well around the top. I need to thank Brian (Bloomfield) for pointing that out to me during the last yellow flag. Just was another great run for our entire DDNi/Media-Tile/GLR Investments/All-Star Performance team and we'll use this to go into Williams Grove (Speedway) this weekend."
(Click here for a post race interview with Jason Meyers.)
Youngster Sam Hafertepe Jr. set Quick Time and started the 35-lap feature on the pole with Sammy Swindell on his outside. Hafertepe Jr. led early until mechanical woes forced the racer from Sunnyvale, Texas, to pull his #15H machine into the pit area and finished 22nd. Meyers inherited the lead and had to fend off four-time series champion Donny Schatz for the remainder of the race.
"We had a really good car tonight," said Schatz, driver of the Tony Stewart Racing #15 STP/Armor All/Chevrolet. "My guys really put their MAC tools to work tonight. The top side was working for us pretty good there for awhile. We were able to catch people in lap traffic so those late race restarts hurt us a bit."
Sammy Swindell dueled with Jason Sides on the last restart of the race, but he eventually pulled away to earn the final podium spot.
"Our Big Game Treestands car was pretty good tonight," said Swindell. "We ran pretty well earlier on."
Sides would settle for the fourth position as Kraig Kinser made his way up to the 5th spot for his fifth top-5 of the season. Jac Haudenschild charged from 22nd starting position to finish 6th to earn the KSE Hard Charger Award. Joey Saldana, who was looking for his third straight win, suffered engine trouble early on and finished 23rd.
The World of Outlaws will go head-to-head with their heated rivals, the Pennsylvania Posse, next weekend at Williams Grove Speedway. The annual National Open weekend at the famed half-mile oval in Mechanicsburg, Pa., is Friday, Sept. 30, and Sat., October 1.
LERNERVILLE SPEEDWAY NOTEBOOK
WINNERS – There have been 58 World of Outlaws Sprint Car Series A-Feature events in 2011. The winners include: Craig Dollansky – 9 (Silver Dollar Speedway on March 12, Salina Highbanks Speedway on May 3, River Cities Speedway on June 17 and 18, Dodge City Raceway Park on July 1, Lebanon Valley Speedway on July 24, I-55 Raceway on August 6, Skagit Speedway on September 2, Clay County Fair Speedway on September 16); Steve Kinser – 9 (Volusia Speedway Park on Feb. 11 and 12, Pike County Raceway on Feb. 25, the Dirt Track at Las Vegas on March 4, Lakeside Speedway on June 4, River Cities Speedway on August 19, Huset's Speedway on August 20, Antioch Speedway on September 12, Deer Creek Speedway on September 17); Joey Saldana – 6 (Las Vegas Motor Speedway on March 3, Thunderbowl Raceway on March 19, Eldora Speedway on May 6, Beaver Dam Raceway on July 9, Hartford Motor Speedway on September 21, Eldora Speedway on September 23); Donny Schatz – 6 (Attica Raceway Park on May 20, Princeton Speedway on June 25, Limaland Motorsports Park on July 13, Bloomington Speedway on August 5, Knoxville Raceway on August 13, Black Hills Speedway on August 23); Jason Meyers – 5 (Cedar Lake Speedway on July 8, Williams Grove Speedway on July 23, Autodrome Drummond on July 30, Castrol Raceway on August 26, Lernerville Speedway on September 24); Paul McMahan – 4 (the Dirt Track at Charlotte on May 28, Belleville Highbanks on June 3, Brockville-Ontario Speedway on July 29, Silver Dollar Speedway on September 9); Sammy Swindell – 4 (Royal Purple Raceway on Feb. 26, Merced Speedway on April 1, Tri-State Speedway on April 30, Knoxville Raceway on June 11); Jason Sides – 4 (Volusia Speedway Park on Feb. 13, Calistoga Speedway on April 2, I-96 Speedway on May 30, Dodge City Raceway Park on July 2); Tim Shaffer – 2 (Eldora Speedway on July 15, Lernerville Speedway on July 19);Dale Blaney – 1 (Lernerville Speedway on July 19); Cody Darrah – 1 (Castrol Raceway on august 27);Sam Hafertepe Jr. – 1 (Skagit Speedway on September 3); Greg Hodnett – 1 (Williams Grove Speedway on July 22);Kraig Kinser – 1 (Cottage Grove Speedway on September 5); Kyle Larson – 1 (Silver Dollar Speedway on September 10);Daryn Pittman – 1 (Williams Grove Speedway on May 13); Tony Stewart – 1 (Oshweken Speedway on July 27); Tyler Walker – 1 (Eldora Speedway on July 16.)
TIME TRIALS– Sam Hafertepe Jr. was the fastest qualifier around the 4/10th's mile oval with a time of 12.778 seconds and earned five championship points. Also earning points were Jason Meyers, Dale Blaney, Sammy Swindell and Donny Schatz. It marked Hafertepe Jr.'s first Quick Time of the season.
DRIVER CHANGE– Due to a shoulder injury that was sustained earlier this year when the Outlaws visited Beaver Dam (Wis.) Raceway, Bill Rose chose to step out of his #6R machine after the Outlaws event at Eldora Speedway on Friday, September 23. Ian Madsen will fill in for Rose for the rest of the season. Rose will seek surgery to correct his shoulder and will receive 75 points per race based on his medical status.
SALDANA ON SPEED– Fresh off his nine week stay on the injured list, Joey Saldana been on fire, winning two races in a row. Saldana will get the chance to chat with Dave Despain on SPEED TV's "Wind Tunnel," on Sunday at 8 P.M. EDT during the "Last Call Segment."
WE'RE ONLINE – Make sure to check out the all-new WorldofOutlaws.com for the latest news and results, plus exclusive driver interviews, video and pictures. Also listen to every event live at DIRTVision.com .
World of Outlaws Sprint Car Series Statistical Report; Lernerville Speedway; Sarver, Pa.; Sept. 24, 2011
A-Main – (35 Laps)
1. 14-Jason Meyers[4][$10,000]; 2. 15-Donny Schatz[5][$5,500]; 3. 1-Sammy Swindell[2][$3,200]; 4. 7S-Jason Sides[6][$2,800]; 5. 6-Kraig Kinser[8][$2,500]; 6. 7-Craig Dollansky[11][$2,300]; 7. 11-Steve Kinser[13][$2,200]; 8. 5-Jac Haudenschild[22][$2,100]; 9. 83-Paul McMahan[14][$2,050]; 10. 49-Brad Sweet[17][$2,000]; 11. 5W-Lucas Wolfe[16][$1,500]; 12. D4-Danny Holtgraver[21][$1,200]; 13. 20E-Brian Ellenberger[24][$1,100]; 14. 2L-Ed Lynch Jr.[12][$1,050]; 15. 91-Cody Darrah[19][$1,000]; 16. 6R-Ian Madsen[18][$900]; 17. 3-Pete Miller[23][$800]; 18. 89G-David Gravel[20][$800]; 19. 92-Kerry Madsen[7][$800]; 20. O4-Cap Henry[9][$800]; 21. 83X-Tim Shaffer[15][$800]; 22. 15H-Sam Hafertepe Jr.[1][$800]; 23. 9-Joey Saldana[3][$800]; 24. 2-Dale Blaney[10][$800]
Lap Leaders: Sam Hafertepe Jr. 1-12, Jason Meyers 13-35
KSE Hard Charger Award: 5-Jac Haudenschild[+14]
Qualifying –
1. 15H-Sam Hafertepe Jr., 12.778; 2. 14-Jason Meyers, 12.787; 3. 2-Dale Blaney, 12.797; 4. 1-Sammy Swindell, 12.813; 5. 15-Donny Schatz, 12.818; 6. 7-Craig Dollansky, 12.884; 7. 2L-Ed Lynch Jr., 12.906; 8. 11-Steve Kinser, 12.927; 9. 9-Joey Saldana, 12.928; 10. 83-Paul McMahan, 12.961; 11. O4-Cap Henry, 12.969; 12. 7S-Jason Sides, 13.006; 13. 83X-Tim Shaffer, 13.047; 14. 6-Kraig Kinser, 13.061; 15. 92-Kerry Madsen, 13.061; 16. 5W-Lucas Wolfe, 13.067; 17. 49-Brad Sweet, 13.079; 18. 6R-Ian Madsen, 13.084; 19. 91-Cody Darrah, 13.107; 20. 89G-David Gravel, 13.141; 21. D4-Danny Holtgraver, 13.146; 22. 5-Jac Haudenschild, 13.151; 23. 3-Pete Miller, 13.168; 24. 63-Chad Kemenah, 13.169; 25. 10-Carl Bowser, 13.224; 26. O8-Dan Kuriger, 13.249; 27. 20E-Brian Ellenberger, 13.365; 28. 9S-Kevin Schaeffer, 13.667; 29. 13M-Brandon Matus, 13.743; 30. 33-Brent Matus, 13.924; 31. 1R-Gale Ruth, 14.552; 32. 4K-William Kiley, 14.982
Heat 1 – (8 Laps – Top 5 finishers transfer to the A-feature)
1. 9-Joey Saldana[2] ; 2. 15H-Sam Hafertepe Jr.[4] ; 3. 83X-Tim Shaffer[1] ; 4. 15-Donny Schatz[3] ; 5. 49-Brad Sweet[5] ; 6. D4-Danny Holtgraver[6] ; 7. 10-Carl Bowser[7] ; 8. 13M-Brandon Matus[8]
Heat 2 – (8 Laps – Top 5 finishers transfer to the A-feature)
1. 6-Kraig Kinser[1] ; 2. 14-Jason Meyers[4] ; 3. 83-Paul McMahan[2] ; 4. 7-Craig Dollansky[3] ; 5. 5-Jac Haudenschild[6] ; 6. 6R-Ian Madsen[5] ; 7. O8-Dan Kuriger[7] ; 8. 33-Brent Matus[8]
Heat 3 – (8 Laps – Top 5 finishers transfer to the A-feature)
1. 92-Kerry Madsen[1] ; 2. O4-Cap Henry[2] ; 3. 2-Dale Blaney[4] ; 4. 2L-Ed Lynch Jr.[3] ; 5. 20E-Brian Ellenberger[7] ; 6. 91-Cody Darrah[5] ; 7. 3-Pete Miller[6] ; 8. 1R-Gale Ruth[8]
Heat 4 – (8 Laps – Top 5 finishers transfer to the A-feature)
1. 7S-Jason Sides[2] ; 2. 1-Sammy Swindell[4] ; 3. 5W-Lucas Wolfe[1] ; 4. 11-Steve Kinser[3] ; 5. 89G-David Gravel[5] ; 6. 63-Chad Kemenah[6] ; 7. 9S-Kevin Schaeffer[7] ; 8. 4K-William Kiley[8]
Dash – (6 Laps, finishing order determined first 10 starting positions of A-feature)
1. 15H-Sam Hafertepe Jr.[4] ; 2. 1-Sammy Swindell[1] ; 3. 9-Joey Saldana[6] ; 4. 14-Jason Meyers[3] ; 5. 15-Donny Schatz[5] ; 6. 7S-Jason Sides[8] ; 7. 92-Kerry Madsen[10] ; 8. 6-Kraig Kinser[9] ; 9. O4-Cap Henry[7] ; 10. 2-Dale Blaney[2]
B-Main – (12 Laps – Top 4 finishers transfer to the A-feature)
1. 6R-Ian Madsen[1] [-]; 2. D4-Danny Holtgraver[3] [-]; 3. 91-Cody Darrah[2] [-]; 4. 3-Pete Miller[4] [-]; 5. 10-Carl Bowser[6] [$200]; 6. 9S-Kevin Schaeffer[8] [$180]; 7. 13M-Brandon Matus[9] [$175]; 8. 1R-Gale Ruth[11] [$160]; 9. 33-Brent Matus[10] [$150]; 10. 4K-William Kiley[12] [$150]; 11. 63-Chad Kemenah[5] [$150]; 12. O8-Dan Kuriger[7] [$150]
World of Outlaws Sprint Car Series Points Standings as of September, 24:
| | | | | | | | |
| --- | --- | --- | --- | --- | --- | --- | --- |
| Pos. | Driver | Total | Diff | Wins | Top 5 | Top 10 | QT |
| 1 | Jason Meyers | 7887 | | 5 | 35 | 49 | 10 |
| 2 | Donny Schatz | 7740 | -147 | 6 | 29 | 48 | 2 |
| 3 | Steve Kinser | 7722 | -165 | 9 | 28 | 45 | 3 |
| 4 | Paul McMahan | 7579 | -308 | 4 | 20 | 43 | 10 |
| 5 | Craig Dollansky | 7503 | -384 | 9 | 25 | 41 | 2 |
| 6 | Jason Sides | 7447 | -440 | 4 | 20 | 37 | 3 |
| 7 | Lucas Wolfe | 7055 | -832 | 0 | 7 | 24 | 0 |
| 8 | Kraig Kinser | 6952 | -935 | 1 | 5 | 21 | 0 |
| 9 | Chad Kemenah | 6863 | -1024 | 0 | 5 | 18 | 4 |
| 10 | Cody Darrah | 6688 | -1199 | 1 | 6 | 18 | 0 |
| 11 | Sammy Swindell | 6513 | -1374 | 4 | 19 | 28 | 9 |
| 12 | Joey Saldana | 6337 | -1550 | 6 | 20 | 27 | 6 |
| 13 | Bill Rose | 6216 | -1671 | 0 | 1 | 4 | 0 |
| 14 | Kerry Madsen | 5013 | -2874 | 0 | 5 | 18 | 0 |
| 15 | Brad Sweet | 4997 | -2890 | 0 | 10 | 25 | 2 |
| 16 | Sam Hafertepe Jr. | 2729 | -5158 | 1 | 5 | 12 | 1 |
| 17 | Ben Gregg | 2723 | -5164 | 0 | 1 | 2 | 0 |
| 18 | Austen Wheatley | 2127 | -5760 | 0 | 0 | 0 | 0 |
| 19 | Jac Haudenschild | 1864 | -6023 | 0 | 2 | 6 | 0 |
| 20 | Tim Shaffer | 1785 | -6102 | 2 | 7 | 11 | 1 |