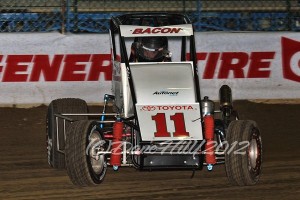 From Bill W
January 16, 2012 – Brady Bacon's 2012 racing season kicked off with a run at the Chili Bowl last week in his home state. The Broken Arrow, Oklahoma driver teamed up with the Wilke-Pak team and in his preliminary, finished one spot short of locking himself into Saturday night's feature event. A tangle with a fellow competitor derailed his chances on Saturday night. Brady now gears up for Ocala, Florida and USAC sprint car competition, where he will team with the potent Hoffman #69 team.
Running the Heat/Qualifier system at the Chili Bowl, Brady posted solid efforts in both on his preliminary night Tuesday in the Wilke-Pak Spike Toyota #11. He would start seventh in his heat. "The track was pretty heavy when we went out in the heat," he says. "It was hard to pass. The start is a 50/50 shot and we got bottled up on it. We just didn't have a clean first lap. We were able to get up to fourth and start outside the front row of the Qualifier. We were able to win that pretty easily starting up front."
A solid start in the feature showed promise for a top three finish that would lock Brady into Saturday's finale. "We really had a good car all Monday (practice day) and Tuesday," he says. "In the feature, there were a few times where I needed just a little luck and didn't get it. We had a good enough car to win or finish second at least. The circumstances were that we didn't catch a break."
The 2011 Knoxville Nationals Rookie of the Year ended up fourth at the checkers. "We'd lose a spot when the yellow came out," says Brady. "I'd be fixin' to pass someone and they would change their line…we just couldn't catch a break. Fourth out of 64 wasn't bad at all though, I just wish we could have moved up one more spot and locked ourselves in for Saturday."
Running on Tuesday put Brady on the pole of Saturday's B main. The top six would move on to the main event. "They were taking six and we were starting on the pole," he says. "We felt good about getting in without outside interference, but that didn't happen. We led the first few laps."
Contact from another competitor sent Brady to the back and he ended outside of a transfer spot. "Zach Daum was running second, and he had a fast car," he says. "The bottom was fast early on, but the top came in as the race went on. (Daum) may have thought there was a bonus for winning the B feature, but he just spun us out. That pretty much ended it for us. By that time, the bottom was slick and the top had holes. I had trouble getting any speed to move up."
With the Chili Bowl in the rear view mirror, it's time to look ahead to the sprint car season. "We'll run for the Hoffman's at Ocala (February 9-11)," says Brady. "They have a XXX (Chassis) for those races, and we're going to try to switch things up to make their team better, and get me some racing in February. When the ASCS kicks off the first weekend in March we'll be in Peoria, and then on to Yuma."
Follow Brady on his Website, Twitter and Facebook!
Follow Brady at his website located at www.BradyBaconRacing.com! Also keep up with him on Facebook and Twitter (which also can be accessed at the website) at the following links…
Twitter Link – http://twitter.com/BradyBacon
Facebook Link – www.facebook.com/pages/Brady-Bacon-Racing/278125555137
Partner of the Week – Fatheadz Eyewear
Made especially for larger heads, extra wide to fit even the biggest heads, Fatheadz Eyewear is a leader in the industry. Whether you need sunglasses or prescription eyewear, Fatheadz has a variety of frames to choose from. Buy oversize Fatheadz sunglasses online at www.Fatheadz.com and save!
Brady's Releases
If you would like to receive Brady's weekly releases, send an e-mail to sprntcar@hotmail.com with the subject "Brady".
Brady Bacon Racing would like the following sponsors for all their help: Fatheadz Eyewear, Oilfield Equipment and Manufacturing, Tel-Star Communications, PPM Titanium Products, Triple X Race Co., Keizer Aluminum Wheels, Smiley's Racing Products, Wesmar Racing Engines, Butlerbuilt Seats, Hoosier Tire Southwest, Diversified Machine Inc., Brown and Miller Racing Solutions, Lightning Wings, Simpson, Pro Pan, CP Pistons, Carrillo Rods, KSE Steering, All Star Performance, King Racing, Schroth Racing, FSR Radiators, Three-wide Clothing and Fuel Safe.