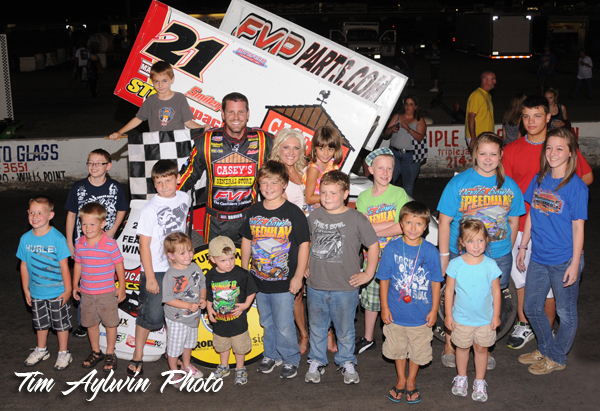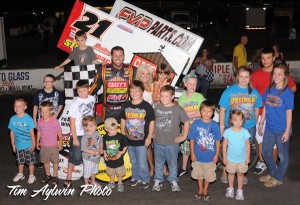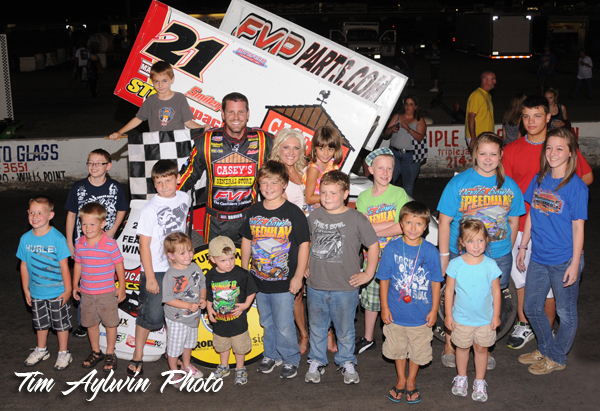 From Bill W
June 25, 2012 – A busy Speedweek for the Brian Brown Racing Casey's General Stores/FVP #21 team saw a big win at the Summer Nationals at the Devil's Bowl Speedway in Mesquite, Texas. Brian Brown started 14th in the event and took the lead in the final stages. He added a pair of second place finishes along the way to complete a solid week. This weekend, he'll tackle either the I-80 Speedway or Belleville High Banks on Friday before competing with the World of Outlaws at Lakeside Speedway in Kansas City, Kansas Saturday.
Devil's Bowl Speedway (June 15, 16)
It looked like a win may be possible in the prelim at Devil's Bowl on Friday, June 15. "The first night, we were good," says Brian. "We drew the outside front row of the feature, and Wayne (Johnson) snuck by us on the start. We were chasing him the first half of the race, and I felt like we had a car capable of winning it. We were both in heavy traffic, and we ended up breaking a quick change gear. It got the rear-end and tagged a valve. It was a hard night for the guys, because we had to not only change the rear-end, but the motor and do all the maintenance."
A second place heat run in Saturday's finale, set up a starting spot in row seven. "There wasn't a lot of passing in the heat," says Brian. "We were stuck back starting 14th in the feature, and just hoping for a top five. The bottom started working for us. The track slicked off, and we felt we could stick our car down there better than most."
The advance continued and Brian took advantage for his first career triumph at the famous ½-mile. "We were passing a car about every lap, and when we got to the top five, I figured that would be a good run for us," he says. "We had a yellow with about nine to go, and we were able to get by Matt Covington on the restart. Then we were able to get by Tony Bruce and chase (second place) Wayne down. We were able to get by him with two to go. It looked like we had a good shot at getting Danny (Lasoski), and he ended up blowing a motor."
The win was special for the team. "It was pretty cool to get a win at Devil's Bowl," says Brian. "We've had a lot of ups and downs there. Probably more downs than ups. We have a lot of great partners down there with Smiley's, TI64 and Hoosier Tire Southwest. It was great to go down there and get a win to start Speedweek."
Jones Motor Speedway, Chatham, LA
Last Monday, the venue was in Chatham, Louisiana. Brian would race from eighth to fifth in the feature. "It was an unusual place with some red dirt and sand," he says. "It was a high-banked quarter mile with a cushion. There just wasn't a lot of passing. The top five were pretty even. We took fifth and headed down the road."
Diamond Park Speedway, Murfreesboro, AR
A heavy track welcomed ASCS to Murfreesboro. Brian finished where he started, tenth. "It looked like a track that if it was dry-slick, there was a lot of room to race," he says. "As it was, it was the opposite. There was a lot of water put on it, and it was actually only about a car and a half wide all night long. It wasn't much fun for us."
Lawton Speedway, OK
Brian ran fourth in his heat after starting seventh at Lawton on Wednesday. It would make a difference in his starting position in the main. "Out of the races all week, I feel the heat race at Lawton was one that we didn't do our job," he says. "We should have run second or third. We got to third, but let (Brad) Loyet back by us. Third would have been good enough for the redraw, but fourth put us back starting 14th. I felt I didn't do my job."
Starting 14th, Brian was able to get to eighth before the track became one-lane. "I was able to get up to eighth before it laid rubber," he says. "We had a really good car, we just weren't able to show it with the track conditions the way they were."
Salina High Banks, OK
Starting tenth in his heat Friday at Salina, Brian would move up to fifth. "I wasn't sure why we had ten car heats," he says. "We didn't the rest of the week. We weren't quite able to finish well enough in the heat to make the redraw, and we had to start tenth in the A."
The big track suited Brian and he would checker second. "We got the car working really well," he says. "We were able to get up to third. Jason (Johnson) and I had a heck of a battle. We probably slid each other six or eight times. It was cool to race that close with him. We were able to get by him, but he snuck back by in the rubber. Come to find out that was for the win, because Johnny (Herrera) had problems on the last lap."
Lucas Oil Speedway, Wheatland, MO
The week ended up at the Lucas Oil Speedway on Saturday. Brian won his heat from third. "We drew a five for the feature, and we knew it was going to lay rubber," he says. "We just didn't know when. I don't feel we had our car where we needed the first several laps, and then we had a caution while running fourth on about the fifth lap. I made a bit of a driver error. I knew the rubber was coming, so I decided to make a lap around the top on one and two and I got over the crest of the corner. I came out of turn two running seventh."
Brian would salvage another second place finish. "I had my work cut out for me," he says. "We were able to get back to second. Hindsight is always 20/20. If we would have stayed in line, we may have won by outthinking them, but it didn't work out. We don't come to run fourth or fifth. Sometimes you are the hero and sometimes you are the zero, like we were on Saturday."
Looking back, it was a good week. "I think we had some good results all week," says Brian. "I'm proud of our team, every single one of them. I'd like to thank all our partners for what they do, and making it possible to race at a Speedweek like this. We'd like to send a 'Get Well Soon' to Chris Morgan, (crew chief) Chad Morgan's brother, who was injured in Grain Valley Friday."
Web site info
For up to date information on Brian Brown Racing visit www.BrianBrownRacing.com
Casey's: www.caseys.com
FVP: www.fvpparts.com
Brian's Q&A
Will Russell asks: Do seven races in nine days take a toll on you physically?
Brian answers: Not really at all. This time of the season, you are about in as good race condition as you're going to be as a driver. You just have to make sure you have fluids in you. The days off let you get charged back up.
Got a question for Brian? Send it to us at sprntcar@iowatelecom.net, and we may answer it in this section! Put "? for Brian" in your subject line.
Brown's Bits
Brian saw victory for 21 laps of last year's World of Outlaws feature at Lakeside Speedway before Steve Kinser got by and relegated him to a second place finish in the 30-lapper. Cody Darrah was third, ahead of Sammy Swindell and Jason Meyers.
About Casey's General Stores
Casey's General Stores is a Fortune-500 company (NASDAQ CASY) operating nearly 1700 convenience stores in 11 states through the Midwest. Known for its "Homemade-To-Go" pizza, sandwiches, donuts and bakery items, Casey's strives to consistently deliver quality gas, fresh kitchen-prepared food, clean environments and friendly service at every retail location. Casey's is currently the 12th largest c-store chain and sixth largest pizza chain in the United States.
About FVP
We are very excited to introduce our new line of automotive chemicals, oils and fluids to our product offering. These new products will be available at many retailers across the country. We continue to offer a full line of high quality oil, air, cabin air and fuel filters, plus a complete line of high quality batteries for multiple applications including cars, trucks, SUV's, commercial and other specialty vehicles. All products are made to OE manufacturer fitment specifications. FVP products are engineered to provide our customers with quality products that are equal or superior in performance to the major national brands at a competitive price. To learn more about our FVP products or to find out where you can have FVP products installed in your vehicle, visit us at www.FVPparts.com! FVP…The Confident Solution
SPLASH
In addition to our line of seasonal safety products, we are very excited to introduce a full line of SPLASH Wiper Blades. Our SafeView Performance Blades fit 95% of the vehicles on the road with quick and easy installation for everyone. The AccuVision Beam Blade offers memory curve steel, which provides uniform pressure for a clear wipe, without the streaks. Look for these great new SPLASH products! Whether it's keeping your windshield clean or free of ice, protecting your RV, boat or pool from freezing in the winter, or your sidewalk safe to walk on, SPLASH Products are what you need! Check out our new SPLASH website at www.SPLASHWash.com! SPLASH…SEE SAFELY!
Marketing Partner of the Week – Maxim Racing
Brian says, "Chuck and Karen Merrill are not only great people, but they put everything into putting the best car out on the market. I've always been a supporter of theirs, and with Brian Brown Racing, you'll always see their chassis."
Brian has been partnering with Maxim since 2003. After years of success as a car owner, Chuck Merrill started his chassis business in a rented three-bay garage in November of 1988. The first car was driven by Johnny Herrera at the Florida All Stars Sprint Week in February of 1989. By June of that year, Maxim moved into a 7,000 square foot facility. By 2001, Maxim had grown substantially producing 304 chassis that year. In 2002, Maxim moved to its present 12,500 square foot location in Springfield, Illinois. Maxim continues to offer their customers unmatched service and support, and currently has 17 quality employees, and builds over 400 chassis on an annual basis. Their world-famous "K-car" was designed for Steve Kinser, and has won ten Knoxville Nationals titles and fourteen World of Outlaws championships! To top it all, Maxim offers a warranty if you are not completely satisfied with your car. For more information on Maxim, visit www.racemaxims.com!
Associate Marketing Partner of the Week – Winters Performance Products
Brian says – "We've used Winters Rear-ends since we started, along with their drivelines and stops. In fact, the majority of our parts are Winters components. They do a great job, and we are happy to be a part of their operation."
Winters builds products for the entire racing industry. Their products can be found in NASCAR, Dirt and Pavement Modifieds and Late Models, Bonneville Land Speed Trial Cars, Pulling Tractors, Pike's Peak Hill Climbers, Off Shore Boats, Dragsters, Midget and Dwarf Cars and 305, 360 and 410 sprint cars. Their products are distributed worldwide through a large dealer network. Winters, located in York, Pennsylvania, has a quality workforce of around 70 helping in the growth and success of the company. Visit them online at www.WintersPerformance.com!
Brian Brown Racing would like to thank Casey's General Stores, FVP, Searsboro Telephone Company, Impact Signs Awnings Wraps / impact4800.com, Champion Brands, SPLASH, Ditzfeld Transfer, Maxim Racing, Smiley's Racing Products, Weld Wheels, Housby Trucks, www.RateWin.com, Arctic Cat, K&N Filters, Hostiowa.net, FSR Race Products, TI64, Fuel-Safe Tanks, Awesome Racewear, Wolfe Eye Clinic, Bell Helmets, CP Pistons, Carrillo Rods, Engler Machine, Vortex Wings, Penray, All Pro Cylinder Heads, Butler Built Seats, AkzoNobel Sikkens, Jack Links, Rockstar, Deli Express, Snap-On Tools, Rod End Supply, KSE Racing Products, Winters Performance Products, Santomauro Racing Products, Cometic Gaskets, Kaeding Performance, Donovan, Magtech, ISC Racers Tape, Kinsler, Racing Optics, Don's Truck Wash, Gardner Farms, Hoosier Tires, GoPro, XYZ Machining, Brown and Miller Racing Solutions, Peterson Fluid System, Red Devil Brakes, Schoenfeld Headers, and WSIB Insurance for all their support!