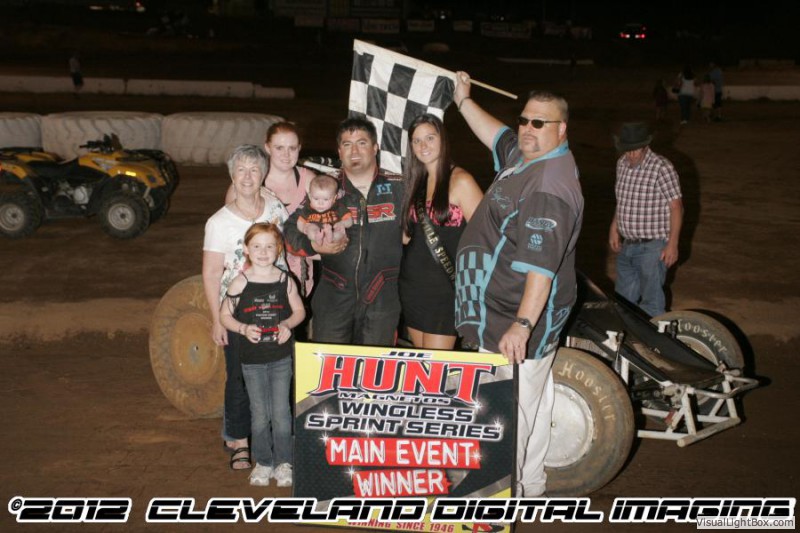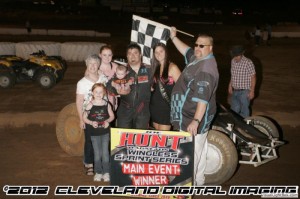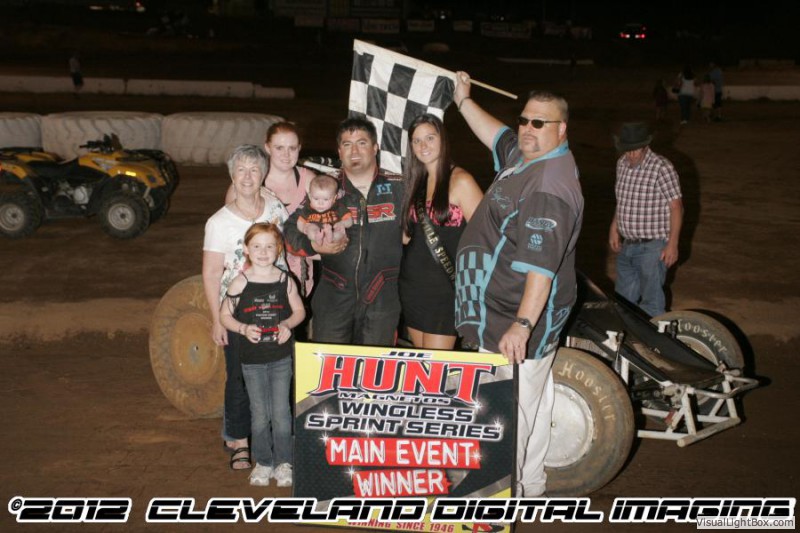 From Placerville Speedway
SACRAMENTO, CA- (7-28-12) – Matt Streeter might call Galt his hometown but after Saturday night, he might feel most comfortable at Placerville.  Streeter became the first repeat winner during the 2012 Joe Hunt Magnetos Wingless Sprint Shootout Series by leading all 25-laps and winning round number six at Alan Handy's Placerville Speedway.  A total of 18 competitors showed up for the point show.  After Saturday night the series will take the month of August off before heading back to Petaluma Speedway on September 8.
            Terry Schank Jr. started the night off by turning the quickest lap in group qualifying.  Schank's quick lap was a 12.276.  Streeter timed in second fastest at a 12.316.  Jeff Kindt was third quick at a 12.355.
            Cody Smith held off Billy Wallace to capture the win in heat race one.  Streeter defeated Taylor Simas to get the win in heat two.  Joe Stornetta detained former Silver Dollar Speedway champion Bob Newberry to win the third heat.
            Streeter beat fellow front row starter Scott Hall into the first turn and went on to lead the first lap of the main event.  On lap four Joe Stornetta moved around Hall and into the second spot.  The first caution flew on lap eight when Rowdy McClenon stopped.  He was unable to return and was officially scored in last.
            A three car pile up slowed the race on lap nine when Taylor Simas, Bob Newberry and Trevor Schmid crashed in turn two.  Simas did not continue.  Schmid returned for one lap before causing a yellow on lap 10.  That was his second yellow of the event so he was done for the night.  Newberry finished the race but was scored as the last driver on the lead lap in 14th.
            The race dramatically changed on the restart when Stornetta spun in turn two.  Stornetta would restart at the rear and in the final 15 laps was able to salvage an eighth place finish.
            Once the race resumed it would finish without another stoppage.  Streeter was up front.  Cody Smith battled his way around Hall and moved into the second spot.  Seventh place starting Billy Wallace moved into the third spot late in the race.  With just two laps to go, Wallace made a move on Smith to secure the second spot.
            Streeter beat Wallace to the checkered flag by less than a second.  Smith finished a strong third.  Hall held onto the fourth spot while Schank was fifth.  Sparky Howard made the most moves of the night.  Howard originally started 15th and finished sixth.
Results
Fast Time: Terry Schank Jr. : 12. 276
Heat 1: Cody Smith, Billy Wallace, Scott Hall, Terry Schank Jr., Sparky Howard
Heat 2: Matt Streeter, Taylor Simas, Angelique Bell, Travis Moore, Jeremy Hawes
Heat 3: Joe Stornetta, Bob Newberry, Tim Sherman Jr., Rowdy McClenon, David Sprigg
A Main: Streeter, Wallace, Smith, Hall, Schank Jr., Howard, Sherman, Stornetta, Jeff Kindt, Marc Mackay, Moore, Bell, Sprigg, Newberry, Hawes