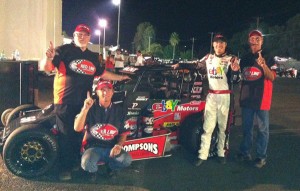 From Steven Blakesley
Lincoln CA, –  (September 24, 2012) –  When the checkered flag flew at Madera Speedway after Saturday's "Harvest Classic", Tony Hunt had completed yet another special season in the USAC Western Classic Sprints to become a now ten-time USAC champion.  Hunt claimed the 2012 USAC Western Classic overall title along with the dirt championship in a closely fought battle all season long.
Hunt's storied USAC career has been highlighted by victories on both ovals and road courses.  His career started out in USAC's rear engine Russell Pro and Formula 2000 Series and continued on to wins in USAC Midgets on West Coast bullrings.
Hunt's most recent success has been in a pavement Sprint Car, scoring 35 USAC Western Sprint feature victories. Coming into this season, Hunt had completed less than a dozen events in his dirt Sprint Car career.  The season was a role reversal from 2011 when Hunt claimed the pavement championship but finished second in the overall combined points.
"By far we're not where we want to be with our dirt results but we're gaining and learning more every race," Hunt said.  "We look forward to the 2013 season with an increased focus on an expanded dirt program."
Hunt had a 13 point lead over fellow USAC veteran Shauna Hogg heading into the final race of the season.  Hunt opened up the afternoon with his 47th career Western Sprint pole in qualifying, running a 13.562 second lap on the one-third mile asphalt oval in Madera, CA.  After a third place finish in his heat race, Hunt ran comfortably in fourth in the 50 lap feature to win the championship by 19 points.
The 2012 season wound down with some big runs for Mike Phulps' #56 Metal Works / eBay Motors-sponsored entry including tenth and 12th place finishes against the USAC/CRA on the half-mile Calistoga Speedway, a fourth place finish during the Gold Cup at Silver Dollar Speedway, and a ninth place finish against the USAC/CRA at Ocean Speedway Watsonville.
Despite 57 USAC career feature wins, Hunt's campaign this year was more about consistency with his one win in the 16 races coming on May 5th at Madera.  The dirt consistency paid off with a 23 point advantage to win the dirt championship.
In addition to Hunt's significant achievements in USAC competition this season, he also had another successful run at the Little 500 at Anderson Speedway in Anderson, IN in May.  Hunt became the first pole sitter from the West Coast in 52 years, leading the 33 car field to green for the 500 lap contest.
"Our Little 500 effort is second to none.  We've been fortunate to lead practice times consistently for the last three years so winning this year's pole was certainly gratifying," Hunt said.  "Unfortunately mechanical issues have plagued our effort to contend for the win.  We love the race and are determined to return next year with the same focus."
Tony Hunt Racing plans to return to Sprint Car action in both California and Indiana in 2013 with a full schedule to be announced at a later date.
Race fans can learn more about Tony Hunt Motorsports at www.tonyhunt.com