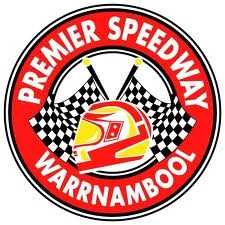 Warrnambool, AU — (January 26, 2013) — Californian Tim Kaeding left his run until the last lap to race around the top of race long leader Steven Lines to win the Oval Express Magazine sponsored Australia / America Challenge Cup on night one of the Lucas Oil Products Grand Annual Sprintcar Classic. Following Kaeding and Lines to the finish was local ace Darren Mollenoyux who gained the upper hand in a race long battle with American star Terry McCarl.
The 25 lap feature saw Lines jump to the lead ahead of a fast starting McCarl with Kaeding slipping to third ahead of Mollenoyux and Jason Sides. By the following a number of stoppages including one for Brooke Tatnell who upended the SCR #9 following contact with Robbie Farr on the back straight. Ian Madsen was also a casualty when he crashed on the back straight following contact with the wall.
"I have to thank the entire Krikke Motorsport and we have got the monkey off our back and hopefully we can come back tomorrow night and have some fun keep it rolling and have a good run," said feature winner Tim Kaeding.
Kaeding was also quick to confirm the speed of the early leader Steven Lines as both he and Lines were running high and it was a matter of traffic sorting out the end result. Kaeding now shoots to the top of the point standings following night 1.
Finishing second despite leading 24 of the 25 laps, 2011 Classic champion Steven Lines took some solace from the fact that he set the quickest lap of the time trial group and started the final from pole position carrying tremendous car speed.
"Yeah it's obviously disappointing but I feel bad for the team, they gave me such a good car," said the runner up.
Third across the line, Darren Mollenoyux raced the wheels off his Parr Motorsports GF1 to firstly drive by Terry McCarl and then toward the leaders
"For us and as many shows as we do a year that's as good as a win," beamed Mollenoyux.
The feature race lined up with Kaeding and Lines on the front row followed by McCarl and Sides on the second row ahead of Matt Egel and Mollenoyux, Jamie Veal, Tim Shaffer, Danny Reidy, Matthew Reed, Grant Anderson, Trevor Green, Kyle Hirst and Robbie. B-Main transferees Ian Madsen, James McFadden, Tatnell and Luke Dillon.
With the leading trio crossing the line it was McCarl finishing fourth despite running as high as second earlier in the final. Fifth home was Jason Sides ahead of Tim Shaffer and a hard charging James McFadden. Jamie Veal was eighth followed by Egel, Farr, Anderson, Reed, Dillon, Hirst, Reidy and Green.
Apart from Madsen, McFadden, Tatnell and Dillon who advanced from the B-main, drivers such as Cameron Gessner, David Murcott, and Jason Johnson all failed the advance from the event.
Luke Dillon was earlier awarded the Allan Pollard Memorial for Quick Time with a 10.869 second lap while both he and Lines earned $1,000 each for their respective groups.
American Danny Dietrich opened proceedings with a win in heat 1 ahead of Dillon and Danny Reidy. Ron Dalton crashed in turn 1 while Aidan Gee also didn't finish with a damaged front end. Mark House was the next casualty when he hit the wall also.
Heat 2 was a Brooke Tatnell benefit as the triple Classic champ defeated Kyle Hirst and Robbie Farr in the nonstop affair.
South Australian Matt Egel saluted in heat 3 ahead of David Murcott and Darren Mollenoyux in another nonstop heat race.
Pole sitter Grant Anderson motored to another clean heat race win ahead of Kevin Swindell and impressive Victorian Kris Lacey.
Steven Lines finished ahead of Tim Kaeding in heat 5 while Taylor Milling impressed finishing third in another clean event.
Shaun Dobson motored from the third row to finish second behind Matthew Reed but it was Jason Johnson's spin that proved costly as he could only manage an eighth place finish.
Jamie Veal would win heat 7 ahead of Jason Sides and Trevor Green on a superb track that was starting widen out producing some stunning drives.
Pole sitter Jack Dover spun out of contention in heat 8 before Terry McCarl powered to the win ahead of Tim Shaffer and David Muir.
The second round of heats started with the faster qualified cars starting at the rear with Shane Stewart heading off Bryan Mann and ninth starting Robbie Farr in third. Nick Lacey bumped the wall ending his heat race on the main straight.
Ryan Jones won heat 10 ahead of Danny Reidy and Chad Ely but the event also saw leader Garry Brazier, Aidan Gee and Danny Smith all eliminated when they had nowhere to go when a spun Brad Warren was stranded on the main straight.
Ohio racer Caleb Griffith just held off Peter Lack to win heat 11 with Bill Rose securing a strong third place finish.
A couple of aborted starts in heat 12 before Californian livewire Rico Abreu won handsomely ahead of Cameron Gessner and Andrew Wright. Kevin Swindell DNF'd the heat when he came into contact with David Murcott when the yellows came on during one of the initial starts.
Sixth starting David Gravel won heat 13 ahead of Jason Johnson and twelfth starting Steven Lines in third!
Coming from the sixth row, Tim Kaeding sounded a clear warning in heat 14 when he marched to the win ahead of James McFadden and Jason Dawkins.
Tim Shaffer cruised on the highline to win heat 15 ahead of Wayne Rowett and tenth starting Trevor Green in a nonstop heat.
Jason Sides stormed from the fourth row to win heat 16 ahead of Terry McCarl and Wayne Johnson. Darren Hickman and Sean Dyson came into contact with him eliminating him from the event.
Sunday night will feature another 16 heat race plus an E,D,C,B and A-main over 40 laps to crown the 2013 Grand Annual Sprintcar Classic Champion.
Feature Results: 1. Tim Kaeding, 2.Steven Lines, 3. Darren Mollenoyux, 4. Terry McCarl, 5. Jason Sides, 6. Tim Shaffer, 7. James McFadden, 8. Jamie Veal, 9. Matt Egel, 10. Robbie Farr, 11. Grant Anderson, 12. Matthew Reed, 13. Luke Dillon, 14. Kyle Hirst, 15. Danny Reidy, 16. Trevor Green. DNF: Brooke Tatnell, Ian Madsen

Points after night #1
Pos No. Name Total points
1 W2 Tim Kaeding 670
2 W3 Steve Lines 662
3 V2 Terry McCarl 650
4 USA7 Jason Sides 642
5 V77 Darren Mollenoyux 628
6 V45 Tim Shaffer 622
7 S29 Matt Egel 622
8 N6 Jamie Veal 618
9 V92 Matthew Reed 604
10 NQ5 Danny Reidy 598
11 V37 Grant Anderson 596
12 Q7 Robbie Farr 592
13 USA10 Kyle Hurst 586
14 S4 Trevor Green 586
15 Act11 Ian Madsen 574
16 N25 Brooke Tatnell 572
17 S81 Luke Dillon 570
18 A1 James McFadden 560
19 USA77 Daniel Dietrich 546
20 Q36 David Muir 538
21 W41 Cameron Gessner 532
22 Q83 David Murcott 528
23 Usa91 David Gravel 516
24 N38 Max Johnson 514
25 V16 Kris Lacey 514
26 S27 Daniel Pestka 510
27 USA89 Rico Abreu 502
28 N75 Glen Saville 498
29 NQ47 Jason Johnson 490
30 V17 Dennis Jones 484
31 S24 Ricky Maiolo 476
32 N79 Peter Bourke 474
33 W25 Taylor Millings 468
34 USA39 Wayne Johnson 464
35 N78 Andrew Wright 460
36 V21 Jamie Hennessy 460
37 V88 Stephen Bell 458
38 V5 Max Dumesny 456
39 S45 Jake Tranter 448
40 NQ7 Shane Stewart 446
41 V36 Shaun Dobson 444
42 Q58 Peter Lack 442
43 S41 Wayne Rowett 442
44 V70 John Vogels 440
45 W57 Shaun Bradford 436
46 Q11 Jack Dover 430
47 USA20 Kevin Swindell 428
48 NQ83 Bryan Mann 426
49 V47 Tim Rankin 424
50 S63 Ryan Jones 424
51 Act66 Jack Lee 424
52 N28 Darryl Campbell 422
53 V74 Michael Cunningham 420
54 V48 Adam King 412
55 V68 Brett Milburn 410
56 NQ42 Daryn Pitman 406
57 V14 Carl Ludeman 404
58 USA55 Danny Smith 404
59 NT3 Ben Atkinson 404
60 Usa60 Caleb Griffith 398
61 S22 Chad Ely 398
62 T6 Jason Dawkins 396
63 Q54 Richard Morgan 396
64 V73 Charles Hunter 388
65 S61 Leith Ahlfors 386
66 S20 Glen Sutherland 380
67 T55 Jamie Bricknell 372
68 Q2 Todd Wanless 368
69 V20 Domain Ramsey 364
70 V50 Jesse Nicholas 356
71 Act4 Mitch Foster 352
72 N8 Sean Dyson 350
73 V29 Will Carroll 348
74 V19 Daniel Newnham 346
75 V55 Ashley Scott 338
76 Q21 Jordan Brazier 336
77 USA29 Bill Rose 334
78 S25 Justin Sloan 332
79 V26 Nick Lacey 332
80 N48 Jackson Delamont 330
81 V57 Michael Phillips 328
82 N21 Garry Brazier 322
83 V86 Tim Van Ginneken 322
84 S72 Jamie Stark 320
85 N36 Eddie Lumbar 314
86 V61 Rick Barrand 308
87 V40 Darren Hickman 304
88 Q67 Paul Morris 294
89 V12 Kristy Ellis 274
90 T14 Mark House 274
91 Q6 Steven Rowell 262
92 V58 Rhiannon Burleigh 260
93 NQ38 Aiden Gee 256
94 V44 Ron Dalton 208
95 W19 Trent Pigdon 198
96 V54 Bradley Warren 142
97 N 3 Mat Craft 128
98 N49 Jamie Matherson 128