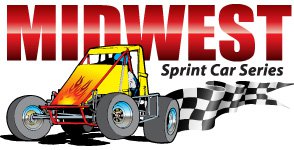 From Eldon Butcher
Haubstadt, IN. – February 14, 2013.  The 2013 Midwest Sprint Car Series Rule Book is now posted on line at www.mscssprints.com.  The MSCS Rules Committee met to review the series rules earlier this month and they have now been updated to reflect those decisions.
Among the changes to the rules are those related to the granting and use of provisional starting spots.  For 2013 the top twelve drivers in MSCS points from 2012 will form the provisional list for the first event of the season.  Thereafter the provisional drivers list will be made up of the 2012 Champion and Runner-up to be followed next in line by the top 10 other drivers in current 2013 season points.  In any co-sanctioned events, MSCS drivers must use their MSCS provisional to receive MSCS points.
One other rule related to the formation of the feature line-up was dropped.  MSCS will no longer notify or use an alternate for the feature event.  Other changes to the rules include rules 1, 8, 9, and 47.  Printed copies of the rule book will be available after March 1st.  A copy can be ordered by sending your name and address along with $3.50 to MSCS at 4353 S. State Road 57 in Oakland City, IN, 47660.
SCHEDULE CHANGE – In co-operation with a request from the management at Bloomington Speedway the recently released 2013 MSCS season schedule has undergone some changes.  The September 6th event at Bloomington has been removed from the MSCS schedule.
However, the 26th annual Sheldon Kinser Memorial Race at Bloomington Speedway on Friday night July 5th will remain a MSCS sanctioned event.  There is also a change associated with this event.  The purse for that night's event has been increased.  The July event will now pay $5,000 to win and $225 to start.  This race remains destined to be a big event at the peak of the racing season.
2013 Hoosier Tire MSCS Revised Race Schedule
5/11   Sat  Tri-State Speedway, Haubstadt, IN
5/25   Sat  Lincoln Park Speedway, Putnamville, IN
5/26   Sun  Tri-State Speedway, Haubstadt, IN
6/15   Sat  Tri-State Speedway, Haubstadt, IN
6/29   Sat  Tri-State Speedway, Haubstadt, IN
7/05   Fri  Bloomington Speedway, Bloomington, IN
8/03   Sat  Tri-State Speedway, Haubstadt, IN
8/10   Sat  Lincoln Park Speedway, Putnamville, IN
9/01   Sun  Tri-State Speedway, Haubstadt, IN
9/14   Sat  Tri-State Speedway, Haubstadt, IN
9/28   Sat  Tri-State Speedway, Haubstadt, IN
10/12  Sat  Tri-State Speedway, Haubstadt, IN