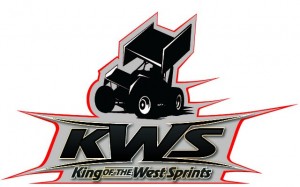 From Gary Thomas
Rio Vista, CA – (March 6, 2013) – Visalia, California based companies BR Motorsports and King Racing Products are pleased to announce that they will continue their partnership with the King of the West 410 Sprint Car Series by presenting the Fast Time Award and the Show Maker Award once again.
Qualifying is always critical part of the program each night and BR Motorsports will award the driver that sets fast time at every King of the West Sprint Car Series event with a $100 product certificate. Last season parody reigned supreme in qualifying, as 12 different drivers set a "BR Motorsports Fast Time" out of the 17 races that were held.
The "Show Maker Award" will be given to the driver that earns the final transfer spot into the A-main event from the Last Chance Qualifier. King Racing Products will award that driver with a $100 product certificate. If no LCQ is run during a particular night then the award will go to the last place finisher in the A-main.
"We're excited to have Blake Robertson and BR Motorsports, along with King Racing Products back with the King of the West Sprint Car Series this season," said KWS Operations Manager George Hague. "It's always nice to have great companies like BR Motorsports & King Racing support 410 Sprint Cars in California and it's another key piece of our overall contingency program for the 2013 year."
To be eligible for the "BR Motorsports Fast Time Award" and "King Racing Products Show Maker Award" teams must display each company's decal respectively on both sides of the top wing at King of the West Series events. The decals will be provided each night at the KWS command center.
BR Motorsports was established in 1993 and has become the world's leader in sprint car technology. They are the world's largest supplier of sprint car & midget parts. It doesn't matter if it's just a nut & bolt or a complete car BR Motorsports has what you need. To receive your free copy of the BR Motorsports super parts catalog call today 1-800-328-3333.
King Racing Products is located in Visalia, California. In 2006 King Racing Products stormed into the sprint car world leading the way to the future of sprint car & midget parts. The purpose for King Racing Products being started was to build the best product out of the finest American materials. Racers depend on quality and durability and that is what King Racing Products is all about. From axels to steering arms and leak down testers to front hubs King Racing Products has what you need.
The 2013 racing season for the King of the West 410 Sprint Car Series will get underway on Saturday April 20 at the Antioch Speedway in Antioch, California. Three-time & defending series champion Jonathan Allard will look to open the season on the right note, but will face a strong field of challengers at the always action packed one-third mile clay oval.
Among the drivers looking to take over the top spot from Allard this season is Sacramento's Kyle Hirst, who assumes the seat of the Dennis & Teresa Roth owned Roth Enterprises No. 83jr sprint car. Hirst last year drove the Roth Motorsports mount to a King of the West victory in Antioch and also claimed the 50-lap finale at the prestigious Trophy Cup in Tulare.
Just a few of the other title contenders are sure to include Sacramento's Willie Croft, who is behind the wheel of the Clyde Lamar owned 3c machine this year, 13-time champion Brent Kaeding, former titlist Jason Statler, Clovis fan favorite Peter Murphy, past Silver Dollar Speedway 410 champ Bobby McMahan, former Trophy Cup titlist Craig Stidham and more.
More drivers set to take on the Antioch Speedway April 20 will include two-time KWS champ Tim Kaeding of San Jose, Scotts Valley's Evan Suggs, St. Helena's Rico Abreu, Fremont's Shane Golobic, Prunedale's Justin Sanders, Visalia's Cory Eliason, Fair Oak's Chad Compton, Chico's Brad Bumgarner & Kenny Allen, Auburn's Richard Brace Jr., Oakhurst's Doug Gandy, Laton's Geoffrey Strole, Rhode Island transplant Eli Deshaies, Rio Vista's Danielle Simpson, Grass Valley's Pat Harvey and others.
Information on the traveling King of the West Sprint Car Series can be found online at http://www.kwssprints.com and by tuning in to "KWS Tonight" every Thursday evening throughout the season on the homepage of the website.
Be sure to like us on the KWS Facebook Page at http://www.facebook.com/kingofthewestsprints and become a member of our Twitter community at https://twitter.com/KwsSprintRacing along with subscribing to us on You Tube by checking out http://www.youtube.com/user/kingofthewestsprints?feature=mhee
You can also follow us on Instagram by searching "kwssprints" and contact us via phone at the King of the West office (707) 374-2222.