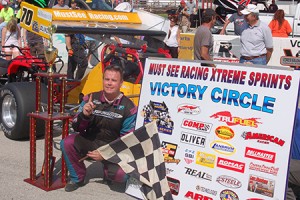 From David Sink
Winchester, IN — (May 19, 2013) — Dave McKnight and Jo Jo Helberg each claimed victories in Sunday's Must See Racing Xtreme Speed Challenge at Winchester Speedway. The 2nd annual event was greeted by warm weather and a good crowd.
McKnight's victory in the 30-lap Engine Pro Must See Racing Super Modified Series (MSRSMS) presented by Oliver Racing Parts feature was redemption of sorts. McKnight crashed during practice for last year's Xtreme Speed Challenge and was unable to participate. McKnight, who started in the twelfth position, explained how important patience played in the outcome. "I can't say enough about car owner Gary Morton" explained McKnight." Gary told me to be patient. He had run here before and I had never run here. So this was a whole new world for me. He just told me you got a great car and be patient. Stay high and just give it time. Even when I got to the leaders and they were jostling, I just had to be patient until I had the right time and spot. You're going so fast here and you come up on traffic so quick you have to be careful. I just waited and the opportunity was there and the car was there for me and I was able to attack. It was great".
McKnight sported a smaller wing mounted on the rear of the car all day that may have played into the performance of the car. "I don't really know if that was the key but it definitely helped. It didn't kill out straightaway speed so less drag more speed. This place is all about finding a good balance between drag and speed. But it was very turbulent when I was in line with five guys. I had a lot of turbulence because I didn't have a lot of air on it. Once I got out front and I got good air, the car was good" concluded McKnight.
Mike McVetta finished second followed by Jimmy McCune, Kyle Edwards, and Brian Gingrass rounding out the top five.
Mike McVetta got things off to a fast start earlier when he set a new track record for the Supermodifieds with a lap of 13.801. Heat wins went to Kyle Edwards, Jimmy McCune, and Mike McVetta.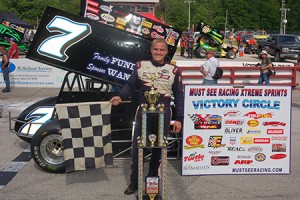 Jo Jo Helberg captured a thrilling 30-lap TRUFUEL Must See Racing Xtreme Sprint Series (MSRXSS) feature that saw him chased relentlessly the entire distance by runner-up Brian Gerster. Jimmy McCune got the jump on pole sitter Helberg to lead the first lap. Helberg quickly regained the lead and was out front by lap two. The duo put on a driving clinic in lapped traffic that saw the two split lapped cars multiple times to the delight of the crowd. Helberg explained that he wasn't too concerned about losing the lead at the start. "I figured I could get him back because he was leaving the door open. I think the motor was a little lazy because this motor has a lot of top end and not a lot of bottom end with the big gear I have to run" explained Helberg.
Helberg realized early on he was being challenged for the lead. "One time I was going into one and I saw 4 or 5 lapped cars and saw a yellow nose stick on the inside and thought it was McCune. Then I realized it was Gerster when I glanced at the board. When he did that the first time I really tried to pick up the pace and change my line going through lapped traffic. When he did it to me the second time I had a little bit of clear track and kept my foot on the throttle.
Helberg was initially disappointed to see the caution come out on lap 21 after the race had went green up to that point. "At first I was disappointed but then realized it gave the lapped cars a chance to start behind me rather than right in front of me. I knew I had a lot more lapped cars that I had to go through. And it gave the tires a chance to cool down the tires. I raced as if Gerster was on my tail the whole race regardless of whether I had clean air or lapped traffic" concluded Helberg.
The win gives Helberg two consecutive wins and put s him in position to claim a $50,000 bonus Must See Racing is offering if he can win the Must See Racing 60 at Anderson Speedway Wed. night as well as the Little 500 this coming Saturday night.
Brian Gerster was the day's fast qualifier with a lap of 13.461 seconds. Heat wins went to Troy DeCaire, Aaron Pierce, and Helberg.
Sunday's Xtreme Speed Challenge kicked off a busy week for the Holly, MI based series. The MSRSMS will be in action again tomorrow night at Anderson Speedway along with the International Outlaw Figure 8 Series (IOFS). The MSRXSS will be racing Wednesday evening at Anderson Speedway before concluding the week with sanctioning duties of the 65th Pay Less Little 500 Saturday night May 25. All events will be available as live streamed Pay Per View by visiting WWW.XSAN.TV for complete details. For more details on Must See Racing visit www.mustseeracing.com
MUST SEE RACING SUPERMODIFIED SERIES 30-LAP FEATURE RESULTS
1. Dave McKnight
2. Mike McVetta
3. Jimmy McCune
4. Kyle Edwards
5. Brian Gingrass
6. Kyle Vanderpool
7. Rod Sauder
8. Sondi Eden
9. Rich Reid
10. Shane Johnson
11. Brad Wyatt
12. Larry Lenhert
13. Cody Gallogly
14. Zach Gibson
15. Jim Paller

MUST SEE RACING XTREME SPRINT SEREIS 30-LAP FEATURE RESULTS
1. Jo Jo Helberg
2. Brian Gerster
3. Jimmy McCune
4. Aaron Pierce
5. Troy DeCaire
6. Mike Larrison
7. Jason Cox
8. Joe Swanson
9. Jacob Wilson
10. Brian Olson
11. Cody Gallogly
12. Ryan Meyers
13. Jerry Caryer
14. Jim Sheets
15. Kevin Blue
16. Jimmy Kite
17. Tim Cox
18. Cody Gerhardt
19. Cody Swanson