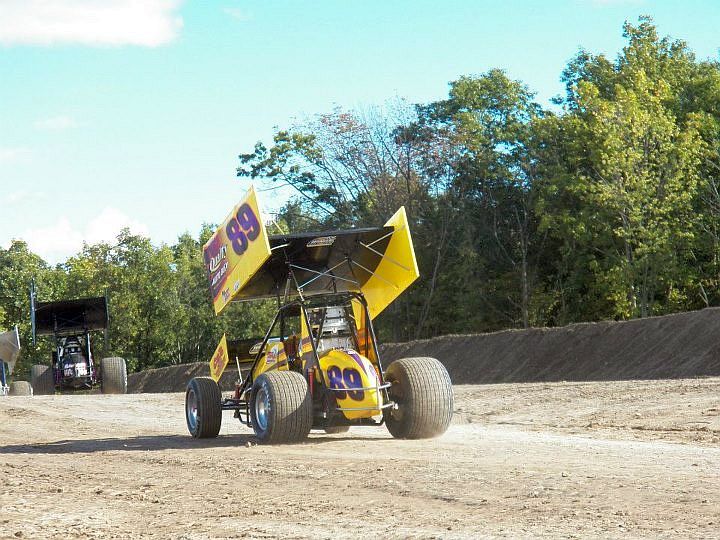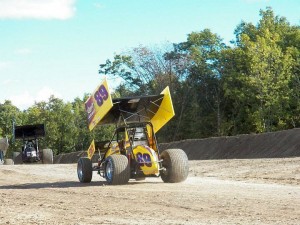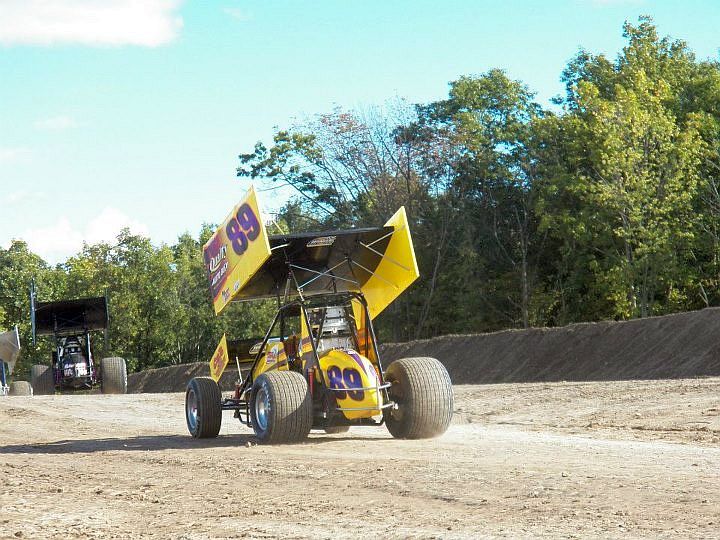 Bechtelsville, PA — (June 15, 2013) — Robbie Stillwaggon of Burlington, NJ was the star of the show Saturday night when the United Racing Company sprint cars invaded the Grandview Speedway for the fourth event of the 2013 Rislone URC sprint series. Stillwaggon, who started ninth caught race leader Dave Betts on the final lap and took the lead exiting turn two. Stillwaggon held on to the top stop to score his second Rislone URC sprint feature win. Betts finished second followed by Josh Weller, Kramer Williamson and Brian Carber.
A field of twenty-five cars turned out for the program with heat race victories going to Jonathan Swanson, Steve Downs and Josh Weller. Troy Betts earned the LikeWise Construction fast time of the night award as Randy West was the Fred's Trailer Parts Hard Charger of the Night, advancing eleven spots in the feature event.
At the drop of the green flag in the twenty-five lap feature Jonathan Swanson was the early leader with Josh Well and Troy Betts in the hunt. The red flag was displayed on lap five for a multi-car crash in turn three that eliminated Keith Prutzman, Ed Aikin and JR Berry.
On the restart, Swanson again set the pace with Betts now applying pressure for the lead. On lap later, Betts was leading followed by Swanson, Weller, Kramer Williamson and now, Robbie Stillwaggon was racing in the top five.
As the field crossed for the halfway sign, Betts, Weller, Williamson, Stillwaggon and Brian Carber made-up thee top five. The leaders began closing ground on slower traffic and the top five were now racing under a blanket. On lap seventeen, Stillwaggon moved into third and with just five laps to go, Stillwaggon passed Weller for second.
With just five laps remaining, Stillwaggon began to reel in Betts. Finally on the last lap, Stillwaggon made the move for the lead and successfully pulled off taking the lead while exiting turn two. Robbie Stillwaggon mastered the final lap and went on to score this win, his second victory of the year followed by Troy Betts, Josh Weller, Kramer Williamson and Brian Carber.
RISLONE URC SPRINT SERIES FEATURE FINISH: Robbie Stillwaggon, Troy Betts, Josh Weller, Kramer Williamson, Brian Carber, JJ Grasso, Chad Trout, Randy West, Davie Franek, Art Liedl, Jonathan Swanson, Dave Ely, Bryn Gohn, Tim Kelly, Kevin Darling, Jimmy Stitzel, Scott Lutz, Jimmy Reppert, Dan Mazy, Steve Downs, Mike Kostic, JR Berry, Ed Aiken, Keith Prutzman. DNQ
Joey Biasi.
RISLONE URC SPRINT SERIES SCHEDULE
APRIL
26
Big Diamond
Robbie Stillwaggon
MAY
11
Selinsgrove Jack Gunn
JJ Grasso
JUNE
1
New Egypt
Art Liedl
JUNE
15
Grandview
Robbie Stillwaggon
JUNE
21
Bedford
$2,000 To Win
JUNE
22
Winchester, VA
$2,000 To Win
JULY
6
New Egypt
$2,000 To Win
JULY
20
Delaware International
$2,000 To Win
JULY
26
Potomac
$2,000 To Win
AUG
2
Williams Grove–Rislone
$4,000 To Win
AUG
3
Lincoln
$2,000 To Win
AUG
9
Black Rock
$4,000 To Win
AUG
10
Selinsgrove
$2,000 To Win
AUG
23
Williams Grove
$2,200 To Win
AUG
24
Port Royal
$2,000 To Win
AUG
31
Delaware International
$2,000 To Win
SEPT
7
Utica Rome–non-points
$7,000 To Win
SEPT
14
New Egypt
$2,000 To Win
SEPT
28
Selinsgrove 40 Laps
$8,000 To Win
OCT
4
Carolina Gastonia, NC
$2,000 To Win
OCT
5
Cherokee, Gafney, SC
$2,000 To Win
OCT
19
Grandview
$2,000 To Win
Indicates Friday Night
URC FACTS: (Statistics maintained by Steve Barrick)
65 URC Seasons beginning in 1948 – 2012
Presented 1,500 Feature events
Visited 137 Different Speedway
Delivered 257 Different Feature Winners
Single season with the most different feature winners: 2007 (20 different winners)
Driver with the most URC feature wins: Glenn Fitzcharles (81)
Track Hosting the Most URC events: Delaware International (176), Bridgeport (145), Flemington (113) Grandview (87), Middletown (68)
Driver with the most consecutive URC feature wins: Hank Rogers (9) 1961-1962
There have been 4 Photo Finishes: 7-3-54 Hatfield, PA Bert Brooks/Tony Romit (T)
9-12-59 Selinsgrove, PA Al Chamberlain/Dave Humphrey (T)
7-29-61 Owego, NY Jim Maguire/Don Gillette (T)
9-1-69 Flemington, NJ Dick Tobias/Earl Halaquist (T)
Longest Running Tour Sponsor: Bar's Leaks Prodcuts