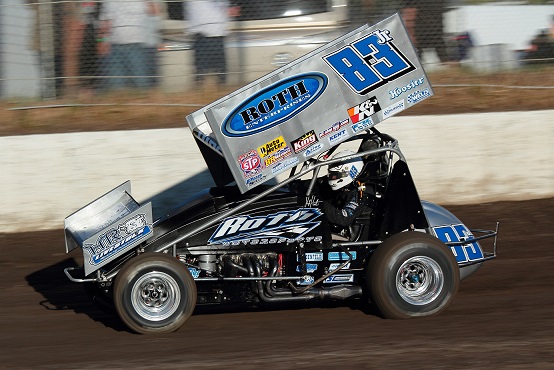 PETERSEN MEDIA
Kyle Hirst put together a strong week of racing last week as he pocketed a win with the Civil War Series on Wednesday night in Chico, CA before scoring a career best fourth place finish with the World of Outlaws on Sunday night in Antioch, CA.
"It was a great week of racing for our team," Hirst said. "I cannot thank Dennis and Teresa Roth, and all of my guys for the opportunity they gave me all week."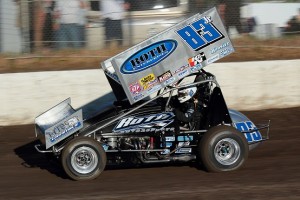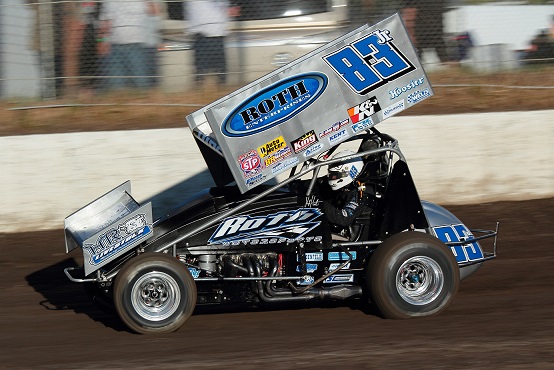 Kicking off the Gold Cup Race of Champions on Wednesday night taking on the Civil War Series, Hirst started his night off by timing his Roth Enterprises/HR Livestock Transportation/3H Cattle entry in fifth quick out of the 38 cars entered in the event.
Running second in his heat race, Hirst lined up in the fourth row for the feature event, on what was a very racy, and slick track.
Quickly working his way through the field, Hirst found himself in the second spot chasing after Justin Sanders by the eighth lap.
Hounding Sanders lap, after lap, Hirst was able to make his move for the lead on the 20th lap, as he went on to score the big win.
Taking on the World of Outlaws on Friday night, Hirst continued to show speed as he timed in third fastest against the 55 cars checked in.
Starting fourth in his heat race, Hirst slipped back to sixth in heat race action, and was forced to run the 'Last Chance Showdown" for a final shot at making the feature.
Battling with Willie Croft much of the race, Hirst was finally able to secure the fourth and final transfer spot to move on into the feature event, where he lined up in the seventh row.
Putting together a strong 30-laps, Hirst was was able to work his way up to an eighth place finish at the stripe.
Back in action in Chico on Saturday night, Hirst kicked his night off with a 22nd fastest effort in time trials.
Starting fifth in his heat, KH was able to secure a fourth place finish, again putting himself in the feature event, but on this night he would start in the 11th row.
Hirst's Gold Cup would be short lived, as he was involved in an early tangle that knocked him out of the feature event.
Sunday night saw Hirst's week come to a close as he and his team were in Antioch, CA taking on the World of Outlaws during their final appearance in California.
Timing in 10th fastest, Hirst would finish second in his heat race, putting him in the Dash, where he scored a fourth place finish.
Lining up in the second row of the 30-lap feature, Hirst tip-toed around the extremely slick surface, as he chased after his Roth Motorsports teammate, Tim Kaeding.
Though sevearal cautions slowed the pace of the event, Hirst was able to hang on to the fourth spot, marking his career best finish with the Outlaws.
"I can't thank everyone enough for such an awesome week of racing," he said. "We were able to win on Wednesday and make the show every night. Now we can focus on wrapping up the King of the West title."
Kyle and his Roth Motorsports team would like to thank Roth Enterprises, HR Livestock Transportation, 3H Cattle,  Mobil1, FK Rod Ends, Weld Wheels, Brown and Miller Racing Solutions, Kent Performance, Kaeding Performance, and Astro Titanium for their support in 2013.
2013 ROTH MOTORSPORTS BY THE NUMBERS: Starts-42, Wins-5, Top 5's-20, Top-10's-30
2013 BY THE NUMBERS: Starts-61, Wins-7, Top 5's-27, Top 10's-43
ON TAP: Hirst and the Roth Enterprise team will return to King of the West action on Saturday night in Fernley, NV.
STAY CONNECTED: Stay connected to Kyle by following him on Twitter, @kylehirstracing, or by visiting www.rothmotorsports83.com.