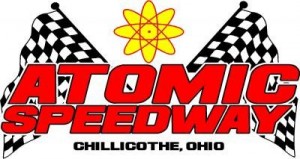 From Scott Wolfe
Chillicothe, OH — (December 22, 2013) —  "The Atomic Speedway" near Chillicothe, Ohio has officially released its 2014 racing schedule –a schedule that is both a powerful, and a popular attribute to owner Brad McCown's visionary promotional team and the loyal fans of Atomic Speedway.                
                After nearly two years of sitting idle, Atomic Speedway—Ohio Fastest 3/8 mile high-banked dirt oval– re-opened its gates last fall to the tune of one of the largest crowds in track history.  That ultimately set the tone for a strong finish in 2013 and a potent, aggressive slate for 2014. Test and Tune is set for March 15 with the first regularly scheduled show penciled in for March 22, 2014.
                "We hit the ground running when we bought this place," said owner Brad McCown.  "And we haven't stopped running.  There's a lot of work to be done yet, but we are looking forward to a great 2014 racing season and beyond.  Thanks to our loyal fans and to all those who helped us get underway this past year."
                McCown has high expectations for 2014.  "We've listened to the fans and tried to give them a variety of options in 2014.  We've tried to bring in the sanctions fans like most and give them a good mix of open wheel and stock car racing, while trying to maintain consistency in the classes that we run on a weekly basis. I am truly excited and hope the fans are excited about this year as I am."
                Among the Mega-Money Events on the race card this season are the 3-day NDRL Late Model Weekend May 8-9-10, 2014; "The Night the STARS Come Out" July 3; the return of the All-Star Circuit of Champions Sprint Speedweek June 25; the Hell Tour for Late Models and Hell Tour for Modifieds July 16; and the 3-day Open Wheel Championships October 23-24-25th. 
                The NDRL Late Model Weekend is a premier national event that features a $5,000 Friday night payday, and a whopping $15,000 Saturday night pay-check. The 3-day Open Wheel Championships October 23-24-25th also features a $15,000 pay-day for the winged warriors and a $5,000 winner's payout for the non-winged sprints.
                Most regular nights are just as exciting week-in and week-out  as Atomic has traditionally drawn some of the nation's top drivers on a regular weekly basis, many using the high-banks to fine-tune their skills before moving on to more prestigious venues such as NASCAR or INDYCAR.
                Most regular weekend shows feature 410 Winged Sprints, AMRA Late Models and AMRA Modifieds.  Sport Mods and Street Stocks share top billing as alternating support classes.
                Tabbed as "The schedule that will quench every race fans thurst!" the 2014 event schedule certainly looks to live up to its billing.
                General Admission for regular shows are $12 for adults and 0-to-age 12 free, while Pit Passes are $30 for adults and $15 for 12-and-under.  Special event pricing is in affect for all special shows and will be announced as the event date nears.
                The unofficial "ringing-in" of the New Year starts with the "Hangover 100" on January 1.  The event will be an Enduro race paying $500 to win if there are 25 cars or less; and with pay three spots:  $500, $200, and $100 if there are 26 cars or more.  Pits open at 1 p.m. and general admission at 2 p.m.
                Gift certificates and advance ticket sales for the year are available from the website.
                Sprint car standout Josh Davis was recently named as Marketing Director of Atomic Speedway and has already begun work in securing sponsors and marketing the Atomic Speedway brand name.
                With the 2014 ATOMIC SPEEDWAY schedule now set, it's time for anyone or any business who wants to be involved with the speedway to join our team.  2014 will bring an amazing season of racing at "Ohio's Fastest 3/8 Mile Dirt Track"!  Several advertising and sponsorship opportunities are available– from class sponsors to billboard sponsors– and many other ideas for advertising your business in front of several thousand people over the next year are available. If interested call/text 740-703-9749 or 740-663-4141. Or message us on Facebook.
                For more information please call 740-663-4141 or visit the Atomic Speedway website at <<<   www.atomicspeedway.net >>>  Atomic is located 12 miles South of Chillicothe, Ohio off SR 23, two miles out Blain Highway between Chillicothe, Ohio and Waverly, Ohio at Alma.
ATOMIC SPEEDWAY RACE 2014 SCHEDULE
---
March 15– Test & Tune
March 22–OPENING NIGHT! – Sprints, AMRA Late Models, AMRA Modifieds, Sport Mods
March 29– EMS/FD/PD Night: Sprints, AMRA Late Models, AMRA Modifieds, Street Stocks
April 5– $1 dog night: Sprints, AMRA Late Models, AMRA Modifieds, Sport Mods
April 12– DARF Night, AMRA Late Models, AMRA Modifieds, Street Stocks, Sport Mods
April 19– OVSCA Sprints (Season Opener), AMRA Modifieds, Street Stocks, Sport Mods
April 26– Food Drive Night:  Sprints, AMRA Late Models, AMRA Modifieds, Street Stocks
May 3– MODIFIED MAYHEM AMRA Modifieds $1,500 TO WIN, Sprints, Sport Mods
3 DAY NDRL WEEKEND:
May 8– NDRL Late Models (Practice & Qualify), AMRA Modifieds, Sport Mods
May 9– NDRL Late Models $5,000 TO WIN, AMRA Modifieds, Street Stocks
May 10– NDRL Late Models $15,000 TO WIN, AMRA Modifieds, Street Stocks
May 17– KIDS NIGHT-KIDS BIKE RACES  Sprints, AMRA Modifieds, Street Stocks, Sport Mods
May 24– HOF Night: Sprints $2,500 TO WIN, AMRA Late Models $2,500 TO WIN, AMRA Modifieds
May 31– FAN APPRECIATION NIGHT #1  Sprints, AMRA Late Models, AMRA Modifieds, Street Stocks
June 14– Veterans Night: Sprints, AMRA Modifieds, Street Stocks, Sport Mods
June 25- ALL STAR SPRINT SPEEDWEEK $5,000 to win, Street Stocks, Sport Mods
July 3– NIGHT THE STARS COME OUT-ALL STAR SPRINTS $5,000 TO WIN, Late Models $5,000 TO WIN, AMRA Modifieds
July 16– HELL TOUR LATE MODELS $5,000 TO WIN, HELL TOUR MODIFIEDS $1,000 to win, Street Stocks
July 26– Meet the Drivers Night: Sprints, AMRA Late Models, AMRA Modifieds, Sport Mods
August 2– OVSCA Sprints, AMRA Late Models, AMRA Modifieds, Street Stocks
August 23– FREEDOM 40 SPRINTS $3,000 TO WIN, AMRA Modifieds, Sport Mods
September 6– OVSCA Sprints, AMRA Late Models, Street Stocks, Sport Mods
September 13– DARF NIGHT– Sprints, AMRA Late Models, AMRA Modifieds, Street Stocks
September 27– FAN APPRECIATION NIGHT #2  Sprints, AMRA Late Models, AMRA Modifieds, Street Stocks, Ohio Valley Roofers Legends
October 3– To Be Announced
October 4– To Be Announced
October 11– Cancer Awareness Night: Sprints, Late Models, Modifieds, Sport Mods, Ohio Valley Roofers Legends
3 DAY OPEN WHEEL CHAMPIONSHIPS:
Sprints, Non Wing Sprints Unsanctioned with
Modifieds
October 23– 410 Sprint Practice, Non Wing Qualifying & Heats, Modified Qualifying & Heats
October 24– 410 Sprint Qualifying & Heats, Non Wing B-Mains, Modified B-Mains
October 25– 410 Sprint B-Mains & Feature $15,000 TO WIN, Non Wing Feature $5,000 TO WIN, Modified Feature $3,000 TO WIN
November 1- Topless Weekend- DAN RENO MEMORIAL WEEKEND $2,222 TO WIN for Modifieds, plus Late Models, Street Stocks, Sport Mods