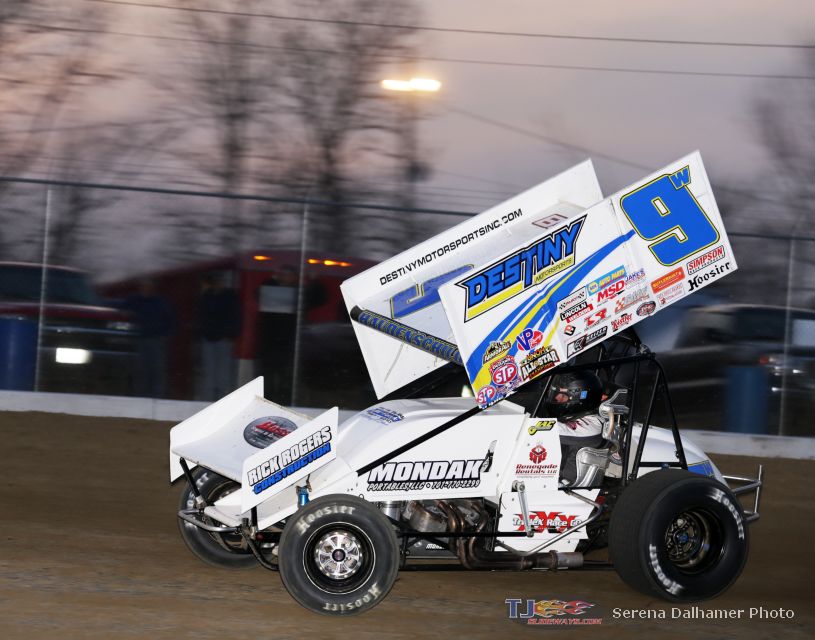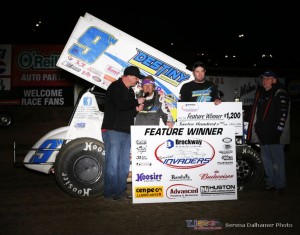 From Bill Wright
Burlington, IA — (March 30, 2014) — "The Wild Child" Jac Haudenschild scored his first career win with the Brockway Mechanical & Roofing Sprint Invaders at the 34 Raceway in West Burlington, Iowa on Sunday night. The event kicked off the 2014 season for the Sprint Invaders, and the Wooster, Ohio native was the first driver from his state to win a feature in the series' thirteen year history.
Jon Agan led the first lap, before Bret Tripplett shot by and took off from the field in the non-stop 20-lapper. The Lincoln, Illinois driver built a straightaway lead as Wayne Johnson grabbed second from Agan on lap five. Haudenschild followed Johnson by Agan a lap later and the two veterans grappled for the runner-up position.
At the halfway point, Tripplett's lead in heavy traffic was about a straightaway over Johnson, Haudenschild, Agan and Kaley Gharst. Haudenschild shot around Johnson on lap 13 and began his pursuit of Tripplett who was struggling to lap Andy Huston for a series of laps.
Haudenschild reeled in the leader and grabbed the point with two to go. "(Triplett) was so far out there I didn't know who was leading!" he said in Victory Lane. "We got him right there at the end. It was definitely a fun race! I'm glad we stopped here. It's a nice little racetrack. Scott (Benic) got the car working good, and my car owner, Rick Rogers, isn't here tonight, but I'm glad to be in the 9w car."
Tripplett settled for second. "For just finishing this car last night, and being late getting here…things went well," he said. "You could tell I was rusty in lapped traffic. I've been sitting around all winter, while some of these guys have been racing. It's the first night out, but we definitely have to get better in traffic. I just have to thank my wife for letting me come up here, along with my mom and dad and Steve Shively."
Johnson was third, and talked about Triplett getting away early. "Track position was a big thing. Clean air is a big thing, but I knew in traffic, he was going to come back to us. I thought we had the car to beat early on to the middle of the race. Our car just quit going. We've struggled lately with being fast early on, and slowing down. We're working on getting that turned around to where we were in the past."
Agan was fourth ahead of Gharst. Josh Schneiderman, Bobby Mincer, hard-charger Joey Moughan, Carson McCarl and Tony Shilling rounded out the top ten. Shilling, Gharst and Haudenschild won heat races. Shilling took the Dash, and Russ Hall won the B main.
The Sprint Invaders return to action, Friday, April 4 at the Lee County Speedway in Donnellson, Iowa, and they will make their first trip ever to the Jackson County Speedway in Maquoketa, Iowa on Saturday, April 5.
Results
Brockway Mechanical & Roofing A main (started), 20 laps: 1. 9w, Jac Haudenschild, Wooster, OH (6) 2. 22, Bret Tripplett, Lincoln, IL (1) 3. 10, Wayne Johnson, Knoxville, IA (5) 4. 4, Jon Agan, Knoxville, IA (2) 5. 41, Kaley Gharst, Decatur, IL (4) 6. 49, Josh Schneiderman, West Burlington, IA (8) 7. 15, Bobby Mincer, Burlington, IA (9) 8. 17m, Joey Moughan, Springfield, IL (20) 9. 27, Carson McCarl, Altoona, IA (10) 10. 22T, Tony Shilling, Knoxville, IA (3) 11. 36, Justin Newberry, West Burlington, IA (12) 12. 29, Russ Hall, Pleasant Hill, IA (16) 13. 68, Mike Houseman Jr., Des Moines, IA (14) 14. 73, Dustin Selvage, Indianola, IA (17) 15. 11s, Jarrod Schneiderman, West Burlington, IA (19) 16. 40, Andy Huston, Roseville, IL (11) 17. 83, Dave Getchell, Sperry, IA (15) 18. 6, Mitchell Alexander, Knoxville, IA (13) 19. 99, Jimmy Davies, Oquawka, IL (18) 20. 9, Paul Nienhiser, Chapin, IL (7). Lap Leaders: Agan 1, Tripplett 2-17, Haudenschild 18-20. KSE Hard-charger: Moughan.
Advanced Plumbing & Machine Heat one (started), 8 laps, top two to Dash, top five to A main: 1. Tony Shilling (2) 2. Bret Tripplett (7) 3. Paul Nienhiser (1) 4. Carson McCarl (5) 5. Mitchell Alexander (4) / 6. 84, Dustin Whiting, Burlington, IA (3) 7. Jarrod Schneiderman (6) DNS – Joey Moughan
Huston Land Improvement Heat two (started), 8 laps, top two to Dash, top five to A main: 1. Kaley Gharst (1) 2. Wayne Johnson (2) 3. Josh Schneiderman (3) 4. Andy Huston (4) 5. Mike Houseman Jr. (5) / 6. Dustin Selvage (6) 7. `10T, Tim Moore, Rock Island, IL (7) 8. 85, Chase Wanner, Agency, IA (8)
CenPeCo Lubricants Heat three (started), 8 laps, top two to Dash, top five to A main: 1. Jac Haudenschild (2) 2. Jon Agan (3) 3. Bobby Mincer (1) 4. Justin Newberry (4) 5. Dave Getchell (7) / 6. Jimmy Davies (5) 7. 12G, Kelly Graham, Collins, IA (8) 8. Russ Hall (6)
Budweiser "King of Beers" Shake-up Dash (started), 6 laps: 1. Tony Shilling (1) 2. Kaley Gharst (2) 3. Wayne Johnson (6) 4. Jac Haudenschild (3) 5. Bret Tripplett (5) 6. Jon Agan (4)
B main (started), 12 laps, top five to A main: 1. Russ Hall (8) 2. Dustin Selvage (2) 3. Jimmy Davies (3) 4. Jarrod Schneiderman (4) 5. Joey Moughan (7) / 6. Dustin Whiting (1) 7. Tim Moore (5) 8. Kelly Graham (6) DNS – Chase Wanner
Contingencies
Weld – Justin Newberry
Saldana Racing Products – Mike Houseman Jr.
Pyrotec – Jarrod Schneiderman
Mt. Dew Kick Start – Mitchell Alexander
Mt. Dew Kick Start – Dustin Whiting