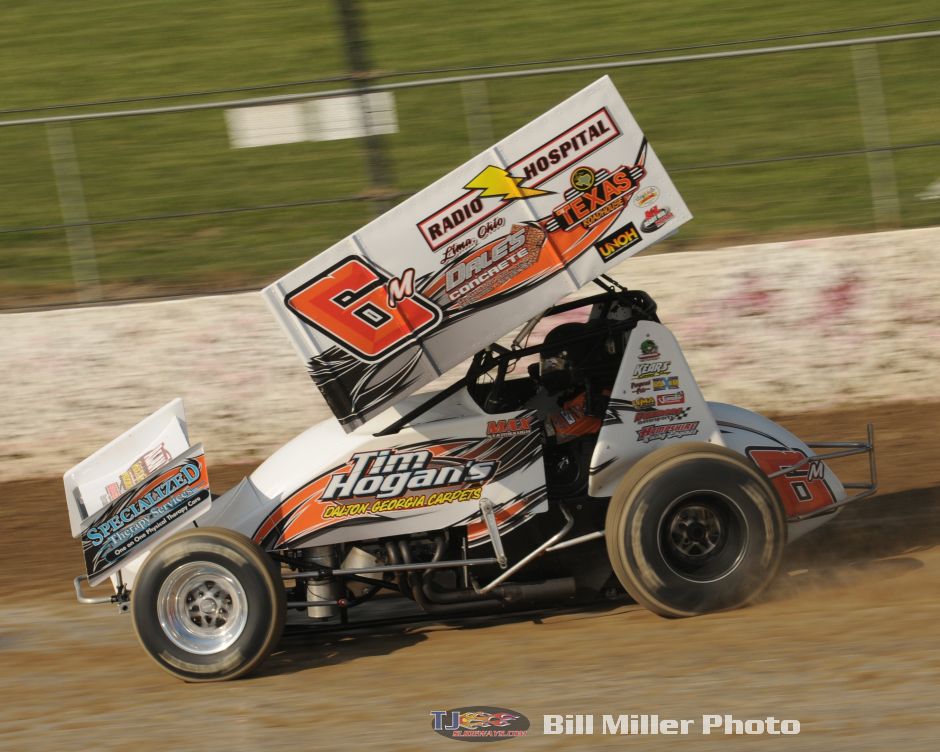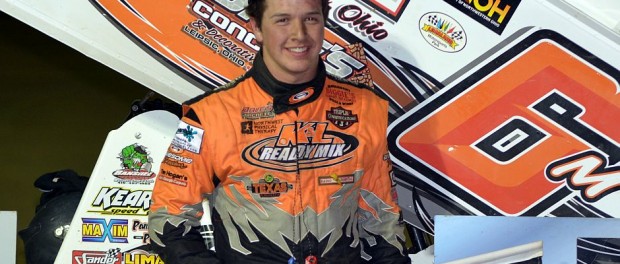 Lima, OH — (May 29, 2015) — The K & L Ready Mix NRA Sprint Invaders 25-lap feature was a somewhat rare flag-to-flag event, although there was a pair of different leaders and edge of the seat action throughout. Similar to Anderson, eventual winner Max Stambaugh also calls Elida his town of residence, and that might suggest there is an advantage (psychological) having the race facility situated in the same community.
Veteran Jared Horstman, second to Stambaugh in NRA Sprint division point's, blasted to the lead from his pole starting position. Horstman, searching for a first feature win this season, has a handful of podium finishes to his credit, and appeared as though this might be a breakout evening. He topped the field of 21 cars for the opening six laps using the high side of the banked racing surface.
Stambaugh stuck close with Horstman on the lead except he chose a much lower racing line around the track. He then made an impressive move that gave him the lead over Horstman rolling through turn two on lap six. Randy Hannagan soon occupied the second position and proceeded to pressure Stambaugh as they journeyed through lapped traffic.
"I figured if Horstman or Hannagan was going to beat me, they were going to have to do it on top because my car was working really well at the bottom," said Stambaugh afterward. "This was a good race as I had to drive hard the whole time." Notably the field of cars eventually followed Stambaugh with the lower line racing grooves. The event turned out to be caution-free with Stambaugh posting his second consecutive win on the season and strengthening his division point's lead.
Limaland Motorsports Park returns to action on Friday, June 5, with the Open Wheel Shootout, featuring the visiting BOSS Wingless Sprints. Also the K & L Ready Mix NRA Sprint Invaders and the K & M UMP Modifieds will compete. Gates open at 5:00 p.m. with hot laps at 6:30 p.m. Racing begins promptly at 7:30 p.m.
All the latest news and information about America's premier quarter-mile dirt track can be found at www.limaland.com.
K&L Ready Mix NRA Sprints
Heat 1 – (8 Laps – Top 7 Transfer)
23-Devon Dobie; 2. 6M-Max Stambaugh; 3. 35-Ron Blair; 4. 11-Tim Allison;
6S-Jr Stewart; 6. 8J-Jess Stiger; 7. 57-Mike Dunlap
Heat 2 – (8 Laps – Top 7 Transfer)
22H-Randy Hannagon; 2. 31N-Rod Henning; 3. 83-Kyle Sauder;
12R-Nick Roberts; 5. 5W-Jeff Williams; 6. 12J-Tyler Moore; 7.Brandon Fergeson
Heat 3 – (8 Laps – Top 7 Transfer)
10X-Dustin Stroup; 2. 17-Jared Horstman; 3. 49-Shawn Dancer;
B20-Butch Schroeder; 5. 22R-Kevin Roberts; 6. 28H-Hud Horton;
27R-Kyle Locke
A-Main – (25 Laps) [#]-Starting Position
6M-Max Stambaugh[3]; 2. 22H-Randy Hannagon[5];
17-Jared Horstman[1]; 4. 10X-Dustin Stroup[4]; 5. 49-Shawn Dancer[9];
23-Devon Dobie[6]; 7. 83-Kyle Sauder[8]; 8. 6S-Jr Stewart[13];
31N-Rod Henning[2]; 10. 11-Tim Allison[10]; 11. 35-Ron Blair[7];
8J-Jess Stiger[16]; 13. 28H-Hud Horton[18]; 14. 22R-Kevin Roberts[15];
57-Mike Dunlap[19]; 16. 15-Brandon Ferguson[20]; 17. 12J-Tyler Moore[17]; 18. 27R-Kyle Locke[21]; 19. 12R-Nick Roberts[11];
20. B20-Butch Schroeder[12]; 21. 5W-Jeff Williams[14]