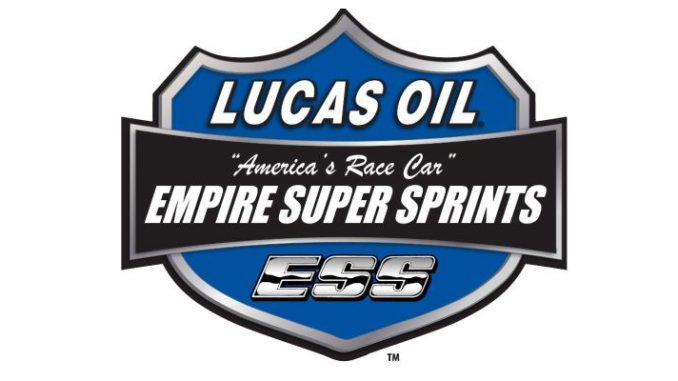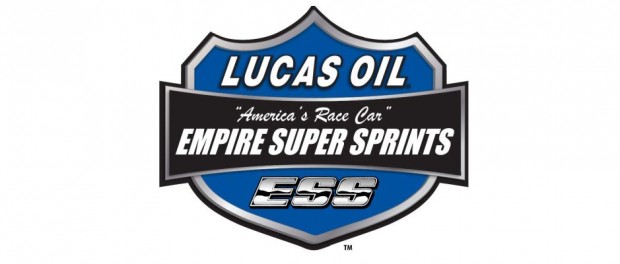 From Dean Reynolds
Granby, QC — (May 29 2015) — It was announced in the off season and the long awaited debut of Patrick Vigneault owner and Mark Smith driver tandem came this past Friday night at Autodrome Granby in Vigneault's home province of Quebec. When the checkered flag fell on the 25 lap Lucas Oil Empire Super Sprints A-Main it was Smith holding the checkered flag.
The event marked the first for the newly announced Einstein Construction Group Canada Tour 2015 and also the Fondations 4 Saisons Quebec Series.
Smith hails from Sunbury Pa. and is the builder of Mach 1 Chassis, Vigneault was the ESS hard luck award winner in 2012 and received a Mach 1 Chassis for his hardship. It has been a relationship that has grown since.
The driver Vigneault's #55 took the lead for good on lap nine and led to the checkers but it wasn't an easy win by all means, actually Smith had to work hard for two reasons. One, was a bent front wing he had with a lap one contact with Paul Kinney and two was the stiff challenges by sixth place starting Matt Tanner.
The lap one contact saw Kinney spun and then do a slow roll. Smith didn't shy away from incident, "I got into him, it was totally my fault. I felt bad about whole thing." Smith went on, "I misjudged his entry speed and just plain hit his rear bumper."
With the wing badly bent, Smith had to manhandle the sprint and try to find a lane where it was comfortable for him. "With the wing gone it took a while before I could find where I could get the car stable." Smith continued. "I just couldn't get the front end down for a long time and then I started to learn what I needed to do."
Tanner took the lead on a lap seven restart and led with eight in books before Smith took over. During the remaining laps not that front wing was enough, a strong running Rifenburg Construction #90 hounded Smith right to the finish.
"I had a real good car, especially in clean air and I think I might have been a little better than he was with his wing deal" Tanner noted on his run. "There were some laps where I could get a run on him but then when he was right in front and the dirty air off his car would get me to lose some distance."
The duo fought right until when the white flag waved which saw Tanner get underneath Smith coming off turn four. "Oh, I saw him!" exclaimed Smith.
Tanner also commented, "That was my best chance, I gave it a shot but he just had enough on me going into turn one. We're happy, to finish second to Smith with that much experience is not bad at all."
For Smith, it was his second career ESS victory but his first came at his home track Selinsgrove Speedway so this meant more. "I'm just happy for Patrick and his family. They have had a bunch of tough luck but he has been a huge supporter of Mach 1 and we are glad to get this win for him."
Jeff Cook started outside the front row and led the first seven laps. Only Smith and Tanner would get by the familiar #10 and he took home a fine third. "Sure you would like to win when you lead some laps but we were just a little off. I had a third place car." Cook continued. "I'm happy with third, usually we will fall back more than that so we are getting close. I just have to thank everyone for all their help and we will keep plugging."
The Kinney tumble saw red lights come on and they also did for a second time on lap 18 when pole starting Paulie Colagiovanni did a flip on the front stretch. He too was uninjured.
Alain Bergeron and Jason Barney completed the top five with Alain Boisvert, Tommy Wickham, Jordan Poirier, Etienne Girard and Zach Weigand rounding out the top ten.
Feature:
1. 55 – Mark Smith
2. 90 – Matt Tanner
3. 10 – Jeff Cook
4. 8b – Alain Bergeron
5. 87 – Jason Barney
6. 73 – Alain Boisvert
7. 75 – Tommy Wickham
8. 20FM – Jordan Poirier
9. 422 – Etienne Girard
10. 20 – Zack Weigand
11. 61 – Parker Evans
12. 3 – Dale Gosselin
13. 28 – Steve Poirier
14. 99 – Tim Axton
15. 51N – Guillaume Neiderer
16. 51K – Lee Ladouceur
17. 7x – Dan Douville
18. 10C – Paulie Colagiovanni
19. 123 – Yan Bilodeau
20. 2 – Dave Axton
21. 19K – Paul Kinney