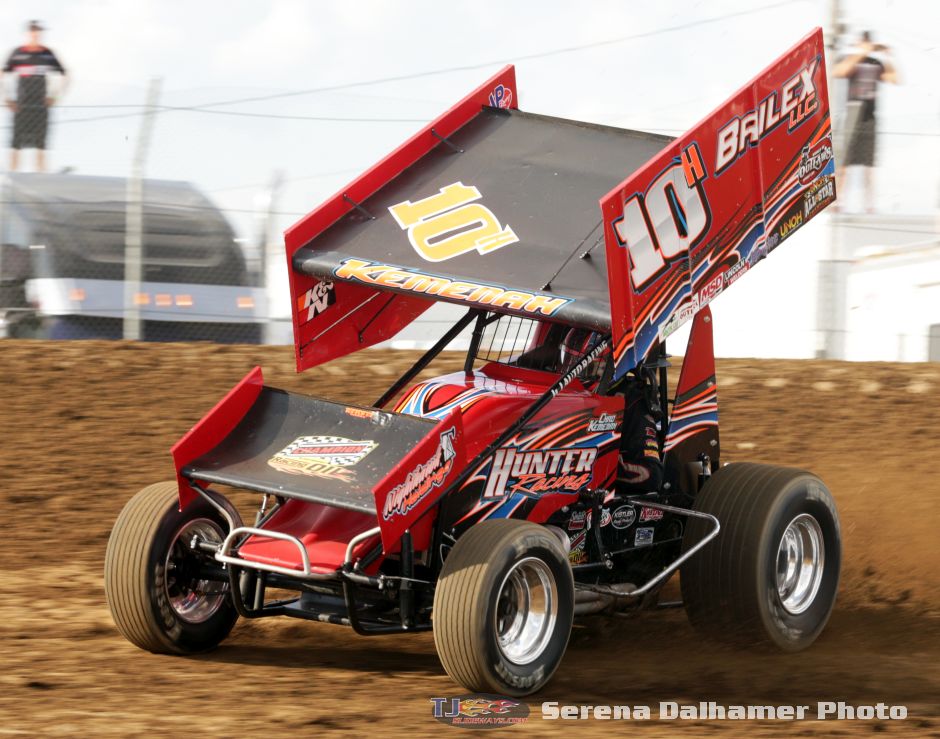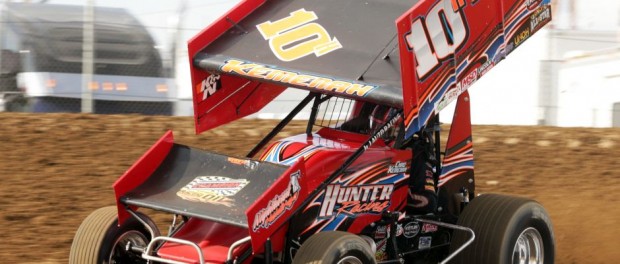 From Brian Lisaki
Attica, OH –(June 5, 2015) — A week ago Chad Kemenah had a rough night at Attica Raceway Park against the World of Outlaws. While he and his Hunter Racing team had their hopes up for a good night, misfortune haunted them all night.
But the team put that behind them and focused on the next race. It paid off. The Alvada, Ohio driver passed Dean Jacobs on lap 7 and then picked his way through traffic to score his 21st career 410 sprint win at Attica on Croghan Colonial Bank/Tiffin Paper Company Night.
"I can't remember that far back…when we last won a race here. I want to thank Rob and Rita Hunter, Champion Oil, K&N Filters, Nighthawk Holdings…Rob and Rita mostly for giving me a chance to do this with my brother (crew chief Brian). I won Attica baby," said an ecstatic Kemenah beside his Seneca Energy, Brilex LLC, Berlin Bakery #10H.
"We were really concentrating on last week. We were good in the heat and got a hole in the right rear tire and from there it just snowballed. We got in a crash in the B and it was just one thing after another. That's just the way racing goes sometimes. You have to learn to weather those and I've kind of grown up believe it or not over the years and you come back and try to do this. I can't thank my brother and Scott Euler for all work they put in this thing. I know with my brother in my corner I'm going to win. Hope this puts a smile on Rob and Rita's faces," added Kemenah.
While he didn't get the win, a runner-up finish for Dean Jacobs gives him very valuable points as he tries to close in on Byron Reed and Cap Henry for the Kistler Racing Products Fremont Attica Sprint Title (FAST) Championship Series title.
In the Foster's Auto Body 305 Sprints, veteran John Ivy celebrated his 46th birthday in style, taking the lead from Jason Keckler on lap nine and then holding off a charging Steve Rando to record his 14th career win in the division at Attica.
"I was getting excited (the last five laps) and I didn't want to over drive it so I figured I'd better settle down. I kind of got screwed up a little in lapped traffic. I thought I'd better go for it and see what happens," said Ivy who made a great move with four laps to go to split two lapped cars – one being his daughter – in turn two to maintain the lead.
"I have to thank the whole Sipe family for giving us this opportunity. We told them we would get them on the horse track and we did it," added Ivy beside his L&R Farms, Gressman Powersports, Sonny's Machine and Welding, Adkins Fence and Sanitation, Kear's Speed Shop, Graphics Gone Wild backed #77i.
After a fantastic three truck battle the first six laps of the Fremont Fence Dirt Truck feature, Matt Foos would find his groove on a restart and drove away to his third career Attica win.
"I saw him (Cory McCaughey) peak down at the bottom…I wasn't really sure…that's the problem of starting on the pole, you really don't know where it's fast. I saw him poke his nose down there and then we got that caution and I ducked down there," said Foos beside his Fremont Fence, Automatic Fire Protection, M&L Excavating, Pit Stop Convenience Store, D&R Transmissions, CA Kustoms backed #2.
Jacobs and Craig Mintz, both former Attica track champions, would bring the field to green for the 30-lap O'Reilly Auto Parts 410 Sprint feature. After a lap battle, Jacobs would grab the point over Mintz, Kemenah, Jamie Veal, Rob Chaney, Cap Henry and Caleb Griffith.
Kemenah would drive by Mintz for the runner-up spot on lap three and began closing on Jacobs when the caution flew for a stalled D.J. Foos. During the caution Jordan Ryan, who was making his 410 sprint debut, would stop on the track and would head pit side to end his night.
On the restart Kemenah pressured Jacobs and would drive around him for the lead on lap seven. Behind Jacobs, the running order was Mintz, Veal, Chaney, Henry, Paige Polyak and 18th starter Byron Reed. Foos would spin again on lap eight, ending his night.
When the green flew so did Kemenah, rib-riding around the track to build a five car length lead with Jacobs, Mintz, Veal, Henry and Reed in pursuit. Jody Keegan would drive off the banking in turn one on lap 11 to bring out the final caution of the feature.
Kemenah and Jacobs would pull away from a great battle for third between Mintz and Veal when the green reappeared. Veal would take the position on lap 13. By the half-way point, Jacobs had found something on the bottom of turns one and two and was closing on Kemenah with Veal, Mintz, Reed and Henry in tow.
The leaders would hit lapped traffic with nine circuits to go and Jacobs closed to within a couple of car lengths of Kemenah with Veal, Mintz, Reed, Henry, Chaney and Stuart Brubaker giving chase. Kemenah was patient and worked his way through the traffic with Jacobs trying to stay close. Veal would slip over the cushion on lap 26, giving third back to Mintz.
Kemenah would execute a perfect move around two lapped cars with three to go to seal the win. Jacobs would finish second with Mintz, Reed and Henry rounding out the top five.
In the 25 lap 305 sprint feature, Trey Jacobs and Jason Keckler would bring the field to green with Keckler gaining the advantage over Jacobs, Jim Taddeo, Bryan Sebetto, Ivy and Steve Rando. Keckler would begin to build a sizeable lead while Jacobs and Taddeo tussled over second with Sebetto, Ivy and Rando battling behind them. Ivy would blast around Sebetto and Taddeo on lap five to grab third and a lap later took second.
The only caution would fly for a Jeremy Duposki spin on lap six, wiping out a big lead for Keckler. On the restart Ivy immediately challenged and would take the lead with a high line move on lap 9.
Keckler would then battle with Sebetto and Rando over the next two laps with Sebetto taking second on lap 12 and Rando moving into third a lap later. Ivy would race into heavy lapped traffic on lap 16 with Sebetto, Rando, Jamie Miller (up from his 12th starting spot), Keckler and Jacobs in tow.
Rando would use the lapped cars to take second on lap 18 and closed rapidly on Ivy, with Sebetto and Miller locked in a battle for third. With three laps to go, Rando was within two car lengths of Ivy as the pair diced their way through lapped traffic as Miller also closed.
Ivy made a daring move splitting two lapped cars exiting turn two with two laps to go to seal the win. Rando would come home a very close second with Miller, Sebetto and Kyle Capodice rounding out the top five.
In the 15-lap truck feature, Foos and McCaughey brought the field to green which immediately became a three truck battle for the lead with Brandon Leighton getting in on the action. Those three would run side by side and swap the lead all the way around the track but it was Foos who maintained the top spot.
The only caution flew on lap six for Dana Fry and Brian Arnold who were battling for fourth. When the green flew Foos went to the bottom groove and began to pull away from McCaughey who was able to get away from Leighton slightly with Keith Sorg, Dustin Keegan and Kyle Cline in tow.
Foos would hit his marks perfectly the rest of the way to take the win with McCaughey, Leighton, Sorg and Keegan rounding out the top five.
Attica Raceway Park gets back to action Friday, June 12 for Mid-Season Championship Night on Burns Electric/Ohio Logistics Night. The 410 and 305 sprints along with the UMP late models and trucks will all be in action with double points on the line.
For more information go to www.atticaracewaypark.com
Attica Raceway Park
Croghan Colonial Bank/Tiffin Paper Company Night
Starting position [*]
O'Reilly Auto Parts 410 Sprints (29 cars)
Qualifying
1.35AU-Jamie Veal, 12.382; 2.10H-Chad Kemenah, 12.398; 3.33M-Caleb Griffith, 12.537; 4.97-Dean Jacobs, 12.593; 5.83M-Broc Martin, 12.609; 6.60-Jody Keegan, 12.650; 7.5R-Byron Reed, 12.700; 8.16-Stuart Brubaker, 12.758; 9.19-Chris Andrews, 12.762; 10.7C-Caleb Armstrong, 12.764; 11.45L-Brian Lay, 12.764; 12.53-Cap Henry, 12.769; 13.21-DJ Foos, 12.788; 14.5-Jordan Ryan, 12.800; 15.8M-TJ Michael, 12.822; 16.40DD-Nate Dussel, 12.832; 17.09-Craig Mintz, 12.833; 18.9x-Rob Chaney, 12.873; 19.59-Bryan Nuckles, 12.913; 20.9-Jimmy Colvin, 12.922; 21.19P-Paige Polyak, 12.930; 22.91-Cale Thomas, 12.991; 23.20N-Hunter Schuerenberg, 13.021; 24.68G-Tyler Gunn, 13.053; 25.9Z-Duane Zablocki, 13.056; 26.15H-Mitch Harble, 13.179; 27.AU5-Danny Reidy, 13.388; 28.55F-Taylor Ferns, 13.596; 29.96AU-Bruce White, 14.279;
Nitro Black Performance by Engine Pro Heat 1 – (8 Laps, top 4 to A)
1. 5-Jordan Ryan[2] ; 2. 35AU-Jamie Veal[4] ; 3. 8M-TJ Michael[1] ; 4. 83M-Broc Martin[3] ; 5. 68G-Tyler Gunn[7] ; 6. 20N-Hunter Schuerenberg[6] ; 7. 9-Jimmy Colvin[5] ; 8. 96AU-Bruce White[8]
Summit Racing Equipment Heat 2 – (8 Laps, top 4 to A)
1. 97-Dean Jacobs[2] ; 2. 10H-Chad Kemenah[4] ; 3. 33M-Caleb Griffith[3] ; 4. 60-Jody Keegan[1] ; 5. 40DD-Nate Dussel[6] ; 6. 5R-Byron Reed[5] ; 7. 59-Bryan Nuckles[7]
Ultra Shield Race Products Heat 3 – (8 Laps, top 4 to A)
1. 09-Craig Mintz[1] ; 2. 53-Cap Henry[2] ; 3. 19-Chris Andrews[4] ; 4. 7C-Caleb Armstrong[3] ; 5. 9Z-Duane Zablocki[6] ; 6. 91-Cale Thomas[5] ; 7. 15H-Mitch Harble[7]
Rock Auto.com Heat 4 – (8 Laps, top 4 to A)
1. 9x-Rob Chaney[1] ; 2. 19P-Paige Polyak[5] ; 3. 16-Stuart Brubaker[4] ; 4. 21-DJ Foos[2] ; 5. AU5-Danny Reidy[6] ; 6. 55F-Taylor Ferns[7] ; 7. 45L-Brian Lay[3]
Computer Man B-Main – (10 Laps, top 4 to A)
1. 68G-Tyler Gunn[1] ; 2. 5R-Byron Reed[6] ; 3. 9Z-Duane Zablocki[3] ; 4. AU5-Danny Reidy[4] ; 5. 20N-Hunter Schuerenberg[5] ; 6. 91-Cale Thomas[7] ; 7. 15H-Mitch Harble[10] ; 8. 9-Jimmy Colvin[8] ; 9. 55F-Taylor Ferns[12] ; 10. 96AU-Bruce White[11] ; 11. 40DD-Nate Dussel[2] ; 12. 59-Bryan Nuckles[9]
A-Main 1 – (30 Laps)
1. 10H-Chad Kemenah[4] ; 2. 97-Dean Jacobs[1] ; 3. 09-Craig Mintz[2] ; 4. 5R-Byron Reed[18] ; 5. 53-Cap Henry[6] ; 6. 35AU-Jamie Veal[5] ; 7. 33M-Caleb Griffith[10] ; 8. 16-Stuart Brubaker[12] ; 9. 9x-Rob Chaney[3] ; 10. 83M-Broc Martin[13] ; 11. AU5-Danny Reidy[20] ; 12. 19P-Paige Polyak[8] ; 13. 19-Chris Andrews[11] ; 14. 9Z-Duane Zablocki[19] ; 15. 68G-Tyler Gunn[17] ; 16. 8M-TJ Michael[9] ; 17. 60-Jody Keegan[14] ; 18. 7C-Caleb Armstrong[15] ; 19. 21-DJ Foos[16] ; 20. 5-Jordan Ryan[7]
Hard Charger: Byron Reed +14
Foster's Auto Body 305 Sprints (33 cars)
Nitro Black Performance Heat 1 – (8 Laps, top 4 to A)
1. 39-Jamie Miller[2] ; 2. 12-Kyle Capodice[3] ; 3. 19R-Steve Rando[5] ; 4. 48-Mike Burkin[4] ; 5. 1X-Dustin Dinan[7] ; 6. 24-Alex Paden[1] ; 7. 18N-Frank Neill[6] ; 8. 9R-Dustin Rall[9] ; 9. 5R-Jordan Ryan[8]
Summit Racing Equipment Heat 2 – (8 Laps, top 4 to A)
1. 3J-Trey Jacobs[2] ; 2. 2-Ricky Peterson[5] ; 3. 25-Jason Keckler[6] ; 4. 13-Jeremy Duposki[4] ; 5. 44-Kyle Farmer[1] ; 6. 32H-Dan Hennig[3]
Ultra Shield Race Products Heat 3 – (8 Laps, top 4 to A)
1. 8-Bobby Clark[2] ; 2. 77I-John Ivy[4] ; 3. 29-Bryan Sebetto[8] ; 4. 20I-Kelsey Ivy[1] ; 5. 36-Seth Schneider[6] ; 6. 75-Jerry Dahms[3] ; 7. 87-Brian Gibbs[7] ; 8. 7-Dylan Kingan[5]
Rock Auto.com Heat 4 – (8 Laps, top 4 to A)
1. 4*-Tyler Street[2] ; 2. 11G-Luke Griffith[3] ; 3. 4T-James Taddeo[8] ; 4. 97-Kyle Peters[4] ; 5. 14-Rick Daugherty[1] ; 6. 94K-Kurt Huber[5] ; 7. 22M-Dan McCarron[6] ; 8. 1W-Paul Weaver[7]
Computer Man B-Main 1 – (8 Laps, top 2 to A)
1. 1X-Dustin Dinan[1] ; 2. 36-Seth Schneider[2] ; 3. 24-Alex Paden[3] ; 4. 18N-Frank Neill[5] ; 5. 87-Brian Gibbs[6] ; 6. 5R-Jordan Ryan[9] ; 7. 75-Jerry Dahms[4] ; 8. 7-Dylan Kingan[8] ; 9. 9R-Dustin Rall[7]
Computer Man B-Main 2 – (6 Laps, top 2 to A)
1. 44-Kyle Farmer[1] ; 2. 14-Rick Daugherty[2] ; 3. 22M-Dan McCarron[5] ; 4. 94K-Kurt Huber[4]
A-Main 1 – (25 Laps)
1. 77I-John Ivy[6] ; 2. 19R-Steve Rando[8] ; 3. 39-Jamie Miller[12] ; 4. 29-Bryan Sebetto[3] ; 5. 12-Kyle Capodice[7] ; 6. 2-Ricky Peterson[9] ; 7. 25-Jason Keckler[2] ; 8. 8-Bobby Clark[11] ; 9. 11G-Luke Griffith[5] ; 10. 1X-Dustin Dinan[17] ; 11. 36-Seth Schneider[19] ; 12. 4T-James Taddeo[4] ; 13. 4*-Tyler Street[10] ; 14. 48-Mike Burkin[13] ; 15. 97-Kyle Peters[16] ; 16. 44-Kyle Farmer[18] ; 17. 13-Jeremy Duposki[14] ; 18. 20I-Kelsey Ivy[15] ; 19. 14-Rick Daugherty[20] ; 20. 3J-Trey Jacobs[1]
Hard charger: Jamie Miller +9