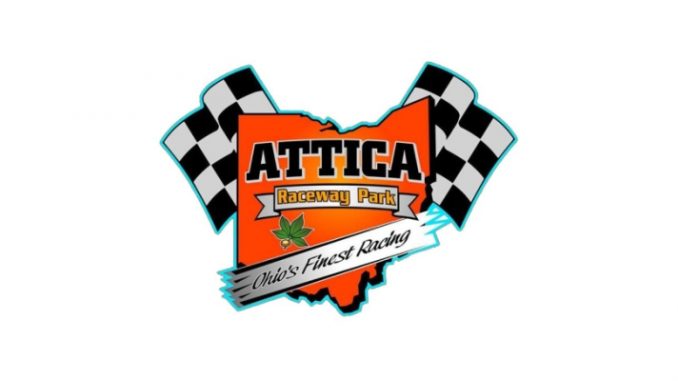 From Brian Liskai
Attica, OH — (July 24, 2015) — Usually when a driver joins a new team it takes awhile for all the elements to gel. Not so for Stuart Brubaker.
The Gibsonburg, Ohio driver took the lead from Dean Jacobs at the half-way point and went on to score his third straight win at Attica Raceway Park in the O'Reilly Auto Parts 410 Sprints on Columbus Equipment/Comfort Keepers Night.
Brubaker, a former 305 sprint track champion, joined the Burmeister Racing Team over the winter after having fielded his own 410 sprint team the past couple of years. And this combination is proving to be a force to be reckoned with. Not only has Brubaker won three straight, but he is in contention to win the $10,000 Attica point championship as he came into the night third in the standings only 16 points behind Jacobs.
And, he gained more valuable points in the hunt for the $10,000 Kistler Racing Products Fremont Attica Sprint Title (FAST) Championship Series Presented by KS Sales and Service. At the beginning of the night he was fifth in the FAST Standings.
"This is awesome. When Byron (Reed) got past me I was like 'MAN this ain't good…he's pretty fast.' I stuck the wing back there on that yellow and this thing just stuck and I kept driving the wheels off it," said Brubaker of his Schiets Tender Touch Car Wash, Dave Story Equipment; Stephen P. Mapus Productive Tools, Randy Beeker Excavating, Adkins Fence and Sanitation, Huffman Tools, Kistler Racing Products, Kistler Engines backed machine.
"I got through traffic well. I cleared one down in one and two around the top and I figured someone was going to get me…I spun the wheels in all the dust up there. Thanks to all my team….Burmeister Racing is amazing," continued Brubaker of his Meggit Sandblasting, Advantage Ford, Schiets Motorsports, Burmeister Plowing backed #16.
Wooster, Ohio's "Hammer Down" Doug Drown was going to quit racing a year ago. He was struggling and wasn't having fun. Then a phone call from Leroy Hall to drive his late model along with the regular driver Charlie Duncan agreeing to step aside, turned his career around. He led all 25 laps to record his fifth win of the season in the Summit Racing Equipment UMP Late Models at Attica.
"The car has been awesome. I can't complain. The guys are doing a great job. I was a little nervous…everyone thinks it's easy but it's not. We're still guessing like everybody else. I just picked the center of the race track because it was the brownest since the sprints were either below it or above it," said Drown beside his Hall's Auto Sales, Malcuit Racing Engines, Nationwide Vehicle Protection, Wooster Glass, Kar Konnections backed #240.
"This is the best season of my career. It's crazy to think I was going to quit. Leroy Hall and Charlie Duncan gave me this opportunity and it's definitely more fun. I know winning is fun but this is a great group too. I have the right people around me and when you have good people around you good things happen," added Drown.
Fremont's Bobby Clark came into the night with four wins on the season – all coming at Fremont Speedway in the 305 sprint division. He was winless at Attica. But that turned around Friday in the Foster's Auto Body 305 Sprints as he took the lead from Ricky Peterson on lap 11 and then held off Jordan Ryan for the victory, the 17th of his career in the division at Attica.
For Clark, the win keeps him atop the JLH General Contractor 305 FAST Championship Series Presented by Engine Pro points. He also closed the gap in the Attica point standings as he came into the night in third behind Ryan and Jamie Miller.
"Last year was just the opposite…we'd win here and not at Fremont. This is actually the car we won here last year with. We made a car swap again and it turned out good. I saw Jordan (Ryan) got second and I knew I had to protect the bottom. Hat's off to my crew. We weren't so good in the heat and they just kept tweaking on it," said Clark of his Fremont Fence, Schiets Motorsports, Kistler Engines, Kear's Speed Shop, B&L Plumbing, Nagy Equipment Sales, Miller Rigging, Shelluke's Bar, Willey's Towing, Big D's Pizza, Fremont Auto Parts backed #8.
Woodville's Daniel Roepke Jr. hasn't raced a whole lot this year, but he looked in midseason form in the Fremont Fence Dirt Trucks. He used a lap truck to hold back leader Brian Arnold and drove around on the last lap for his 9th career Attica win.
"Most of the time you just have to be patient and see what happens at the end. This time it worked out for us. I was behind Matt (Foos, early race leader) and saw lots of smoke coming and I was waiting for that to let go. And then I saw that lapped truck down there and new he would get caught up with Arnold so I went to the outside and it worked out," said Roepke.
The 30-lap 410 sprint feature got off to a rocky start. While working to get lined up for the race, defending track champion Caleb Griffith got into the turn three cushion and flipped. He was okay but done for the night.
Rob Chaney and Dean Jacobs would bring the field to green but before a lap could be scored Tyler Gunn would spin. On the ensuing green, Jacobs – who has a pair of wins at Attica this season – grabbed the lead over Chaney, Craig Mintz, Cap Henry, Bryan Lay, Brubaker, Byron Reed and Jordan Ryan.
A yellow on lap two for Brock Martin kept the field close to Jacobs. When the green flew so did Jacobs, opening up a six car length lead while Chaney bobbled on the cushion in turn four, moving Mintz and Henry to second and third.
Meanwhile, Brubaker, who was originally scheduled to start 10th but rolled off eighth because a scratch and the early crash, was on the move, taking fourth from Chaney on lap five. Jacobs rocketed into lapped traffic by the seventh circuit as he led Mintz, Henry, Brubaker, Chaney, Reed, Lay, Ryan and Chris Andrews.
Henry would spin in turn two on lap eight as he was battling Mintz. On the ensuing restart Brubaker would drive around Mintz into second with Reed rolling into fourth. Reed would drive around Mintz for third on lap 11 and closed on Jacobs and Brubaker.
At the half-way point, Brubaker drove low in turns three and four and rocketed into the lead. Two laps later as the leaders raced into heavy lapped traffic, Reed would take second from Jacobs.
With 10 laps to go Brubaker was picking his way through the lapped cars with Reed, Jacobs, Mintz, Lay, Chaney and a resurgent Gunn giving chase. Every time Reed would cut into Brubaker's advantage the leader would clear traffic and pull away. A very good battle for third was underway between Jacobs and Mintz.
Brubaker hit his marks perfectly and drove to the win over Reed, Jacobs, Mintz and Lay.
In the 25-lap late model feature, Markham and Drown would bring the field to green with Drown gaining the upper hand over Markham, Matt Irey, Josh Haynes, Mike Bores, Chris Keller and Larry Kingseed. Drown would pull away slightly as a tremendous battle ensued for second involving Markham, Haynes and Irey.
As Drown's lead grew to six car lengths, Haynes would take second on lap four only to see Markham retake the spot a lap later. Action ground to a half on lap five when John Bores flipped over the banking in turn one. He was not injured.
When the green flew Drown pulled away again with Markham, Haynes, Irey, Mike Bores, a closing Rocky Owens, Keller, Devin Shiels and Kingseed in tow. Irey would take third on lap nine just before the caution flew for a Mike Bores spin.
When the green would reappear Drown could not shake Markham and Irey as Owens moved into fourth. Once Drown got his momentum back he would pull away as Markham now had his hands full with Irey and Owens while Haynes battled with Shiels and Keller.
The final caution would fly on lap 17 for a Nate Potts spin with the restart order Drown, Markham, Irey, Owens, Haynes, Keller, Shiels and a closing Rusty Schlenk. Irey would grab second on lap 18 and started to close on Drown. Markham would rally to challenge Irey with three laps to go.
Drown would drive the middle of the track to perfection to take the win over Irey, Markham, Owens and Keller.
In the 25 lap 305 sprint feature, Jason Keckler and Ricky Peterson paced the field with Peterson taking the lead. Fourth starter Clark would jump into second on lap three, bringing Jordan Ryan to third. Jamie Miller – who had won the last two features at Attica – would climb into fourth on lap four. The car on the move was Paul Weaver who drove into sixth from his 10th starting spot in just six laps.
The caution would fly on lap eight for a Kelsey Ivy spin with the running order Peterson, Clark, Ryan, Miller, Weaver, Seth Schneider, Keckler, Dan McCarron, Kyle Capodice and Dustin Stroup.
On the restart both Clark and Ryan pressured Peterson and Clark would drive to the outside of turn four on lap 11 to take the lead with the caution soon flying for a Frank Neill spin. On the restart Ryan would drive into second and closed on Clark. A lap later and Weaver drove around Peterson into third and closed quickly on Ryan.
Steve Rando would spin on lap 17 for the feature's final caution. On the restart it was a three car battle with Clark, Ryan and Weaver pulling away from Peterson, Stroup, Schneider and Dustin Dinan. Once the laps started to tick off, Clark would pull away with Ryan edging away from Weaver.
Clark would drive to the win over Ryan, Weaver, Stroup and Peterson.
In a non-stop 15 lap dirt truck feature, Dana Fry and Brandon Leighton brought the field to green. Leighton would grab the slim lead over Matt Foos, Frey, Brian Arnold and Roepke. The top five would put on a whale of a show with Foos taking the lead by a bumper on lap four.
With six laps in the running order was Foos, Leighton, a closing Arnold, Roepke, Frey and Eric Devanna. Arnold would take second on lap seven and immediately closed on Foos.
By lap 9 it was a three truck battle involving Foos, Arnold and Roepke. That battle would continue until Foos' motor went up in flames with three laps to go and he ducked into the pits. Not the leader was Arnold over Roepke, Leighton, Frey and Devanna.
After taking the white flag, Arnold, who was on the bottom of the track, would run up on a lapped truck and Roepke used the opportunity pounce and drove to the outside to take the lead.
Roepke would edge Arnold for the win with Leighton, Frey and Devanna rounding out the top five.
Attica will be back in action Friday, July 31st on Smith Family Foods/Culy Contracting Night. It will be a Kistler Racing Products FAST point night for the 410 sprints with the ALMS Late Models also in action while the 305 sprints and dirt trucks are also on the racing card.
For more information go to www.atticaracewaypark.com
Attica Raceway Park
Columbus Equipment/Comfort Keepers Night
Friday, July 24, 2015
Starting position [*]
–
O'Reilly Auto Parts 410 Sprints (22 cars)-
Qualifying
1.21-DJ Foos, 12.148; 2.19-Chris Andrews, 12.331; 3.53-Cap Henry, 12.357; 4.16-Stuart Brubaker, 12.538; 5.97-Dean Jacobs, 12.571; 6.9-Jimmy Colvin, 12.597; 7.9r-Jordan Ryan, 12.597; 8.9x-Rob Chaney, 12.607; 9.09-Craig Mintz, 12.619; 10.60-Jody Keegan, 12.620; 11.68G-Tyler Gunn, 12.648; 12.9Z-Duane Zablocki, 12.653; 13.45L-Brian Lay, 12.661; 14.5R-Byron Reed, 12.691; 15.33M-Caleb Griffith, 12.751; 16.83M-Broc Martin, 12.764; 17.8M-TJ Michael, 13.028; 18.39M-Matt Merrill, 13.389; 19.3T-Tony Beaber, 13.444; 20.40DD-Nate Dussel, 13.547; 21.8-Kevin Shelbo, 13.715; 22.96AU-Bruce White, 13.813;
Nitro Black Performance by Engine Pro Heat 1, Group A – (8 Laps, top 8 to the A)
1. 09-Craig Mintz[2] ; 2. 33M-Caleb Griffith[6] ; 3. 68G-Tyler Gunn[5] ; 4. 16-Stuart Brubaker[3] ; 5. 60-Jody Keegan[1] ; 6. 19-Chris Andrews[4] ; 7. 9-Jimmy Colvin[7] ; 8. 39M-Matt Merrill[8]
Summit Racing Equipment Heat 2, Group B – (8 Laps, top 7 to A)
1. 45L-Brian Lay[1] ; 2. 97-Dean Jacobs[4] ; 3. 9r-Jordan Ryan[3] ; 4. 83M-Broc Martin[5] ; 5. 9Z-Duane Zablocki[2] ; 6. 3T-Tony Beaber[6] ; 7. 40DD-Nate Dussel[7]
Ultra Shield Race Products Heat 3, Group C – (8 Laps, top 7 to A)
1. 21-DJ Foos[4] ; 2. 9x-Rob Chaney[2] ; 3. 53-Cap Henry[3] ; 4. 5R-Byron Reed[1] ; 5. 8M-TJ Michael[5] ; 6. 8-Kevin Shelbo[6] ; 7. 96AU-Bruce White[7]
A-Main 1 – (30 Laps)
1. 16-Stuart Brubaker[10] ; 2. 5R-Byron Reed[12] ; 3. 97-Dean Jacobs[2] ; 4. 09-Craig Mintz[3] ; 5. 45L-Brian Lay[6] ; 6. 9x-Rob Chaney[1] ; 7. 68G-Tyler Gunn[5] ; 8. 9r-Jordan Ryan[9] ; 9. 8M-TJ Michael[15] ; 10. 53-Cap Henry[7] ; 11. 9Z-Duane Zablocki[14] ; 12. 40DD-Nate Dussel[20] ; 13. 9-Jimmy Colvin[19] ; 14. 8-Kevin Shelbo[18] ; 15. 3T-Tony Beaber[17] ; 16. 60-Jody Keegan[13] ; 17. 96AU-Bruce White[21] ; 18. 19-Chris Andrews[16] ; 19. 39M-Matt Merrill[22] ; 20. 83M-Broc Martin[11]
Hard Charger: Byron Reed +10
Foster's Auto Body 305 Sprints (34 cars)
Nitro Black Performance Heat 1 – (8 Laps, top 4 to A)
1. 77I-John Ivy[5] ; 2. 5R-Jordan Ryan[9] ; 3. 8-Bobby Clark[4] ; 4. 18-Frank Neill[1] ; 5. 7S-Thomas Schinderle[8] ; 6. 26-Ryan French[2] ; 7. 9R-Dustin Rall[6] ; 8. 24-Alex Paden[3] ; 9. 13-Jeremy Duposki[7]
Summit Racing Equipment Heat 2 – (8 Laps, top 4 to A)
1. 22M-Dan McCarron[2] ; 2. 2-Ricky Peterson[4] ; 3. 25-Jason Keckler[1] ; 4. 20I-Kelsey Ivy[3] ; 5. 11G-Luke Griffith[5] ; 6. 7M-Brandon Moore[9] ; 7. 44-Kyle Farmer[8] ; 8. 15-Gary Benjamin[6] ; 9. 75-Jerry Dahms[7]
Ultra Shield Race Products Heat 3 – (8 Laps, top 4 to A)
1. 1W-Paul Weaver[2] ; 2. 19R-Steve Rando[6] ; 3. 1M-Dustin Stroup[8] ; 4. 4*-Tyler Street[5] ; 5. 2L-Landon LaLonde[3] ; 6. 3J-Trey Jacobs[4] ; 7. 32H-Dan Hennig[7] ; 8. 97-Kyle Peters[1]
Rock Auto.com Heat 4 – (8 Laps, top 4 to A)
1. 39-Jamie Miller[1] ; 2. 12-Kyle Capodice[3] ; 3. 36-Seth Schneider[2] ; 4. 1X-Dustin Dinan[5] ; 5. 99-Alvin Roepke[6] ; 6. 87-Brian Gibbs[8] ; 7. 1J-Jeremy Shambaugh[4] ; 8. 94K-Kurt Huber[7]
Computer Man B-Main 1 – (8 Laps, top 2 to A)
1. 7S-Thomas Schinderle[1] ; 2. 32H-Dan Hennig[6] ; 3. 9R-Dustin Rall[5] ; 4. 2L-Landon LaLonde[2] ; 5. 3J-Trey Jacobs[4] ; 6. 97-Kyle Peters[8] ; 7. 13-Jeremy Duposki[9] ; 8. 26-Ryan French[3] ; 9. 24-Alex Paden[7]
Computer Man B-Main 2 – (8 Laps, top 2 to A)
1. 11G-Luke Griffith[1] ; 2. 99-Alvin Roepke[2] ; 3. 7M-Brandon Moore[3] ; 4. 44-Kyle Farmer[5] ; 5. 15-Gary Benjamin[7] ; 6. 87-Brian Gibbs[4] ; 7. 75-Jerry Dahms[9] ; 8. 1J-Jeremy Shambaugh[6]
A-Main 1 – (25 Laps)
1. 8-Bobby Clark[4] ; 2. 5R-Jordan Ryan[6] ; 3. 1W-Paul Weaver[10] ; 4. 1M-Dustin Stroup[9] ; 5. 2-Ricky Peterson[2] ; 6. 36-Seth Schneider[8] ; 7. 99-Alvin Roepke[20] ; 8. 39-Jamie Miller[3] ; 9. 77I-John Ivy[7] ; 10. 25-Jason Keckler[1] ; 11. 22M-Dan McCarron[5] ; 12. 11G-Luke Griffith[18] ; 13. 4*-Tyler Street[15] ; 14. 32H-Dan Hennig[19] ; 15. 20I-Kelsey Ivy[14] ; 16. 1X-Dustin Dinan[16] ; 17. 19R-Steve Rando[11] ; 18. 18-Frank Neill[13] ; 19. 7S-Thomas Schinderle[17] ; 20. 12-Kyle Capodice[12]
Hard Charger: Alvin Roepke +13
Summit Racing Equipment UMP Late Models (18 cars)
Nitro Black Performace Heat 1 – (8 Laps, top 6 to A)
1. 21-Larry Kingseed[3] ; 2. 5J-Josh Haynes[4] ; 3. 5M-Ryan Markham[6] ; 4. 15B-Mike Bores[5] ; 5. 30-Nate Potts[2] ; 6. 27-Rusty Schlenk[1]
Summit Racing Equipment Heat 2 – (8 Laps, top 6 to A)
1. 240-Doug Drown[2] ; 2. 00-Chris Keller[4] ; 3. 36-Matt Irey[6] ; 4. 29-Rocky Owens[5] ; 5. 92-Randy Scott[3] ; 6. 21A-Rick Armstrong[1]
Ultra Shield Race Products Heat 3 – (8 Laps, top 6 to A)
1. 51-Devin Shiels[4] ; 2. 48-John Bores[3] ; 3. 50Y-Ryan Missler[5] ; 4. 03-Jim Gingery[6] ; 5. 9C-Troy Cattarene[1] ; 6. 21S-Cody Scott[2]
A-Main 1 (25 Laps)
1. 240-Doug Drown[2] ; 2. 36-Matt Irey[4] ; 3. 5M-Ryan Markham[1] ; 4. 29-Rocky Owens[9] ; 5. 00-Chris Keller[7] ; 6. 5J-Josh Haynes[3] ; 7. 51-Devin Shiels[11] ; 8. 27-Rusty Schlenk[16] ; 9. 9C-Troy Cattarene[15] ; 10. 50Y-Ryan Missler[12] ; 11. 21-Larry Kingseed[8] ; 12. 21S-Cody Scott[18] ; 13. 92-Randy Scott[14] ; 14. 15B-Mike Bores[5] ; 15. 21A-Rick Armstrong[17] ; 16. 03-Jim Gingery[10] ; 17. 30-Nate Potts[13] ; 18. 48-John Bores[6]
Hard Charger: Rusty Schlenk +8
Fremont Fence Dirt Trucks (13 trucks)
Nitro Black Performance Heat 1 – (8 Laps, top 6 to A)
1. 88-Dan Roepke[7] ; 2. 33W-Jeff Ward[6] ; 3. 37-Eric Devanna[3] ; 4. 17X-Dustin Keegan[5] ; 5. 9-Curt Inks[2] ; 6. 85-Brandon Stuckey[1]
Summit Racing Equipment Heat 2 – (8 Laps, top 7 to A)
1. 2-Matt Foos[5] ; 2. 7F-Dana Frey[2] ; 3. 33-Brian Arnold[6] ; 4. 22-Brandon Leighton[4] ; 5. 25-Randy Ryan[7] ; 6. 4S-Keith Sorg[3] ; 7. P51-Brad Keckler[1]
A-Main 1 – (15 Laps)
1. 88-Dan Roepke[4] ; 2. 33-Brian Arnold[5] ; 3. 22-Brandon Leighton[2] ; 4. 7F-Dana Frey[1] ; 5. 37-Eric Devanna[6] ; 6. 17X-Dustin Keegan[7] ; 7. 4S-Keith Sorg[12] ; 8. 33W-Jeff Ward[8] ; 9. 9-Curt Inks[9] ; 10. 85-Brandon Stuckey[11] ; 11. 25-Randy Ryan[10] ; 12. 2-Matt Foos[3] ; 13. P51-Brad Keckler[13]
Hard Charger: Keith Sorg +5