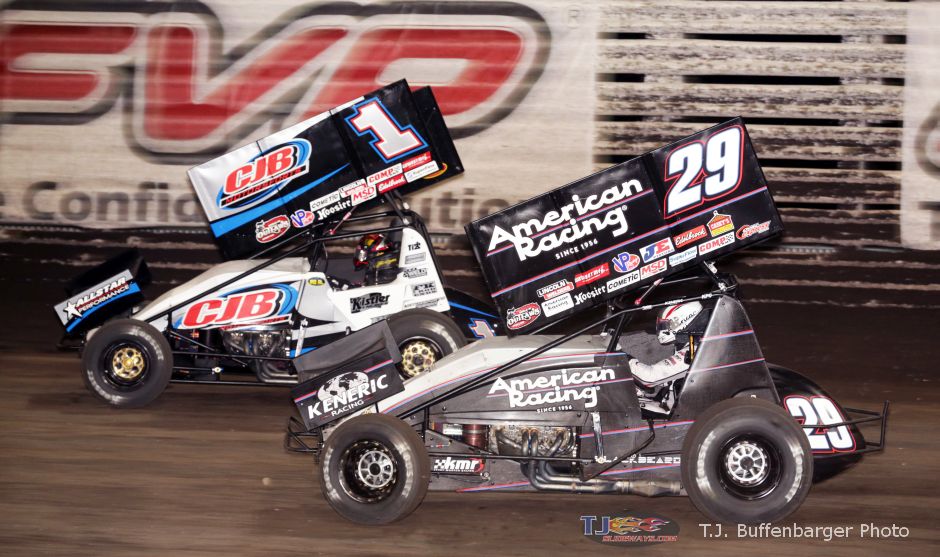 PETERSEN MEDIA
Kerry Madsen and his Keneric Racing/American Racing No. 29 team put together a very strong Southern Iowa Speedweek that culminated with Madsen's career best finish at the 55th Annual Knoxville Nationals, a second place effort.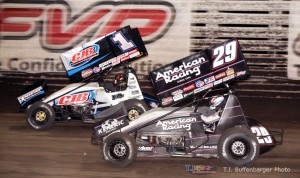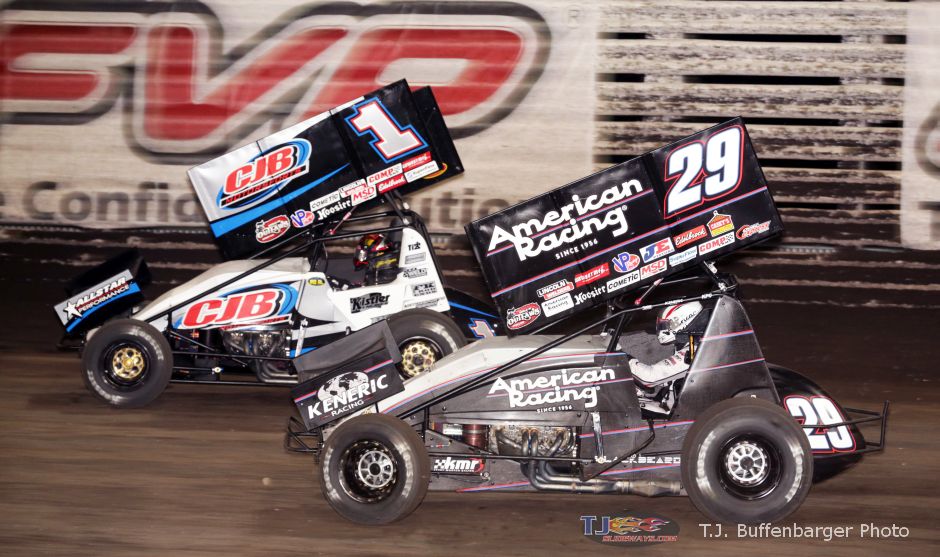 "I cannot say enough about this entire team," Kerry Madsen said. "We went into Nationals week after a tough Ironman weekend and we had great speed starting at the Capitani Classic, and we continued to run very well through the Nationals A-Main."
During his Thursday night qualifying run at the Knoxville Raceway, Madsen would time the Keneric Racing/American Racing entry in second fastest, putting him in the fourth row of his heat race.
Racing his way to the heat-race win, 'The Mad Man' would line up in the fourth row for the 25-lap preliminary feature event. Working his way forward in typical 'Mad Man' fashion, the St. Marys, NSW driver would finish in the fourth spot and his point total would put him on the front row of the 50-lap Saturday night A-Main event.
When the green flag dropped on the season's biggest event of the year, Madsen fell into the second position as he chased after the early race leader, Donny Schatz. With the first 15-laps of the feature event going non-stop, Madsen looked to capitalize on a restart as he found his Keneric Racing/American Racing entry on Schatz's rear bumper.
With Schatz able to get away, Madsen would battle with Danny Lasoski for the second position, and would fall to third just before the red-flag waived for the scheduled stop.
Restarting from the third position, Madsen would hook up in a battle with Brad Sweet as the exchanged the third spot for a few laps, but the Australian wheel-man would maintain his position and then make a big move on lap 31 to put the Keneric Racing/American Racing entry back in the second spot.
As the laps clicked down, Madsen did everything he could to chase after Schatz, but in the end he would come up short as he would up his career best finish from a year ago, as he finished in the second spot.
"Being that close the winning this race is tough, but we didn't come up due to lack of effort or speed, we just got beat," Madsen said. "I stayed committed to the top and was hoping Donny (Schatz) would wiggle and we could pounce but it didn't work out that way. I really just have to thank everyone associated with this team, the Gavranich family, and everyone at American Racing Custom Wheels for continuing to support us, and let us compete."
Aside from the Knoxville Nationals, Madsen finished third at the Capitani Classic, second during the Front Row Challenge at the Southern Iowa Speedway, and finished 10th during the Speed Sport World Challenge.
Madsen's crew also took home some hardware on Saturday night as the Keneric Racing/American Racing team was named the 'Best Dressed' at the Nationals.
2015 BY THE NUMBERS- Starts-76, Wins-6, Top-5's-38, Top 10's-63
ON TAP: Madsen and the Keneric Racing/American Racing team will quickly get back to racing as they will be in McCool Junction, NE on Tuesday night, the River Cities Speedway on Friday night and the NoDak Speedway on Sunday night.
STAY CONNECTED: Keep updated with Kerry Madsen, Keneric Racing, and American Racing in a variety of interactive ways-
American Racing
Facebook- www.facebook.com/amercanracingwheels
Instagram- @AmericanRacing
Twitter- @AmericanRacing
Keneric Racing
Facebook- www.facebook.com/KenericRacing
Twitter- @KenericRacing
Kerry Madsen
Facebook- http://www.facebook.com/pages/Official-Fan-Page-for-Kerry-Madsen/101145169933686
Twitter- @KMR29
AMERICAN RACING: American Racing is an iconic brand and a wheel industry leader in craftsmanship, engineering, innovation and performance. Founded in 1956 as a manufacturer of bespoke magnesium and aluminum racing wheels, its roots date back to the golden era of hot rodding. American Racing is a Wheel Pros brand. Wheel Pros products are sold worldwide in more than 20 countries on four continents and through a U.S. network of more than 25,000 authorized dealers. It is one of the world's largest suppliers of branded custom wheels, performance tires and related accessories for cars, SUVs and light trucks.
PETERSEN MEDIA: Petersen Media is a promotional agency that can handle your public relations, marketing, and any other promotional needs. Petersen Media utilizes multiple tactics to help you reach your intended audience, to boost awareness.