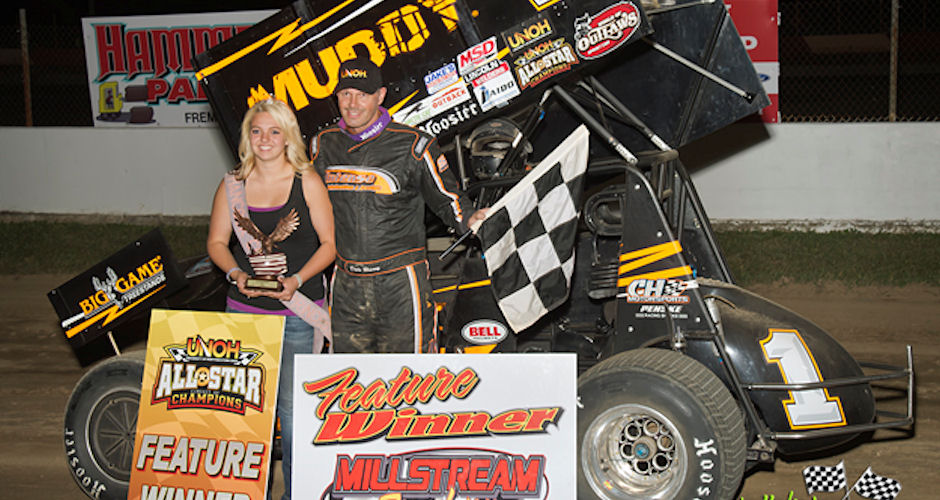 By Bob Buffenbarger
Findaly,Ohio-(Sept. 27,2015)- Dale Blaney led all 30 laps after starting outside front row Sunday night at Millstream Speedway in All Star Circuit of Champions action. Cody Darrah was on the pole and fell in behind Blaney until the only caution of the event waved on lap six for a spin by the 9x of Thomas Meseraull in turn four.
At the restart, it was Blaney, Darrah, Chad Kemenah, Ryan Smith, Tanner Thorson (from 9th) and Cole Duncan. With 10 laps in the books Chad Kemenah took 2nd but Tanner Thorson was the car to watch as he was progressing towards the front taking 4th away from Ryan Smith.
At the half way mark, Blaney was stretching his advantage over 2nd and threading his way through lapped traffic with ease. The top five stayed in the same running order for several more laps, but similar to Friday at Eldora, Greg Wilson was quietly sneaking his way through heavy traffic from his 16th starting spot.
With 25 circuits down, Blaney maintained a commanding lead with Kemenah a solid 2nd with Darrah, Thorson and Wilson following. As the white flag flew, Kemenah encountered trouble and moved high on the track with several cars getting past. At the checkers it was Blaney, Darrah, Thorson, Wilson and Chris Andrews.
33 cars took time tonight with Darrah, Ryan Smith, Kemenah and Blaney taking heat wins. Darrah won the dash as Cody Swanson won the B main in front of a big crowd.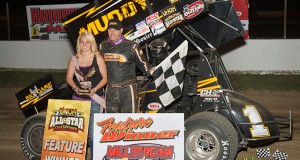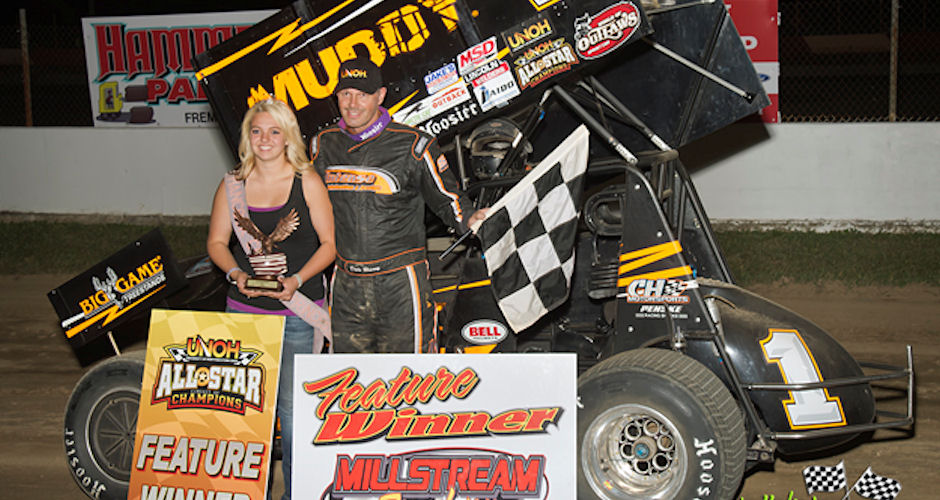 A Feature 1 (30 Laps): 1. 1-Dale Blaney[2]; 2. 89-Cody Darrah[1]; 3. 49-Tanner Thorson[9]; 4. W20-Greg Wilson[16]; 5. 19-Chris Andrews[7]; 6. 21-Cap Henry[23]; 7. 22-Cole Duncan[6]; 8. 94-Ryan Smith[3]; 9. 11N-Randy Hannagan[10]; 10. 10H-Chad Kemenah[4]; 11. 81-Lee Jacobs[5]; 12. 5-Byron Reed[17]; 13. 93-Sheldon Haudenschild[12]; 14. 59-Danny Holtgraver[11]; 15. 4-Danny Smith[13]; 16. 7C-Caleb Armstrong[18]; 17. 19P-Paige Polyak[15]; 18. 57X-Andrew Palker[20]; 19. 38-Jared Horstman[24]; 20. 3Z-Brock Zearfoss[14]; 21. 9P-Parker Price-Miller[19]; 22. 63-Kody Swanson[21]; 23. 9X-Thomas Meseraull[22]; 24. 45-Tim Shaffer[8]
B Feature 1 (12 Laps): 1. 63-Kody Swanson[1]; 2. 9X-Thomas Meseraull[3]; 3. 21-Cap Henry[6]; 4. 38-Jared Horstman[2]; 5. 97-Dean Jacobs[9]; 6. 5T-Travis Philo[4]; 7. 35-Jared Zimbardi[7]; 8. 55-Tyler Gunn[5]; 9. 23-Jimmy Light[10]; 10. 9-Jordan Ryan[11]; 11. 10J-Jarrod DeLong[12]; 12. 40-Caleb Helms[8]
Dash 1 (6 Laps): 1. 89-Cody Darrah[1]; 2. 1-Dale Blaney[2]; 3. 94-Ryan Smith[3]; 4. 10H-Chad Kemenah[4]; 5. 81-Lee Jacobs[5]; 6. 22-Cole Duncan[6]; 7. 19-Chris Andrews[10]; 8. 45-Tim Shaffer[7]; 9. 49-Tanner Thorson[9]; 10. 11N-Randy Hannagan[8]
Heat 1 (8 Laps): 1. 89-Cody Darrah[2]; 2. 45-Tim Shaffer[4]; 3. 11N-Randy Hannagan[3]; 4. 3Z-Brock Zearfoss[1]; 5. 7C-Caleb Armstrong[8]; 6. 38-Jared Horstman[5]; 7. 55-Tyler Gunn[7]; 8. 9X-Thomas Meseraull[6]; 9. 23-Jimmy Light[9]
Heat 2 (8 Laps): 1. 94-Ryan Smith[1]; 2. 22-Cole Duncan[4]; 3. 59-Danny Holtgraver[2]; 4. 19P-Paige Polyak[6]; 5. 9P-Parker Price-Miller[5]; 6. 21-Cap Henry[7]; 7. 63-Kody Swanson[3]
Heat 3 (8 Laps): 1. 10H-Chad Kemenah[4]; 2. 19-Chris Andrews[1]; 3. 93-Sheldon Haudenschild[2]; 4. W20-Greg Wilson[3]; 5. 57X-Andrew Palker[5]; 6. 35-Jared Zimbardi[6]; 7. 40-Caleb Helms[7]; 8. 10J-Jarrod DeLong[8]
Heat 4 (8 Laps): 1. 1-Dale Blaney[3]; 2. 49-Tanner Thorson[6]; 3. 4-Danny Smith[1]; 4. 5-Byron Reed[2]; 5. 81-Lee Jacobs[4]; 6. 97-Dean Jacobs[7]; 7. 5T-Travis Philo[5]; 8. 9-Jordan Ryan[8]
Qualifying 1 (2 Laps): 1. 10H-Chad Kemenah, 15.016; 2. 45-Tim Shaffer, 15.112; 3. 11N-Randy Hannagan, 15.229; 4. 22-Cole Duncan, 15.314; 5. 81-Lee Jacobs, 15.339; 6. 1-Dale Blaney, 15.356; 7. W20-Greg Wilson, 15.405; 8. 89-Cody Darrah, 15.411; 9. 93-Sheldon Haudenschild, 15.415; 10. 63-Kody Swanson, 15.439; 11. 3Z-Brock Zearfoss, 15.466; 12. 38-Jared Horstman, 15.519; 13. 59-Danny Holtgraver, 15.547; 14. 94-Ryan Smith, 15.565; 15. 19-Chris Andrews, 15.566; 16. 9X-Thomas Meseraull, 15.610; 17. 5-Byron Reed, 15.648; 18. 9P-Parker Price-Miller, 15.684; 19. 19P-Paige Polyak, 15.690; 20. 57X-Andrew Palker, 15.693; 21. 4-Danny Smith, 15.746; 22. 5T-Travis Philo, 15.805; 23. 55-Tyler Gunn, 15.813; 24. 21-Cap Henry, 15.823; 25. 49-Tanner Thorson, 15.847; 26. 35-Jared Zimbardi, 15.857; 27. 7C-Caleb Armstrong, 16.113; 28. 40-Caleb Helms, 16.120; 29. 97-Dean Jacobs, 16.246; 30. 23-Jimmy Light, 16.271; 31. 9-Jordan Ryan, 16.363; 32. 10J-Jarrod DeLong, 16.642; 33. 6-Sean Hosey, 99.200