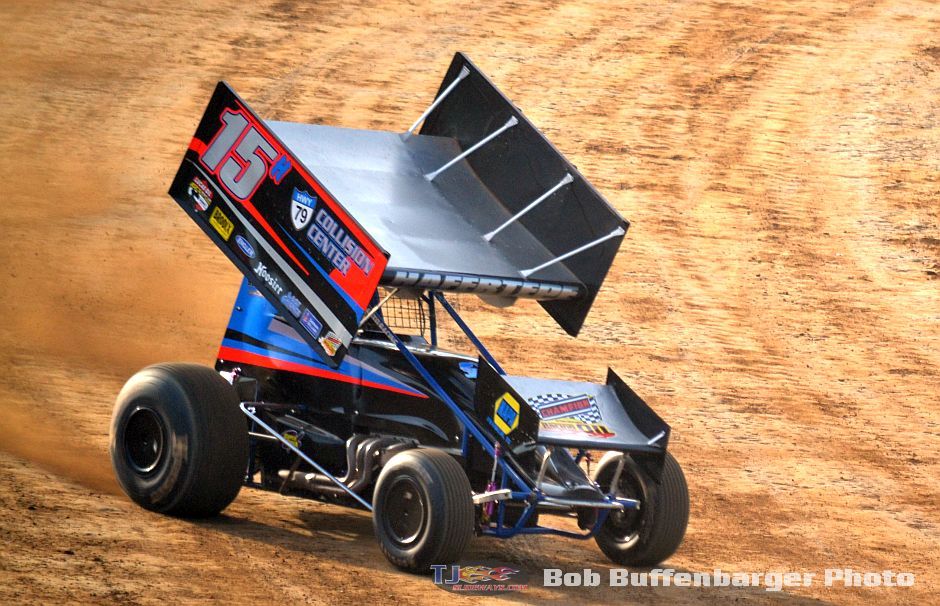 From Bryan Hulbert
Elma, WA — (July 2, 2016) — Sam Hafertepe, Jr. made it a perfect weekend at the Grays Harbor Raceway, winning the finale of the 2nd annual Fred Brownfield Classic with the Lucas Oil American Sprint Car Series presented by the MAVTV Motorsports Network.
"I don't even know what to say anymore. It's awesome," said Hafertepe of his sixth Lucas Oil ASCS National Tour win of the season.
"To get out to the lead like we did, I knew Wayne [Johnson] was going to be tough. He was tough last night too. He gets around here pretty good so I knew he'd try the bottom on me and would be moving around searching but when I got out front, I got pretty comfortable and didn't want to really push it to hard, just try to catch the lapped cars at the right time and squeeze past one of them and not burn my tires off because it started laying rubber there on entry. I just tried to drive a smart race and try not to make any mistakes."
Rolling third on the A-Feature, Hafertepe wasted no time taking the race for the lead three-wide through the opening turn. Rolling the bottom line to the race lead, Sam kept the City Vending No. 2c of Wayne Johnson at a consistent one second disadvantage for most of the race.
Working through slower traffic in the later portions of the feature, Johnson was able to close the gap to about 12 car lengths, but was never able to capitalize.
Asked if a little more time in slower traffic would have made a difference, Wayne replied, "I don't know. Sam did a really good job getting through traffic. I think maybe 10 different times in the race, we got running better than he did and the other 10 times, he was better than us so we were pretty even. The boys said our lap times were about the same, it's just all about track position. On the start I screwed up and ran the top and probably should have squeezed Johnny a little bit more getting into one."
Crossing 1.116 seconds behind the Hwy. 79 Collision No, 15h, Johnson was lucky to even finish the A-Main.
"My engine laid down there at the finish. In fact, it died pulling up here so I'm not sure what happened. I thought I ran out of fuel, but they said it's got plenty. We just need to look at it. It was still running but like maybe broke a Spark Plug or a fuel line came apart. It wasn't running like it blew up, just something going on."
Completing the repeat of Friday's podium, New Mexico's Johnny Herrera placed the Mesilla Valley Transportation No. 45x third. Battling most of the race with California's Cory Eliason, Herrera was able to get some breathing room in the closing laps.
"There were a few guys that were rolling really well there at the start of the race. The No. 5 car and I think there was another one there, I think the No. 0j car and they were running really well early in the race, and really, I was just trying to keep up. My car wasn't very good but we'll take a third place again with the racecar I gave myself."
Asked if the car improved in the closing laps as rubber started going down, as he was able to distance himself from the No. 5h, Johnny replied, "Even then we weren't very good. We just about blew through the rubber where those other guys could run pretty much wide open, I was having to tiptoe to keep my car underneath me."
In Cory Eliason's second Lucas Oil ASCS National Tour start, the Van Dyke Motorsports No. 5h wheeled to a fourth place finish after starting eighth, with Washington's Colton Heath completing the top.
Steven Tiner came from the 12th starting spot to sixth with Jason Solwold taking advantage of a Promoter's Provisional with a run from 23rd to seventh. Travis Jacobson was eighth with Jay Cole slipping back to night after battling in the top-five. From 16th, Blake Hahn came up the complete the top-ten.
Overall, 40 drivers made the trip to the Grays Harbor Raceway for the Fred Brownfield Classic. With four drivers locked in from Friday, 36 drivers ran Heats with wins going to Cory Eliason, Jay Cole, Travis Jacobson, and Colton Heath. B-Mains went to Evan Margeson and Travis Rilat.
The Lucas Oil ASCS presented by the MAVTV Motorsports Network returns to competition at the Gallatin Speedway in Belgrade, Mont. for the Grizzly Nationals on Friday, July 8 and Saturday, July 9.
For continued updates on the Lucas Oil American Sprint Car Series, log onto http://www.ascsracing.com.
Race Results:
ASCS National
Grays Harbor Raceway – Elma, Wash.
2nd annual Fred Brownfield Memorial
Saturday, July 2, 2016
Car Count: 36
Event Total: 40
ButlerBuilt Heat Races (8 Laps, Top 16 in Passing Point advance to the A-Main)
Heat 1 (8 Laps): 1. 5H-Cory Eliason[4]; 2. 52-Blake Hahn[2]; 3. 3-J.J. Hickle[5]; 4. 42-Devin Madonia[1]; 5. 22-Garen Linder[3]; 6. 44-Jake Helsel[6]; 7. 21-Robbie Price[9]; 8. 44NZ-Daniel Anderson[7]; 9. 51-Bricen James[8]
Heat 2 (8 Laps): 1. 0J-Jay Cole[2]; 2. 31C-Justyn Cox[3]; 3. 56-Justin Youngquist[6]; 4. 33V-Henry VanDam[7]; 5. 87-Aaron Reutzel[8]; 6. 39C-Travis Rilat[9]; 7. 9-Shawn Rice[1]; 8. (DNF) 18-Jason Solwold[4]; 9. (DNF) 5-Brian Boswell[5]
Heat 3 (8 Laps): 1. 5T-Travis Jacobson[3]; 2. 9R-Reece Goetz[4]; 3. 91-Chase Goetz[2]; 4. 17-Cameron (Cam) Smith[7]; 5. 9A-Luke Didiuk[5]; 6. 2JR-Kelly Miller[8]; 7. N8-Nate Vaughn[1]; 8. 97R-Jason Reed[6]; 9. (DNF) 11-Roger Crockett[9]
Heat 4 (8 Laps): 1. 33-Colton Heath[2]; 2. 94-Steven Tiner[3]; 3. 95-Matt Covington[5]; 4. 99-Skylar Gee[4]; 5. 2L-Logan Forler[7]; 6. 11M-Evan Margeson[8]; 7. 33S-Lance Sargent[6]; 8. 22C-Trevor Cook[9]; 9. 8X-John Stuart[1]
BMRS B-Feature(s) (12 laps, top 3 advance to the A-Feature)
B Feature 1 (12 Laps): 1. 11M-Evan Margeson[3]; 2. 22-Garen Linder[5]; 3. 99-Skylar Gee[2]; 4. 44-Jake Helsel[6]; 5. 9-Shawn Rice[8]; 6. 22C-Trevor Cook[7]; 7. 97R-Jason Reed[9]; 8. 9A-Luke Didiuk[4]; 9. (DNF) 33V-Henry VanDam[1]; 10. (DNF) 5-Brian Boswell[10]; (DNS) 87-Aaron Reutzel; (DNS) 11-Roger Crockett
B Feature 2 (12 Laps): 1. 39C-Travis Rilat[5]; 2. 91-Chase Goetz[1]; 3. 2L-Logan Forler[2]; 4. 18-Jason Solwold[10]; 5. 21-Robbie Price[6]; 6. 2JR-Kelly Miller[3]; 7. 42-Devin Madonia[4]; 8. 51-Bricen James[11]; 9. N8-Nate Vaughn[9]; 10. 33S-Lance Sargent[7]; 11. 44NZ-Daniel Anderson[8]; 12. 8X-John Stuart[12]
Protect the Harvest A-Feature (30 Laps)
A Feature (30 Laps): 1. 15H-Sam Hafertepe Jr[3]; 2. 2C-Wayne Johnson[4]; 3. 45X-Johnny Herrera[1]; 4. 5H-Cory Eliason[8]; 5. 33-Colton Heath[6]; 6. 94-Steven Tiner[12]; 7. 18-Jason Solwold[23]; 8. 5T-Travis Jacobson[7]; 9. 0J-Jay Cole[5]; 10. 52-Blake Hahn[16]; 11. 3-J.J. Hickle[13]; 12. 95-Matt Covington[14]; 13. 9R-Reece Goetz[9]; 14. 99-Skylar Gee[21]; 15. 22-Garen Linder[19]; 16. 17-Cameron (Cam) Smith[15]; 17. 11M-Evan Margeson[17]; 18. (DNF) 31C-Justyn Cox[11]; 19. (DNF) 2L-Logan Forler[22]; 20. (DNF) 56-Justin Youngquist[10]; 21. (DNF) 39C-Travis Rilat[18]; 22. (DNF) 91-Chase Goetz[20]; 23. (DNF) 23-Seth Bergman[2]
Lap Leader(s): Sam Hafertepe, Jr. 1-30
FSR High Point Driver: Cory Eliason
Hard Charger: Jason Solwold +16
Provisional(s): Jason Solwold (Promoter)
2016 ASCS National Driver Standings (Top 10): 1. Sam Hafertepe, Jr. 2,293; 2. Johnny Herrera 2,174; 3. Wayne Johnson 1,997; 4. Logan Forler 1,979; 5. Blake Hahn 1,942; 6. Aaron Reutzel 1,917; 7. Seth Bergman 1,906; 8. Matt Covington 1,898; 9. Brad Loyet 1,498; 10. Josh Baughman 1,380;
2016 ASCS National Winner(s): Sam Hafertepe, Jr. 6 (5/13 – Texas Motor Speedway; 6/12 – Rt. 66 Motor Speedway; 6/18 – Lucas Oil Speedway; 6/25 – Skagit Speedway; 7/1 – Grays Harbor Raceway; 7/2 – Grays Harbor Raceway); Johnny Herrera 2 (3/17-Heart O' Texas Speedway; 6/3-Hartford Speedway); Brad Loyet 2 (6/15 – Lawton Speedway; 6/17 – Mo. State Fair Speedway); Aaron Reutzel 1 (5/14 – Texas Motor Speedway); Wayne Johnson 1 (3/19-Devil's Bowl Speedway); Brandon Hanks 1 (3/25-Cotton Bowl Speedway); Josh Baughman 1 (3/26 – Bronco Raceway Park); Brian Brown 1(5/5-Lakeside Speedway); Bryan Clauson 1 (6/16 – Creek County Speedway); Marc Duperron 1 (6/24 – Skagit Speedway)