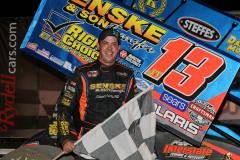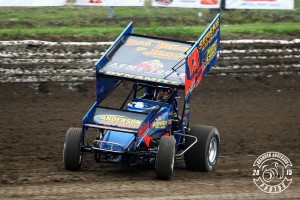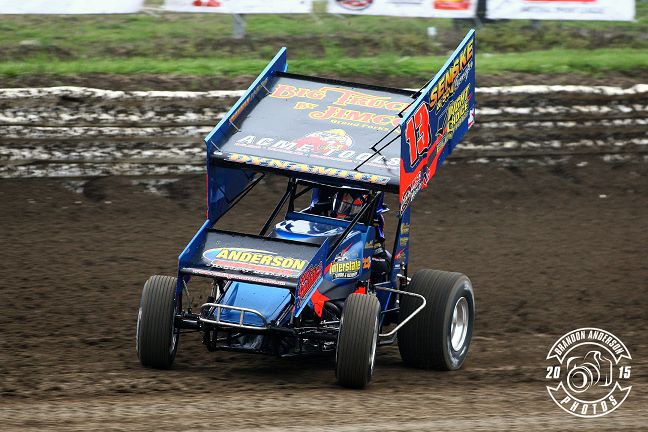 By Bill W
July 6, 2016 – Mark Dobmeier and the Jimco Racing/Polaris #13 team scored win #120 at River Cities Speedway in Grand Forks, North Dakota Friday night during mid-season championships. A two-night World of Outlaws show at Badlands Motor Speedway near Brandon, South Dakota would see a charge from 22nd to tenth Saturday and an eleventh place finish Sunday. The team plans on racing again at River Cities Friday and Badlands Saturday.
Things began with a heat win on Friday. "It was mid-season championships on Friday, and they line you up by points," says Mark. "That put us on the outside of the front row of the heat race. We were able to jump out to the lead and led the whole way."
Mark would start outside row one of the main event. He is more accustomed to a steep invert. "We led all 25 laps there," he says. "Cory Mack was giving a hard charge there. He was staying with me quite a while. We were able to get through lapped traffic a little better, and we came away with the big 'W'."
Mark is impressed with Mack. "Cory is one of the up and comers for sure," he says. "He took a year off, and now is getting back into it. He's definitely improved here this year."
On Saturday at Badlands, he would time in 12th quick in his group. "We had a poor qualifying effort," says Mark. "We're always trying something, but obviously, it didn't work. That started us deep in the heat race, and it was heavy early on. So we didn't get out of the heat."
Mark would drive from fifth to second in the B. "We made some adjustments for the B, and we went forward," he says. "We had a heck of a charge in the feature. We started 22nd and got up to tenth by the end of the race. It was a good track in the feature. One of the downfalls of that track is that to have a good track in the feature, you need a heavy track in the heats. It worked out for us and we salvaged the night with a tenth place finish."
He timed in better for Sunday's finale, eighth in his group. "We had a good heat (finishing third)," says Mark. "We were hoping to get that Dash spot by finishing second, but (Daryn) Pittman and (Joey) Saldana were pretty fast."
Mark would start outside row six of the main event. "There was a top and a bottom groove, but it was tough," he says. "Everyone seemed to be racing with the car beside them and not going forward. It went green until about six laps to go, and we were kind of stuck in a rut."
Chaos ensued mid-pack the last six laps. "I felt like we had been running a good race, but we weren't gaining on anyone," says Mark. "I restarted twelfth, and moved up to about ninth at one time. Then I think we were shuffled back to 13th and charged back up to 11th. It was fair, but we're always looking to finish better than that."
Mark is bringing out one of his creations for charity over the next few weeks at River Cities. "I built a two-seater a couple of years ago," he says. "We haven't had it out this year yet. They'll be selling raffle tickets to raise money for the 'Relay for Life' cancer deal. We'll sell them for $10 apiece or six for $50. We'll draw for rides here in about two weeks at River Cities."
About Polaris…
Polaris Industries Inc. (NYSE: PII) is a global powersports leader with annual 2015 sales of $4.7 billion. Polaris fuels the passion of riders, workers, and outdoor enthusiasts with our RANGER®, RZR® and POLARIS GENERAL™ side-by-side off-road vehicles; our SPORTSMAN® and POLARIS ACE® all-terrain off-road vehicles; VICTORY® and INDIAN MOTORCYCLE® midsize and heavyweight motorcycles; SLINGSHOT® moto-roadsters; and Polaris RMK®, INDY®, SWITCHBACK®, and RUSH® snowmobiles. Polaris enhances the riding experience with parts, garments, and accessories sold under multiple recognizable brands, and has a growing presence in adjacent markets globally with products including military and commercial off-road vehicles, quadricycles, and electric vehicles. www.polaris.com
Follow Jimco Motorsports and Mark Dobmeier Racing on Facebook…
https://www.facebook.com/Mark-Dobmeier-Racing-329718337235441/?fref=ts
Jimco Motorsports would like to thank Polaris, Senske & Son Transfer, Big Trucks by Jimco, Right Choice Electric, Acme Tools, Interstate Towing & Recovery, Kyllo Trucking, B/L Strong Box, Steffes, Dahlstrom Motors, GLB Transport, Tireboss, Forx Radiator, Anderson Auto Body, Gary Gruhot Farms, Willow Ridge, Rose Creek, Herberg Custom Harvesting, Great Plains Plumbing & Heating, Ironman Welding, DAV, Rendezvous Region Construction, High Mark Snowmobile Rentals, Boss Signs & Graphics and Dobmeier Bonding for all their help!
Photo: Mark scored win #120 at River Cities Speedway Friday (Mike Spieker Photo)