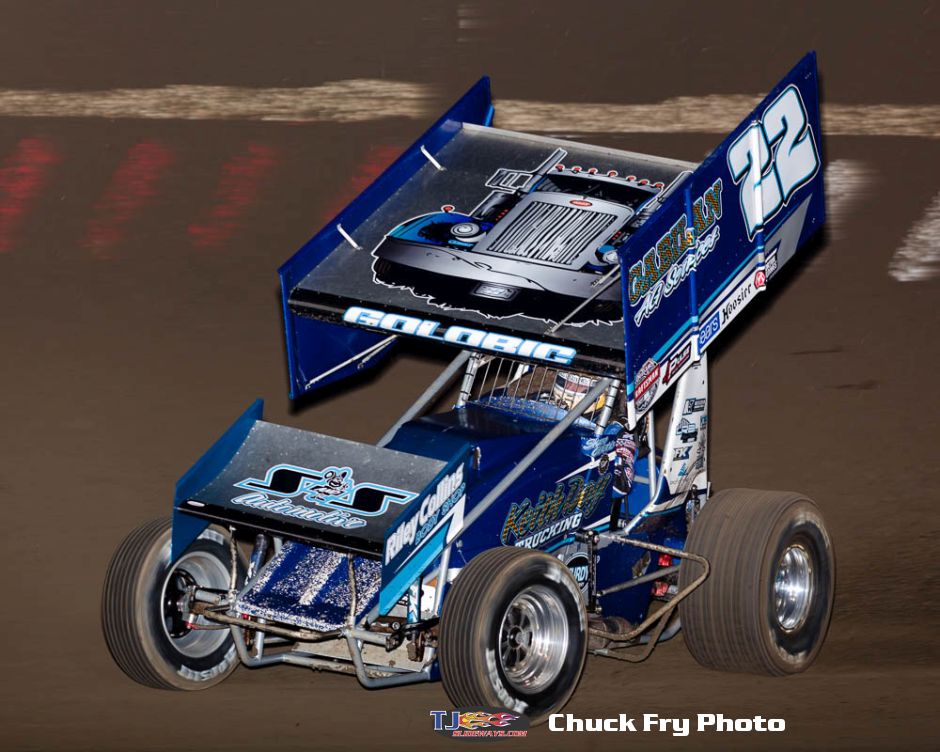 Placerville, CA – July 30, 2016…Willie Croft's misfortune was certainly Shane Golobic's gain on Saturday night at the Placerville Speedway, in what was a wild & crazy 30-lap King of the West 410 Sprint Car Series main event on the high-banked bullring.

Over the years Golobic had been oh-so-close to winning a 410 Sprint Car feature at the Placerville Speedway, even getting passed for the lead on the final corner during one occasion in 2013. On Saturday the Fremont driver looked to be settling for yet another runner up finish in King of the West action at the track, until Croft, who was leading the race, banged the cushion just hard enough to send him sideways coming down to the checkered flag.

His familiar Holy Smokes BBQ No. 29 then tipped over in turn four and allowed Golobic, who was running in second, the chance to just squeeze by underneath and steal the win away in amazing fashion. The improbable ending left the crowd on hand stunned, after what was a very entertaining main event all race long. It marked Golobic's second win of the season aboard the Keith Day Trucking/ Gabilan Ag Service No. 22 machine.

It was also his fourth career King of the West victory, tying him with Peter Murphy, Andy Forsberg, Chuck Miller & Darrell Hanestad for 26th on the all-time series win list.
"It feels really good to finally get a King of the West win at Placerville," Golobic commented following the race. "I've been close before, but it always seemed like something would happen late in the race to us, so for it to finally happen like this is kind of ironic. I hate to see that happen to Willie though because he was really fast, but I'll definitely take them how I can get them. Big thanks to this entire Keith Day Trucking team for all their support and hard work."

It was the second KWS event in a row at Placerville Speedway and the third overall this season that Croft had suffered through misfortune late in the race. At the season-opener in Placerville on April 23 he led the first 26-laps in the feature, until getting caught up in a lapped traffic incident. On Saturday night he battled with his brother in law Kyle Hirst back & forth, before Hirst ended up banging the turn four cushion/wall with just about 10-laps remaining, which left his right rear packed with mud.
After that Croft held command out front, until the final corner issue cost him his second victory on the season in limited starts. Roseville's Sean Becker crossed the stripe in second to cap a solid run in the Menne Motorsports No. 75 Sprinter. The 2005 King of the West champ made some great moves throughout the race to claim his second runner up of the season with the series. We always love having the easy going driver compete with KWS whenever possible.

Grass Valley's Jason Statler had a strong rebound from last week to finish third aboard the DF Rios Motorsports 00 mount. Statler's team worked long & hard all week, putting a new car together after the incident in Tulare the previous Saturday and were rewarded with a podium effort. The 2004 series champ has shown lots of speed in recent outings, which bodes well for the remainder of the season.

Hirst did a great job to maintain a fourth place finish despite the right rear wheel being packed with the thick Placerville red clay. The current point leader officially led laps 1-13, before Croft was able to get by to lead 14 & 15. Hirst then got back by on a double file restart, before the fourth corner hiccup allowed Croft to charge past on lap 20. Campbell's Bud Kaeding rebounded nicely to claim fifth after going to the rear midway through the race.

The remainder of the top-10 was filled out by Clarksburg's Justyn Cox, Penngrove's Buddy Kofoid, Atwater's Sean Watts, Citrus Height's Kalib Henry and Wilton's Matt Peterson. Full results will be available at www.racepmg.com
Kyle Hirst captured the six-lap dash, while Shane Golobic, Bobby McMahan and Kalib Henry claimed the three 10-lap heat races. Sean Becker kicked-off the night by setting fast time in the 20-car field. The "Shark" toured the quarter-mile in 10.550 seconds to set the standard.

The most serious incident of the night occurred on lap 15 when Auburn's Richard Brace Jr. got upside down in turn three. The veteran was transported to a local hospital and suffered compression fractures of the T2, T3 & T4 vertebrae. Brace has been one of the biggest supporters of the King of the West 410 Sprint Car Series over the last handful of years and we want to send our best get well wishes.

A-main finish: 1. 22 Shane Golobic, 2. 75 Sean Becker, 3. 00 Jason Statler, 4. 21x Kyle Hirst, 5. 0 Bud Kaeding, 6. 31c Justyn Cox, 7. 4s Buddy Kofoid, 8. 98 Sean Watts, 9. M21 Kalib Henry, 10. P37 Matt Petersen, 11. 91c Shawn Conde, 12. 93 Stephen Ingraham, 13. 12 Jarrett Soares, 14. 29 Willie Croft, 15. 45 Jake Morgan, 16. 25 Bobby McMahan, 17. 42 Chase Majdic, 18. 3c Tyler Walker, 19. 2r Richard Brace Jr., 20. 16x Andy Gregg
The King of the West 410 Sprint Car Series will now take a few weeks off before resuming action at the Petaluma Speedway on Saturday August 27. After that the tour will then return to the Placerville Speedway for the final time this season on Saturday September 24.
King of the West Sprint Car Series
Placerville Speedway
Placerville, CA
Saturday July 30, 2016
Feature: 1. 22 – Shane Golobic, 2. 74 – Sean Becker, 3. 00 – Jason Statler, 4. 21X – Kyle Hirst, 5. 0 – Bud Kaeding, 6. 31C – Justyn Cox, 7. 4S – Michael Kofoid, 8. 98 – Sean Watts, 9. M21 – Kalib Henry, 10. P37 – Matt Peterson, 11. 91C – Shawn Conde, 12. 93 – Stephen Ingraham, 13. 12 – Jarrett Soares, 14. 29 – Willie Croft, 15. 45 – Jake Morgan, 16. 25 – Bobby McMahan, 17. 42 – Chase Majdic, 18. 3C – Tyler Walker, 19. 2R – Richard Brace Jr, 20. 16 – Andy Gregg.