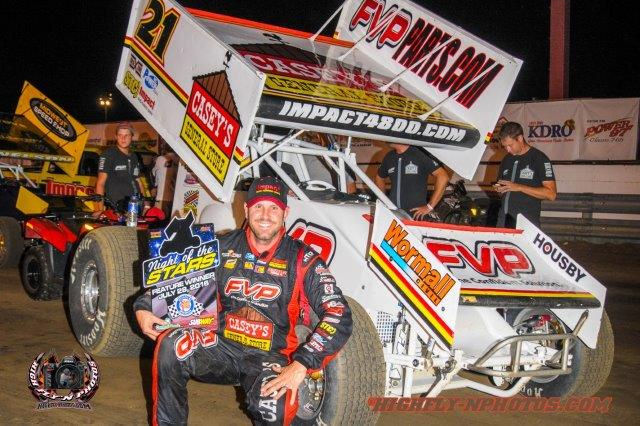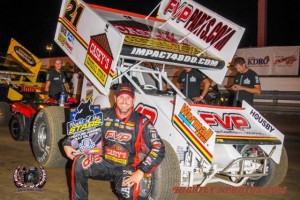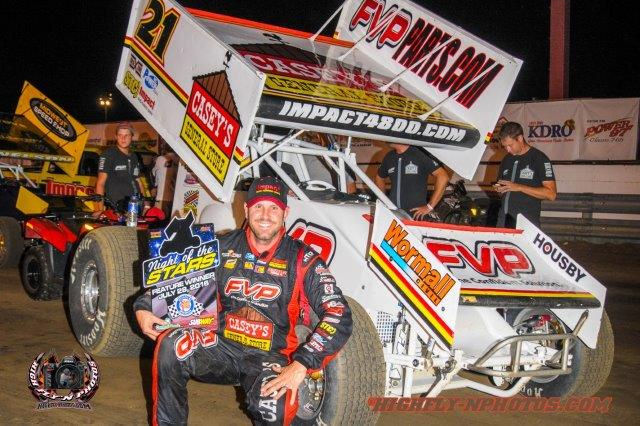 Bill W

August 2, 2016 – Winning the "Night of the Stars" event Thursday at the Missouri State Fair Speedway in Sedalia was a perfect lead-in to this week's Knoxville 360 Nationals for Brian Brown and the Casey's General Stores/FVP #21 team. A solid weekend followed with the Grain Valley, Missouri driver in contention to win NSL shows at Jackson Motorplex in Minnesota and Knoxville Raceway in Iowa. In addition to this week's 360 Nationals, Brian will be competing at Sunday's "Capitani Classic" at Knoxville and Monday's Front Row Challenge at the Southern Iowa Speedway in Oskaloosa.
I know you like racing close to home, and you had that opportunity Thursday in Sedalia with the ASCS-Warrior region.
It was good to get back to Sedalia, especially because the "High Roller Classic" is coming up there later in the month. Gerry Olson and Impact Signs, Awnings and Wraps has done a phenomenal job of bringing that racetrack back to where it needs to be. It's always great to run with Impact there, and Ditzfeld Transfer and Champion Oil. Those are some great people who have been behind us from day one, and that adds a lot of excitement for us.
They threw in a match race between you and (Danny) Lasoski.
That was a pretty cool deal. We were matched up in a "King of the Hill" type event. It was the best two out of three. We were able to win the first one, and he got me on the second one. In the last one, I was able to get by him and win. He didn't give an inch, so it was good to be able to win that.
You finished third in the heat and started third in the feature.
We were able to get into second pretty quick. Jonathan Cornell was setting a pretty good pace. We were able to track him down and get beside him to try and pass him. At that point, he blew an engine. We kind of inherited the lead there, but I think without that, we could have made it a good race between us. We had a few restarts to navigate, and it was a really good night.
Things went better for you at Jackson Friday than they have been this year.
We've been pretty good up there in the 360. With the 410, we've kind of struggled to find a balance. The motors are good and so are the cars, I just haven't found the balance I need. It's been a work in progress, and we've been getting better. We were able to qualify eighth quick, which was halfway decent.
You did a nice job in the heat, winning from fourth, and you started the feature outside row two.
We were able to get into second there pretty quickly. We were racing Aaron (Reutzel) pretty hard for the lead and may have even poked our nose up there a time or two. There was an open red on lap seven, and Chad (Morgan) said our right rear tire wasn't looking so good. We took back off, and I was content to ride a little bit and wait for the end.
Kerry Madsen put quite a slide job on you to take second.
We got to racing with Kerry and ran out of real estate. That cost us a few spots and we ended up sixth. It was one of those nights that we felt we had a car that could contend for a win. Things just didn't work out that way in the end.
You timed in much better Saturday at Knoxville than the previous week.
We really looked at that last week and tried to figure out what we were doing right and what we were doing wrong. We hot-lapped quick and qualified second, so we thought that was good. The track has just been different the last month. I'm not sure if that's a trend, but the Dunkin's do a phenomenal job. It's usually pretty good no matter which way we have it.
You started third in the feature.
We didn't get the best of starts. Sammy (Swindell) was able to get by us the first couple laps. We were able to get back by him, and (Jamie) Veal fell out, which put us in third. Ian (Madsen) and Danny got by a couple of lapped cars when they were single-file, but when I got there they were side by side. It took a lap or two to get by them. By then, the leaders were about five seconds ahead of us. But in five laps, we were on their rear bumper. I felt by the end of the race, we had the fastest car. We felt good about that.
Unfortunately, the NSL show at Britt saw some dry conditions on Sunday.
I guess there was an issue between the promoters and the track prep guy about the equipment. At the end of the day, the track was hard and dry. In qualifying, you had to use as much power as you could without spinning the tires. We were eighth quick again, and second in the heat. We started seventh and got to sixth in the feature. We nosed under (Craig) Dollansky a few times, but there was just nowhere to go.
Overall, you had a nice weekend.
Our goal going into the four nights, was to just be in contention for the win every night and not tear anything up going into the Nationals. We felt like we were in contention three of the four nights and didn't tear anything up. That makes it easier for the guys.
The year has been building up to the next two weeks!
It's a big two weeks here for us. This is why we do what we do. It's why we race Knoxville as much as we can. I feel like Chad, Michael (Williams) and Wyatt (Burks) have worked hard the last few weeks. I feel like as well as we ran at Sedalia, we're in good shape going into the 360 Nationals. We're close with the 410, but maybe not quite where we need to be to jump over the edge. We'll continue to work on that Sunday and Monday, and hopefully, we can find something that makes us a little bit better.
T-shirt Trailer Hours This Weekend
The Brian Brown Racing apparel trailer will be open Thursday through Sunday on the grounds of the Knoxville Raceway. It will open at 3 p.m. on Thursday and Friday, and at noon Saturday and Sunday.
Follow Brian on the Web, Twitter and Facebook!
Follow Brian at his website located at www.BrianBrownRacing.com!
Also keep up with FVP, Casey's and Brian on Facebook and Twitter at the following links…
Twitter Links – @BrianBrown21, @FVPRacing, @CaseysGenStores
Facebook Links
Brian Brown Racing – www.facebook.com/pages/Brian-Brown-Racing/200630163294222
Casey's General Stores – www.facebook.com/pages/Caseys-General-Stores/112073528804354
FVP Racing – http://www.facebook.com/FVPRacing?ref=ts&fref=ts
Other Web site info
Casey's: www.caseys.com
FVP: www.fvpparts.com
Great Marketing Opportunities for 2016!
There are great marketing opportunities available with Brian Brown Racing for 2016 with available spots on the car including the side of the nose wing. For more information, e-mail Brian at Brian@BrianBrownRacing.com.
Brown's Bits
Brian's win at the 360 Nationals came in 2014. It was a long time coming for Brian, as it was his fifteenth try at it. He left no doubt, leading wire to wire from the pole, besting Sam Hafertepe Jr., Sammy Swindell, Mark Dobmeier and Tim Shaffer.
About Casey's General Stores
Casey's General Stores is a Fortune-500 company (NASDAQ CASY) operating over 1,850 convenience stores in 14 states through the Midwest. Known for its "Homemade To-Go" pizza, sandwiches, donuts and bakery items, Casey's strives to consistently deliver quality gas, fresh kitchen-prepared food, clean environments and friendly service at every retail location.  Casey's is currently the 5th largest c-store chain and fifth largest pizza chain in the United States.
About FVP
Built on a commitment to quality and delivered with unmatched service, FVP is the confident solution for all of your OEM needs. FVP products are engineered to provide customers with OE quality products that are equal or superior in performance to the major national brands at a competitive price.  FVP is proud to carry a full line of high quality oil, air, cabin air and fuel filters, powerful batteries for multiple applications including cars, trucks, SUV's, commercial, boats and other specialty vehicles as well as automotive chemicals and oil, antifreeze, DEF, hub assemblies, radiators and condensers.    To learn more about FVP or to find out where you can have FVP products installed in your vehicle, visit  FVPparts.com!  FVP…The Confident Solution.
Marketing Partner of the Week – Impact Signs Awnings Wraps / impact4800.com
Brian says – "David and Julie Goodson have a great family there. They also make sure our trailer looks great with the graphics they provide. We're proud to represent them."
The goal at Impact Sign and Lighting is to make selecting the right sign and lighting for your business a simple process for you. Impact can design, create, and install virtually any type of sign on awnings, poles, buildings and much more including racecars, of course! They will work with you from conception to completion and make sure you are completely satisfied. We'll give you personalized service, expert consultation, quick turnarounds, and reasonable pricing. Impact Sign and Lighting are responsible for the graphics on the Brian Brown Racing #21. Visit them on the web at www.Impact4800.com!
Associate Marketing Partner of the Week – KSE Racing Products
Brian says – "We switched to KSE at the beginning of 2010. Dave and all the guys down there build a great product, and I couldn't be happier. The car steers as good as ever."
Based in White House, Tennessee, KSE Racing Products offers a variety of products including Filter Reservoir Tank Assemblies, Power Steering Gears and Pumps, H.P.D. Water Pumps, Tandem Fuel Pumps, Fluids and more. To receive a catalog, visit their website at www.KSE-Racing.com!
Brian Brown Racing would like to thank Casey's General Stores, FVP, Wormall Civil, Searsboro Telephone Company, MC Power, Impact Signs Awnings Wraps / impact4800.com, Champion Brands, Ditzfeld Transfer, Maxim Racing, Smiley's Racing Products, Weld Wheels, Housby Trucks, Next LED Sports, Schure Built Suspension, Arctic Cat, Lincoln Electric, K&N, www.hostiowa.net, FSR Race Products, TI64, Fuel-Safe Tanks, Wolfe Eye Clinic, Bell Helmets, Hinchman Uniforms, CP Pistons, Carrillo Rods, Vortex Wings, Penray, All Pro Cylinder Heads, Butler Built Seats, AkzoNobel, Kenny's Components, Tru Square, Snap-On Tools, Rod End Supply, KSE Racing Products, Winters Performance, Cometic Gaskets, Shell Shock, Donovan, ISC Racers Tape, Kinsler Fuel Injection, Racing Optics, Hoosier Tires, Klein RV, Duke's Meats, BIGS Sunflower Seeds, NGK Spark Plugs, XYZ Machining, Brown and Miller Racing Solutions, Red Devil Brakes, Schoenfeld Headers, 6B Apparel, Garrett Racing Engines, MSD and Fortress Wealth Management for all their support!