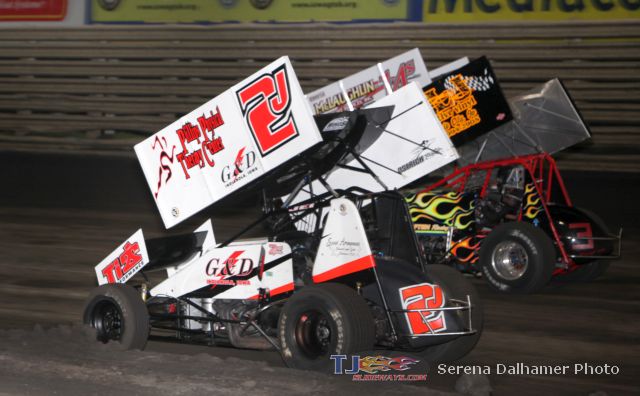 Inside Line Promotions
BEATRICE, Neb. (Aug. 3, 2016) – A lot of miles on the road paid off for Zach Blurton this past weekend. He recorded his fourth win of the season on Saturday in Colorado before traveling to Nebraska on Sunday to take home a ninth-place finish.
"We put 560 miles on the tow rig this weekend and it was worth it," he said. "I looked at the World of Outlaws schedule and the most they travel from one day to the next race was something like 300 miles. We've put those miles on four or five times this year."
The busy weekend began on Saturday at the Ernie DeCroce Memorial at Colorado Motorsports Park in Byers, Colo., with the United Rebel Sprint Series (URSS). Blurton bolted from his fifth starting spot to third in the first three laps of the feature. Following a caution with seven laps in he passed for second on the restart.
"I kind of settled in running the top like everyone else, but every now and then I went to the bottom to see what the car would do," he said. "I knew I would have to use the bottom in traffic. On that restart I went to the bottom and grabbed second and once we got into lapped cars I went to the bottom and used them to take the lead. The caution came out at the right time. I was just going to get into a bunch of lapped cars. Once we went back to green I just took off. We won by half a straightaway."
The team took that momentum and strapped in for a long ride to Nebraska, where they were greeted by a bad pill draw that made for an uphill battle with the Sprint Car Series of Nebraska (SSN) at Beatrice Speedway on Sunday.
"I started outside the third row in the heat and it was stacked," he said. "I got to second and we had a yellow and that moved me back to fourth and that's where I finished. It was one spot out of the redraw for the feature."
Blurton lined up 13th for the feature on a rubbered up track.
"I got stuck on the bottom and fell back to 16th," he said. "I worked my way back up to eighth by moving up half a groove. We had a yellow and all the crew guys from the other teams were signaling to their drivers to move up. Once that happened I couldn't move forward. The yellow helped me one night and hurt me the next."
Blurton, who finished ninth, is currently ranked second in the URSS National and Kansas Region points and he leads the Colorado Region standings. He is also fourth in the Sprint Car Series of Nebraska standings.
Blurton will travel to the quarter-mile track of Rush County Speedway in LaCrosse, Kan., this Friday and then to the Belleville High Banks in Belleville, Kan., on Saturday.
"LaCrosse is a lot of fun," he said. "I ran second there last year. We've won at quarter miles this year in North Platte and Byers. We found something on the small tracks and we will use the same setup at LaCrosse. Then we go to the big track. Belleville is probably my favorite track. I've led a lot of laps there. I think I've finished second like six or seven times."
QUICK RESULTS –
July 30 – Colorado Motorsports Park in Byers, Colo. – Feature: 1 (5).
July 31 – Beatrice Speedway in Beatrice, Neb. – Heat race: 4 (6); Feature: 9 (13).
SEASON STATS –
31 races, 4 wins, 10 top fives, 23 top 10s, 27 top 15s, 27 top 20s
UP NEXT –
Friday at Rush County Speedway in LaCrosse, Kan., and Saturday at Belleville High Banks in Belleville, Kan.
MEDIA LINKS –
Website: http://www.ZachBlurton.com
Twitter: https://twitter.com/ZachBlurton
Facebook: https://www.facebook.com/ZachBlurtonRacing
APPAREL –
Visit Blurton's Facebook page at https://www.facebook.com/ZachBlurtonRacing for more information.
RACING OPPORTUNITIES –
Blurton, who earned 2013 Knoxville Raceway 360 Rookie of the Year and 2012 NCRA Rookie of the Year honors, is seeking additional racing opportunities and is willing to travel. To learn more information, contact Blurton at 620-393-5249 or ZachBlurton@gmail.com.
SPONSOR SPOTLIGHT – Phillips Chiropractic & Physical Therapy Center
Phillips Chiropractic & Physical Therapy Center, which is located in Dodge City, Kan., provides patients with the finest quality healthcare by utilizing the most modern technologies. The business strives to provide all of its patients with excellent customer service in a warm, friendly environment dedicated to delivering optimal health and wellness. For more information, visit http://www.PhillipsTherapy.net.
"James Phillips has been with me since 2011," Blurton said. "He's always supported us and I can't thank him enough. He's a big help and without him it'd be pretty hard to do it."
Blurton would also like to thank Midwest Ag Professionals Inc., Ti22 Performance, Phillips Chiropractic & Physical Therapy Center, Jet-Hot Coatings, Randy Patterson Welding, Outlaw Wings, Billinger Repair Shop, Double D Family Mat Shop, Park Liquor, Rob's Fun Center, Tornado Racing Engines and Rod End Supply for their continued support.
INSIDE LINE PROMOTIONS –
Inside Line Promotions specializes in affordable public relations and media management for motor sports drivers, teams, sponsors, tracks, series, events, organizations and manufacturers. ILP Founder Shawn Miller leverages professional journalism with new media technologies and social networking to improve your exposure and the return on investment for your sponsors.
To meet the media relations needs of your program by joining Team ILP, contact Shawn at 541-510-3663 or Shawn@InsideLinePromotions.com. For more information on Inside Line Promotions, visit http://www.InsideLinePromotions.com.
*PHOTO COURTESY OF URSS SERIES*