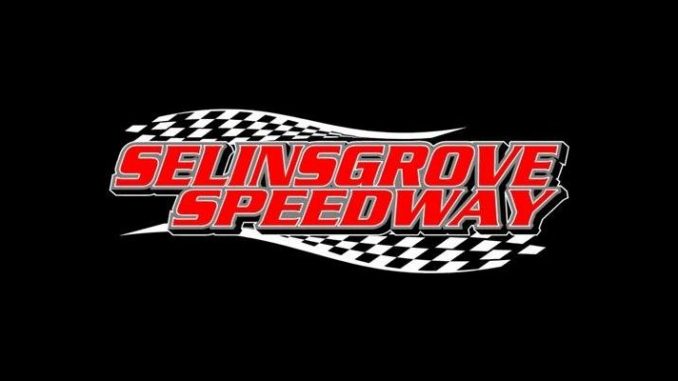 From Selinsgrove Speedway
SELINSGROVE, Penn. (August 6, 2016) — Mark Smith of Sunbury scored his fourth win of the season in Saturday night's 25-lap 360 sprint car feature at Selinsgrove Speedway driving Canada's Patrick Vegneault's No. 55 entry.
Danville drivers Jeff Rine and Steve Campbell each scored a win in the twin 25-lap features for the super late models.
AJ Hoffman of Richfield took the checkered flag in the 15-lap pro stock feature, while Keith Bissinger of Orangeville won the 12-lap roadrunner race.
Selinsgrove Speedway swings back into action with a rare Saturday night 410 sprint car race this coming weekend, Aug. 13, plus super late models, pro stocks, and roadrunners at 7:30 p.m. Track gates will open at 5:30 p.m.
Mallie Shuster looked like a winner for the second race in a row in the 360 Sprint Car feature event presented by the Newville Family of Companies. Shuster led right out of the gate after passing Brett Michalski as the field jockeyed for positions. A lap five restart saw Nate Snyder throw a slide job on Shuster for the race lead before Shuster drove back into the top spot.
At the half way mark, Davie Franek and Mark Smith had worked into the thick of the battle coming into the top three. Franek started to develop a damaged wing, which allowed Smith to take second. Smith then used lap traffic to work by Shuster into the top spot for good.
Smith collected his fourth win of the year. This win came in the car Smith usually races with the Empire Sprint Series in New York and Canada after his weekly ride needed an engine change. With the win, Smith adds to his point lead after wondering if he would even compete Saturday night. Franek, Shuster, Derek Lock, and last place starter Jason Shultz rounded out the top five.
Shultz was credited with the night's IBEW hard charger award. Larry Kelleher, Nate Syder, Eric Tomecek, Ryan Kissinger, and Mike Walter were the top ten across the line. Cody Keller and Mallie Shuster won heat races for the 360 Sprint Cars.
Jeff Rine returned from a rained out event last week to kick off the night's Late Model racing with a win. Rine shook off any rust he had very quickly in the makeup feature from July 16's Jeff's Auto Body and Recycling Center fan appreciation night. Dave Stamm showed the way early on until a mid race yellow flag bunched the field back up. Jason Smith worked by Stamm while Rine used a battle between Gene Knaub and Stamm to go by both drivers for second.
Once in second Rine was able to catch and pass Smith for the race lead before Smith retired later in the event with an apparent engine issue. Rine had some excitement at the end of the event with a caution flag that put Knaub and Bryan Bernheisel on his rear bumper. Rine ran his best laps of the race after the yellow driving to his sixth win of the season. Knaub was second and Bernheisel was third.
In the regularly scheduled late model feature later in the night, a big wreck shuffled the starting line up in a big way for the feature restart. Hayes Mattern led the first five laps before his car broke at the end of the back stretch and hit the outside wall destroying his car. He was ok.
The wreck handed the lead over to Donnie Schick who led Steve Campbell until a lap 14 yellow flag. The yellow flag interrupted a battle for the lead as Campbell had just pulled out to pass Schick. Campbell wasn't going to settle for second on this night as he drove by Schick into the race lead on lap 16. Campbell finished second three times to start the season, but on Saturday night he was able to hold off the field to the checkered flag.
Jeff Rine ran second until the final lap when he broke. Luke Hoffner quickly drove into second holding off a hard charging Dave Stamm. Matt Cochran and Dave Zona rounded out the top five. Jason Smith came from deep in the field to finish sixth followed by Rine, Dick Houtz, Donnie Schick, and Danny Snyder. Heat races for the Late Models were won by Snyder, Rine, and Gene Knaub.
John Schreffler was the early race leader in the A&A Auto Store Pro Stock feature event. AJ Hoffman climbed into the top spot on lap two in search of his 44th career Selinsgrove win which would put him just one out of a tie for being on top of the list. Early season point leader Brandon Moser had other ideas as he moved into second and started to pressure the race leader. Moser bid for the top spot came to an end on lap eight when he made contact with the backstretch wall.
Third place Brad Mitch moved into second and began to challenge Hoffman as soon as the green flag was displayed. Tommy Slanker quickly joined the race for the win. Mitch was able to pull beside Hoffman, but was never able to move past the race leader. Hoffman claimed his third win of the season holding off Mitch, Slanker, Schreffler, and Andrew Shoop. Matt Hornberger, Kurt Wray, Matt Wilson, Jeremy Kline, and Bill Conrad were the top ten finishers. Two Pro Stock heat races went to Schreffler and Wray.
Keith Bissinger started ninth in the Roadrunner feature, but wasted little time picking his way to the front. Bissinger took the race lead away from Ryan Zook on the fourth circuit and once Bissinger was out front he drove to his third win of the season. Zook finished in second just ahead of Walt Peters, Dustin Snook, and Kevin Imes. Michael Smith, Brian Johnson, Butch Shaffer, Smith Cope, and Will Brunson were the top ten finishers.
Nearly 30 restored race cars from the Eastern Museum of Motor Racing were on display for fans and the cars took to the speedway at the intermission time.
Selinsgrove Speedway
Selinsgrove, PA
Saturday August 6, 2016
Feature (25 Laps): 1. 55 – Mark Smith, 2. 28F – Davie Franek, 3. 49S – Mallie Shuster, 4. 77 – Derek Locke, 5. 29 – Jason Shultz, 6. 76 – Larry Kelleher, 7. 39 – Nate Snyder, 8. 1W – Eric Tomecek, 9. 66 – Ryan Kissinger, 10. 49 – Mike Walter, 11. C4 – Jim Shuster, 12. 5 – Brian Nornhold, 13. 33 – Michael Walter II, 14. 39P – Eric Parker, 15. 71 – Charlie Anderson, 16. 89 – Robbie Sillwaggon, 17. 99K – Cody Keller, 18. 2T – Michael Thomas, 19. 73B – Brett Michaski.