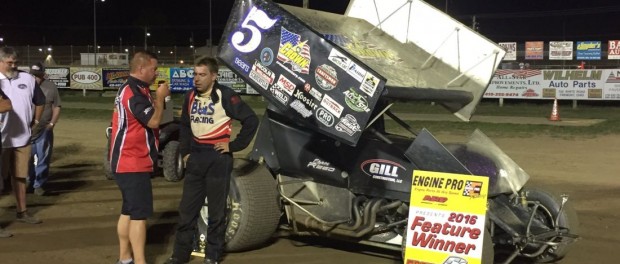 From Brian Liskai
FREMONT, Ohio (August 6, 2016) — – Byron Reed put a new car together and after an exciting duel with Tyler Gunn, earned his fourth 410 sprint car win of the year at Fremont Speedway on Specialty Fuels Night. Reed, a six time and defending track champion, took the lead on lap 19 of the 30-lap affair and survived a late race restart for the win.
It is Reed's 31st career win at "The Track That Action Built" as he ties hall-of-famer Rollie Beale for 14th on the track's all-time win list.
"This is a brand new frame we're taking to Knoxville and thank God we put old wings, old hood and an old tire and we junked them all. I had a big 'oops' there (lap 21) and I settled down after that. I don't know if the front wing was broken then or not. It means a lot to tie Rollie Beale. My mom and dad used to watch him race a lot back in the old days of Toledo. I want to thank my crew who worked hard all night. This is the car we're taking to Knoxville. There were a few things that weren't to my liking but we worked all night on it. I'm still not totally happy with some of it but I guess it was good enough," said Reed beside his Crown Battery, Ken Gill Construction, Kistler Engines backed machine.
Fremont, Ohio's Paul Weaver also survived a late race caution, led all 25 laps to score his third win of the year in the Fremont Federal Credit Union 305 Sprints at Fremont Speedway. Weaver, who is ranked the top 305 driver in the country, has seven total victories in 2016. The win was the 39th of his career at Fremont Speedway and moves in him 10th on the track's all-time win list.
"I screwed up on that last restart and almost gave that one away. The car has just been great. I have a long way to go to do what some of these guys have done in a year. I think Nate Dussel won like 16 in a year and Jordan Ryan won 15 in a season," said Weaver beside his M&L Excavating; Hampshire Racing Engines; Schiets Motorsports, Weaver Performance Center backed machine.
In a wild Burmeister Trophy Dirt Truck feature, Keith Sorg inherited the lead when Dustin Keegan and Shawn Valenti got together battling up front with eight laps remaining. He then survived a two lap shoot out at the end following a caution flag to score his third win of the season and the third of his career at Fremont Speedway.
"This thing was crazy loose…I fought it the entire race. On that restart at the end, my visor popped out on the one side and I was trying to hold it in there. I want to thank my mom and dad, my uncle, Danny Roepke, Level Performance, D&R Transmissions, M&L Excavating, Westend Tire, Advanced Auto Parts and Fremont Fence," Sorg said in the Engine Pro Victory Lane.
The McCullough Industries 602 Late Model feature was also wild. Matt Shipley looked like he was on his way to his first career win when he collided with a lapped car with six laps to go. On the restart John Brooks and Ky Harper waged a terrific battle for the lead with Harper taking it on lap 11. Harper would drive away the last five laps for his fourth victory of the season. It was his ninth career win at Fremont.
"I'm going to Disney World…we leave in the morning for a family vacation," said Harper beside his Handy Grafix; Cut Right Lawn Care; Jed's; Twist T-Freez; Harper Enterprises; Rocket Chassis; Childress Collision; Classic Industries backed #34. "That was a hell of a race…it's a shame Matt had trouble with that lapped car."
In the 30 lap Fort Ball Pizza Palace 410 Sprint feature, Tyler Gunn and Brian Lay led the field to green with Lay gaining the advantage over Gunn, Jody Keegan, Chris Andrews, Reed and Broc Martin. The race would go caution free the first 27 laps.
Lay set a blistering pace, encountering lapped traffic by the fifth lap. That allowed Gunn, Andrews, Reed and Keegan to close. On lap 13 Gunn made a daring move in traffic to take the lead with Lay returning the favor a circuit later. That allowed Reed and Andrews to close. The crowd was treated to some phenomenal moves in traffic as Gunn retook the top spot on lap 15. Lapped traffic would hold Lay up and allowed Reed to take second on lap 17 with Andrews grabbing third.
Reed would bobble on the cushion in turn two on lap 21 and Gunn closed with Andrews, Lay and Martin battling for third. Reed would dispose of the traffic with five laps to go as Gunn, Andrews, Lay, Martin, Stuart Brubaker and Keegan gave chase. Brian Smith would spin right in front of the leaders on lap 27 for the first caution of the race. On the ensuing restart Reed got a tremendous jump over Gunn with Lay taking third from Andrews.
The only other caution flew with just two laps to go when Kyle Patrick spun. Now with a collapsed front win, Reed had his hands full but he would hit his marks and drove to the win over Gunn as Lay held off Andrews for third with Martin rounding out the top five.
"That was a lot of fun racing in traffic. I didn't really do much as the traffic kind of fell my way," Reed said.
In the 25-lap 305 sprint feature Dustin Dinan and Paul Weaver paced the field in a race that went the first 20 laps caution free. Weaver grabbed as Alvin Roepke, Nate Dussel, Dinan, Jamie Miller and John Ivy battled for second. With five laps in Weaver held a commanding lead over Dussel, Roepke, Miller, Dinan and Steve Rando. Weaver encountered lapped traffic by the seventh circuit and made a fantastic move, splitting two lapped cars to maintain his advantage.
With 10 laps to go Weaver once again came upon lapped cars racing side by side as his lead dwindled with Dussel, Roepke, Miller and Ivy closing. Rando would spin with five laps to go. When the green flew Weaver led Dussel, Roepke and Miller. With three laps remaining Kyle Peters would spin setting up the three lap shoot-out.
On the green Dussel attempted a bonsai move on Weaver and the two nearly crashed. Weaver would gather it back up and drove to the win over Dussel, Roepke, Miller and Matt Foos.
Jim Holcomb and Keith Sorg paced the field for the 20 lap dirt truck feature. Sorg jumped into the lead over Holcomb, Gene Potridge, Kent Brewer, Dustin Keegan and Cory McCaughey. The caution would fly for Cody Truman after a lap was scored.
On the ensuing restart Sorg led Holcomb who was being challenged by Dustin Keegan. Keegan took the runner-up spot on lap six just as the caution flew for Andy Keegan. On the restart Keegan grabbed the lead bringing Shawn Valenti into second. With Sorg, Holcomb, Jeff Ward, McCaughey and Dan Hennig staying close.
Valenti continued to pressure Keegan and finally got around him on lap 12 but Keegan attempted to a slider to regain the spot and the two made heavy contact to bring out the caution. Sorg would now lead Hennig, Holcomb, and McCaughey when the green reappeared. But, Holcomb would suffer mechanical issues and brought out the caution on lap 13.
Sorg was able to pull away very slightly when the green reappeared as Hennig, McCaughey and Brewer battled for second. McCaughey finally earned the runner-up spot on lap 17 but Hennig and Brewer stayed close. Hennig and Brewer would get together on lap 19 setting up a one lap shoot out.
Sorg was able to hold off McCaughey for the win with Valenti rebounding for third. Brad Stuckey and Dana Frey would round out the top five.
Dustin Keegan and John Brooks brought the field to green for the 15 lap late model feature with Brooks gaining the advantage over Keegan, Shipley and Harper. The caution would fly after a lap was completed for a multi-car incident involving Jeff Hites, Jay King and Brandon Myers.
On the restart Shipley would grab second and immediately challenged Brooks with Keegan staying in the hunt. Harper took third on lap four and watched a tremendous battle between Brooks and Shipley. Shipley would take the lead on lap seven but two laps later would make contact with a lapped car, handing the lead back to Brooks.
Now Brooks had to deal with Harper as Shipley, Keegan, Tim Sabo and Jamie Miller gave chase. Harper took the lead on lap 11 just before King stopped for the final caution with three laps to go.
On the restart Harper drove away from a good battle between Brooks and Shipley. Harper drove to the checkers over Brooks, Shipley, Tim Sabo and Keegan.
Fremont Speedway will be back in action Saturday, Aug. 13 on Fremont NAPA Auto Parts Night with the 410 and 305 sprints, dirt trucks and late models in action. It is Family Fun Night, with a package of adult and children general admission tickets, hot dogs and drink coupons being offered at a special price.
For more information go to www.fremontohspeedway.com.
Fremont Speedway
Specialty Fuels Night
Saturday, Aug. 6, 2016
Starting position [*]
410 Sprints – Fort Ball Pizza Palace
Qualifying
1.73-Chris Andrews, 12.505; 2.83M-Broc Martin, 12.935; 3.5-Byron Reed, 12.984; 4.46AU-Stuart Williams, 13.036; 5.60-Jody Keegan, 13.089; 6.45L-Brian Lay, 13.127; 7.7-Shawn Valenti, 13.140; 8.68G-Tyler Gunn, 13.218; 9.9Z-Duane Zablocki, 13.260; 10.14H-Todd Heller, 13.295; 11.38-Max Stambaugh, 13.349; 12.51-Roger Campbell, 13.426; 13.16-Stuart Brubaker, 13.428; 14.2+-Brian Smith, 13.483; 15.33K-Kyle Patrick, 13.672; 16.23-John Ivy, 13.698; 17.8J-Jess Stiger, 13.740; 18.901-Bob Lime, 14.107; 19.96AU-Bruce White, 14.341; 20.45T-Bob Tucker, 14.670; 21.1K-Joey Pendergrass, 15.670;
Heat 1 (8 Laps)
1. 73-Chris Andrews[4] ; 2. 14H-Todd Heller[1] ; 3. 23-John Ivy[6] ; 4. 16-Stuart Brubaker[5] ; 5. 46AU-Stuart Williams[3] ; 6. 96AU-Bruce White[7] ; 7. 7-Shawn Valenti[2]
Heat 2 (8 Laps)
1. 68G-Tyler Gunn[2] ; 2. 83M-Broc Martin[4] ; 3. 60-Jody Keegan[3] ; 4. 38-Max Stambaugh[1] ; 5. 8J-Jess Stiger[6] ; 6. 45T-Bob Tucker[7] ; 7. 2+-Brian Smith[5]
Heat 3 (8 Laps)
1. 9Z-Duane Zablocki[2] ; 2. 45L-Brian Lay[3] ; 3. 5-Byron Reed[4] ; 4. 51-Roger Campbell[1] ; 5. 33K-Kyle Patrick[5] ; 6. 901-Bob Lime[6] ; 7. 1K-Joey Pendergrass[7]
A-Main 1 (30 Laps)
1. 5-Byron Reed[4] ; 2. 68G-Tyler Gunn[1] ; 3. 45L-Brian Lay[2] ; 4. 73-Chris Andrews[6] ; 5. 83M-Broc Martin[5] ; 6. 60-Jody Keegan[3] ; 7. 16-Stuart Brubaker[13] ; 8. 9Z-Duane Zablocki[7] ; 9. 2+-Brian Smith[14] ; 10. 38-Max Stambaugh[9] ; 11. 23-John Ivy[16] ; 12. 14H-Todd Heller[8] ; 13. 46AU-Stuart Williams[11] ; 14. 33K-Kyle Patrick[15] ; 15. 51-Roger Campbell[10] ; 16. 8J-Jess Stiger[17] ; 17. 1K-Joey Pendergrass[21] ; 18. 96AU-Bruce White[19] ; 19. 45T-Bob Tucker[20] ; 20. 901-Bob Lime[18] ; 21. 7-Shawn Valenti[DNS]
Hard Charger: 16-Stuart Brubaker +6
305 Sprints – Fremont Federal Credit Union
Heat 1 – (8 Laps, top 5 to A)
1. 7M-Brandon Moore[1] ; 2. 1-Nate Dussel[4] ; 3. 99-Alvin Roepke[3] ; 4. 20I-Kelsey Ivy[2] ; 5. 11G-Luke Griffith[6] ; 6. 25-Jason Keckler[5] ; 7. 22M-Dan McCarron[9] ; 8. 2L-Landon Lalonde[8] ; 9. 44-Kyle Farmer[7]
Heat 2 – (8 Laps, top 5 to A)
1. 2-Ricky Peterson[1] ; 2. 66-Jamie Miller[3] ; 3. 1X-Dustin Dinan[6] ; 4. 1W-Paul Weaver[4] ; 5. 36-Seth Schneider[8] ; 6. 10-Josh Harrison[5] ; 7. 5JR-Jimmy Mcgrath Jr[2] ; 8. 97-Kyle Peters[7]
Heat 3 – (8 Laps, top 5 to A)
1. 19R-Steve Rando[1] ; 2. 12-Kyle Capodice[6] ; 3. 2F-Matt Foos[5] ; 4. 77I-John Ivy[3] ; 5. 45-Trevor Baker[8] ; 6. 7K-Matt Karbler[7] ; 7. 1J-Jeremy Shambaugh[2] ; 8. 75-Jerry Dahms[4]
B-Main 1 – (10 Laps, top 5 to A)
1. 10-Josh Harrison[2] ; 2. 25-Jason Keckler[1] ; 3. 22M-Dan McCarron[4] ; 4. 97-Kyle Peters[8] ; 5. 5JR-Jimmy Mcgrath Jr[5] ; 6. 2L-Landon Lalonde[7] ; 7. 7K-Matt Karbler[3] ; 8. 1J-Jeremy Shambaugh[6] ; 9. 44-Kyle Farmer[10] ; 10. 75-Jerry Dahms[9]
A-Main 1 – (25 Laps)
1. 1W-Paul Weaver[2] ; 2. 1-Nate Dussel[4] ; 3. 99-Alvin Roepke[3] ; 4. 66-Jamie Miller[7] ; 5. 2F-Matt Foos[12] ; 6. 77I-John Ivy[5] ; 7. 2-Ricky Peterson[10] ; 8. 1X-Dustin Dinan[1] ; 9. 12-Kyle Capodice[9] ; 10. 7M-Brandon Moore[6] ; 11. 36-Seth Schneider[14] ; 12. 19R-Steve Rando[8] ; 13. 25-Jason Keckler[17] ; 14. 11G-Luke Griffith[13] ; 15. 22M-Dan McCarron[18] ; 16. 10-Josh Harrison[16] ; 17. 45-Trevor Baker[15] ; 18. 5JR-Jimmy Mcgrath Jr[20] ; 19. 97-Kyle Peters[19] ; 20. 20I-Kelsey Ivy[11]
Hard Charger: 2F-Matt Foos +&
Dirt Trucks – Burmeister Trophy
Heat 1 (8 Laps)
1. 88-Dan Hennig[3] ; 2. 5s-Brad Stuckey[5] ; 3. 13-Len Benyak[1] ; 4. 7B-Shawn Valenti[7] ; 5. 72-Eric Potridge[6] ; 6. 26-Kyle Lagrou[2] ; 7. 23M-Brian Mitten[4] ; 8. 9-Curt Inks[8]
Heat 2 (8 Laps)
1. 4s-Keith Sorg[2] ; 2. 8KB-Kent Brewer[6] ; 3. 2-Brian Sorg[7] ; 4. 99-Gene Potridge[3] ; 5. 7f-Dana Frey[4] ; 6. 0-Andy Keegan[5] ; 7. 1H-Zeth Sabo[8] ; 8. 14T-Cody Truman[1]
Heat 3 (8 Laps)
1. 33-Jeff Ward[1] ; 2. 17x-Dustin Keegan[3] ; 3. 16-Jim Holcomb[4] ; 4. 36M-Cory Mccaughey[6] ; 5. 721-John Martis[2] ; 6. 5Jr-Rich Farmer[7] ; 7. 22-Brandon Leighton[5]
A-Main 1 (15 Laps)
1. 4s-Keith Sorg[2] ; 2. 36M-Cory Mccaughey[5] ; 3. 7B-Shawn Valenti[7] ; 4. 5s-Brad Stuckey[8] ; 5. 7f-Dana Frey[14] ; 6. 2-Brian Sorg[11] ; 7. 99-Gene Potridge[4] ; 8. 13-Len Benyak[12] ; 9. 88-Dan Hennig[9] ; 10. 8KB-Kent Brewer[6] ; 11. 16-Jim Holcomb[1] ; 12. 33-Jeff Ward[10] ; 13. 17x-Dustin Keegan[3] ; 14. 72-Eric Potridge[13] ; 15. 26-Kyle Lagrou[16] ; 16. 721-John Martis[15] ; 17. 23M-Brian Mitten[21] ; 18. 22-Brandon Leighton[20] ; 19. 14T-Cody Truman[23] ; 20. 0-Andy Keegan[17] ; 21. 9-Curt Inks[22]
Hard Charger: 7f-Dana Frey +9
602 Late Models – McCullough Industries
Heat 1 (8 Laps)
1. 34-Ky Harper[2] ; 2. 101-Chester Fitch[1] ; 3. 4M-Jamie Miller[5] ; 4. 16-Steve Sabo[6] ; 5. 12-Kyle Dukeshire[4] ; 6. 101F-Chester Fitch III[7] ; 7. 04-Jeff Hites[3]
Heat 2 (8 Laps)
1. 44-Matt Shipley[1] ; 2. 00-John Brooks[2] ; 3. 98-Tim Sabo[5] ; 4. 17x-Dustin Keegan[3] ; 5. 27K-Jay King[4] ; 6. 32-Brandon Myers[6]
A-Main 1 (15 Laps)
1. 34-Ky Harper[5] ; 2. 00-John Brooks[2] ; 3. 44-Matt Shipley[3] ; 4. 98-Tim Sabo[8] ; 5. 17x-Dustin Keegan[1] ; 6. 4M-Jamie Miller[6] ; 7. 16-Steve Sabo[4] ; 8. 101-Chester Fitch[7] ; 9. 12-Kyle Dukeshire[9] ; 10. 04-Jeff Hites[13] ; 11. 101F-Chester Fitch III[11] ; 12. 27K-Jay King[10] ; 13. 32-Brandon Myers[12]
Hard Charger: 34-Ky Harper +4