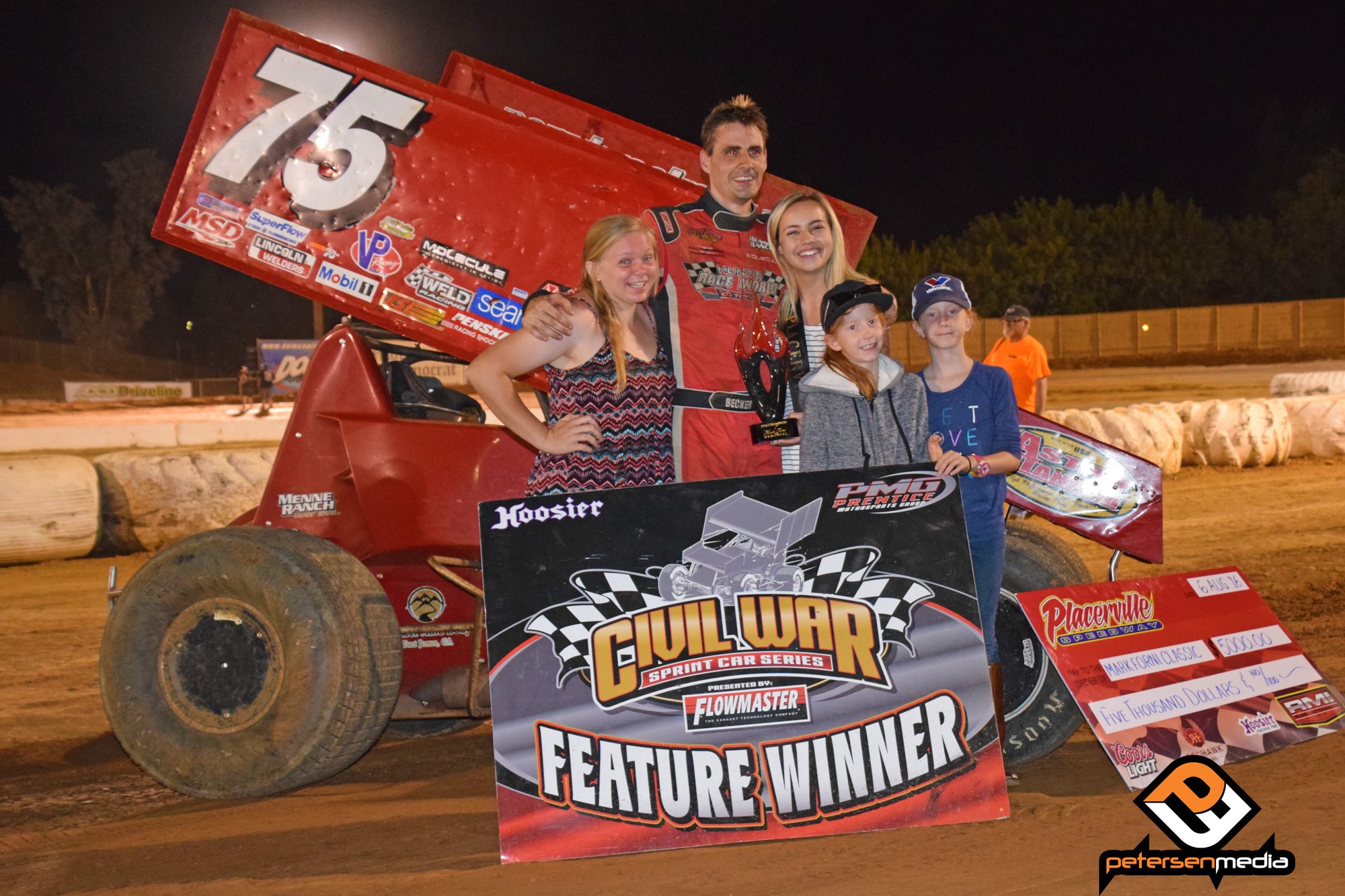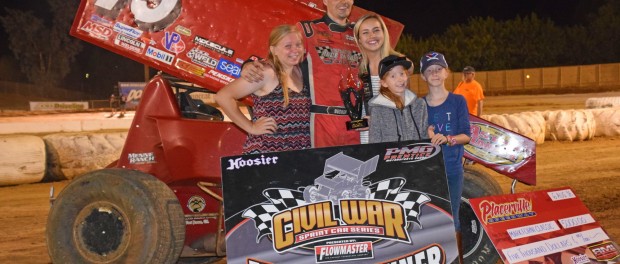 From Peterson Media
PLACERVILLE, Calif. (August 6, 2016) — In 2015 Sean Becker looked to be well on his way to claiming his third career Mark Forni Classic triumph until a late race brake issue dashed those hopes. Saturday night, Becker returned to the Placerville Speedway with the Civil War Series presented by Flowmaster looking for redemption and found it as he claimed the 11th Annual Mark Forni Classic.
A very technical Placerville Speedway surface greeted the field for the 30-lap contest, and in the early goings it was pole sitter, Kyle Hirst, leading the way aboard the Josh Ford Motorsports No. 73 entry.
Hirst, the most recent Civil War Series presented by Flowmaster winner, set a very nice pace early as he fended off Sean Becker who had moved into the second spot after starting the race in the fourth spot.
As the leaders got into traffic as early as the seventh lap, Becker would close in on the race lead and make his move on the ninth lap before the caution flag waived on the 10th lap.
The ensuing restart would see Hirst take the top spot back, but the caution would waive for Justyn Cox and the move would be negated, as Becker would remain the race leader.
With Becker getting the jump when the race came back to life, the battle for third and fourth and was just as entertaining as the battle for the lead, as the two lead championship contenders, Mason Moore and Andy Forsberg, battled lap after lap.
A 10-lap green flag run would see Becker open up a sizeable lead over Hirst only to see the lead shrink in traffic. With laps clicking off, Hirst would pull up on Becker's rear bumper and bring the crowd to their feet only to see his progress halted on the 23rd lap when the red flag would fly for Matt Peterson who made contact with the turn four wall, and got his machine over on its side.
Following the race's final stoppage on lap 25, the final five laps would see Becker open up a nice lead as he raced on to score his third career Mark Forni Classic win as Hirst would settle for second with Mason Moore rounding out the podium.
Forsberg would finish in the fourth spot, Jake Morgan fifth, Greg DeCaires sixth, Seven Tiner seventh, Kalib Henry eighth, Michael Kofoid ninth, and Andy Gregg would round out the Top-10.
With 27 cars on hand Saturday night, the action would get kicked off with Kyle Hirst setting quick time during qualifications.
A three-heat program would be utilized for the 11th Annual Mark Forni Classic with wins going to Justin Johnson, Becker, and Mason Moore.
The B-Main would be won by Steven Tiner, with Andy Gregg, Koen Shaw, CJ Humphries, Matt Peterson, Jared Ridge, and Kenny Allen all racing their way into the feature event.