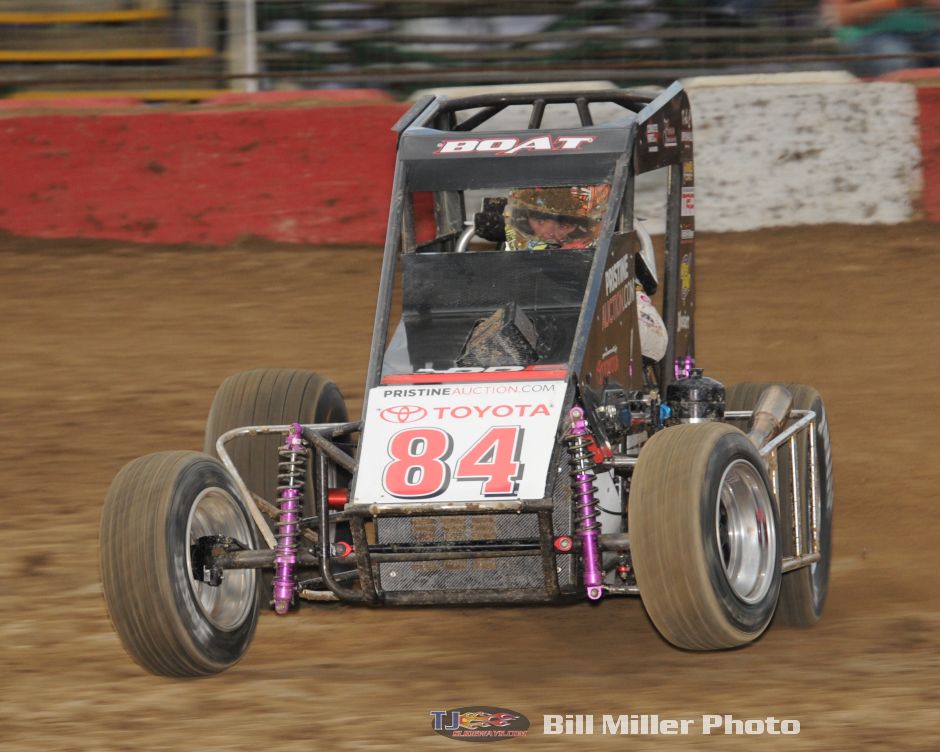 From Bryan Gapinski
BELLEVILLE, Kan. (August 6, 2016) — Chad Boat captured the 39th annual Belleville Midget Nationals, Saturday Night at the Belleville High Banks. Boat joins his father Billy Boat as the only father-son Belleville Nationals Champions. Billy won the 1995 Nationals Championship race and two preliminary night features at the track.
Tanner Thorson jumped into the lead at the start, with Bryan Clauson passing five cars in the first two laps. One lap later defending champion Clauson moved into third place. On Lap 12 Clauson passed Thorson for the lead.
Clauson leading the event on Lap 13 and made contact with a lapped car and the guard rail entering Turn 4 and flipped hard, into the path of Ryan Greth who struck the car at full speed. Clauson was transferred to a Lincoln West Hospital (Lincoln, NE) for further evolution of undisclosed injuries. Greth escaped injury.
Boat assumed the lead on the restart.
At the midway point Boat led Brady Bacon by 2.6 seconds, with third place Thorson trailing Bacon by two seconds. The caution appeared for a stalled car on Lap 24. During the caution Bacon pitted to change a tire, rejoining the field at the tail. Boat performed an excellent restart and led Spencer Bayston by one second, with ten laps remaining.
Boat held off Bayston running with lapped traffic during the final five laps. Boat who drove the Tucker-Boat Motorsports owned Spike/Toyota No. 84 finished 0.96 seconds ahead of Bayston. Jerry Coons, Jr., Bacon, Carson Macedo, Thorson, Holly Shelton, Ryan Robinson, Isaac Chapple, and Jeff Stasa,
"To win this event is unreal this is one of the five most prestigious midget events on everyone's win list, and to join my dad makes this an unforgettable night" commented Boat who drove the Tucker-Boat Motorsports owned Spike/Toyota No. 84. The victory was his thirdd this week after capturing Tuesday night's USAC event at Fairbury, Neb, and last nights event at the track.
SUMMARY
SIMPSON RACE PRODUCTS FIRST HEAT: (8 laps) 1. Chad Boat (#84 Tucker/Boat), 2. Holly Shelton (#67K Kunz/Curb-Agajanian), 3. Tyler Thomas (#91T Thomas), 4. Jeff Stasa (#91 SBR), 5. Terry Goodwin (#2G, Goodwin), 6. Ryan Oerter (#43 RKO), 7. Phillip Davis (#11o Gehrke). NT
COMPETITION SUSPENSION (CSI) SECOND HEAT: (8 laps) 1. Tanner Thorson (#67 Kunz/Curb-Agajanian), 2. Ryan Robinson (#71 Kunz/Curb-Agajanian), 3. Bryan Clauson (#63 Dooling/Hayward), 4. Michelle Decker (#4m Meents), 5. Ryan Greth (#4 Lesher), 6. Tyler Dunkle (#37 Zero), 7. Chase McDermand (#10A MWR). 2:21.66
BENIC ENTERPRISES THIRD HEAT: (8 laps) 1. Carson Macedo (#71K Kunz/Curb-Agajanian), 2. Brady Bacon (#76m FMR), 3. Scott Hatton (#1 Hatton), 4. Travis Scott (#2s Scott), 5. Morgan Frewaldt (#2 Nussbaum), 6. Warren Johnson (#42 Nussbaum), 7. Chad Frewaldt (#4F Nussbaum). 2:22.40
INDY RACE PARTS FOURTH HEAT: (8 laps) 1. Spencer Bayston (#97 Kunz/Curb-Agajanian), 2. Jerry Coons, Jr. (#1K RKR), 3. Isaac Chapple (#52c Chapple), 4. Chett Gehrke (#11c Matteson), 5. Garett Hood (#11H Two Hoods), 6. Curtis Spicer (#13 Zero), 7. Ashley Oerter (#16 RKO), 8. Hunter Fischer (#24 Fischer). 2:22.88
ALSO AT THE TRACK: Johnny Murdock (#0 Zero) & Zach Middleton (#0B Zero).
POLE DASH: (4 laps) 1. Boat, 2. Thorson, 3. Bayston, 4. Macedo, 5. Coons, 6. Bacon, 7. Robinson, 8. Shelton. 1:13.45
B-DASH: (4 laps) 1. Clauson, 2. Thomas, 3. Hatton, 4. Chapple, 5. Decker, 6. Scott, 7. Stasa, 8. Gehrke. 1:12.88
SEMI: (12 laps) 1. Greth, 2. Hood, 3. Goodwin, 4. McDermand, 5. Davis, 6. Spicer, 7. Dunkle, 8. C. Frewaldt, 9. A. Oerter, 10. R. Oerter. 3:55.63
FEATURE: (40 laps) 1. Chad Boat, 2. Spencer Bayston, 3. Jerry Coons, Jr., 4. Brady Bacon, 5. Carson Macedo, 6. Tanner Thorson, 7. Holly Shelton, 8. Ryan Robinson, 9. Isaac Chapple, 10. Jeff Stasa, 11. Michelle Decker, 12. Travis Scott, 13. Garett Hood, 14. Curtis Spicer, 15. Scott Hatton, 16. Bryan Clauson, 17. Tyler Thomas, 18. Ryan Greth, 19. Chett Gehrke, 20. Tyler Dunkle, 21. Terry Goodwin, 22. Phillip Davis, 23. Chase McDermand, 24. Chad Frewaldt. NT
**Clauson and Greth flipped on lap 14 of the feature.
FEATURE LAP LEADERS: Laps 1-12 Thorson, Lap 13 Clauson, Laps 14-40 Boat.