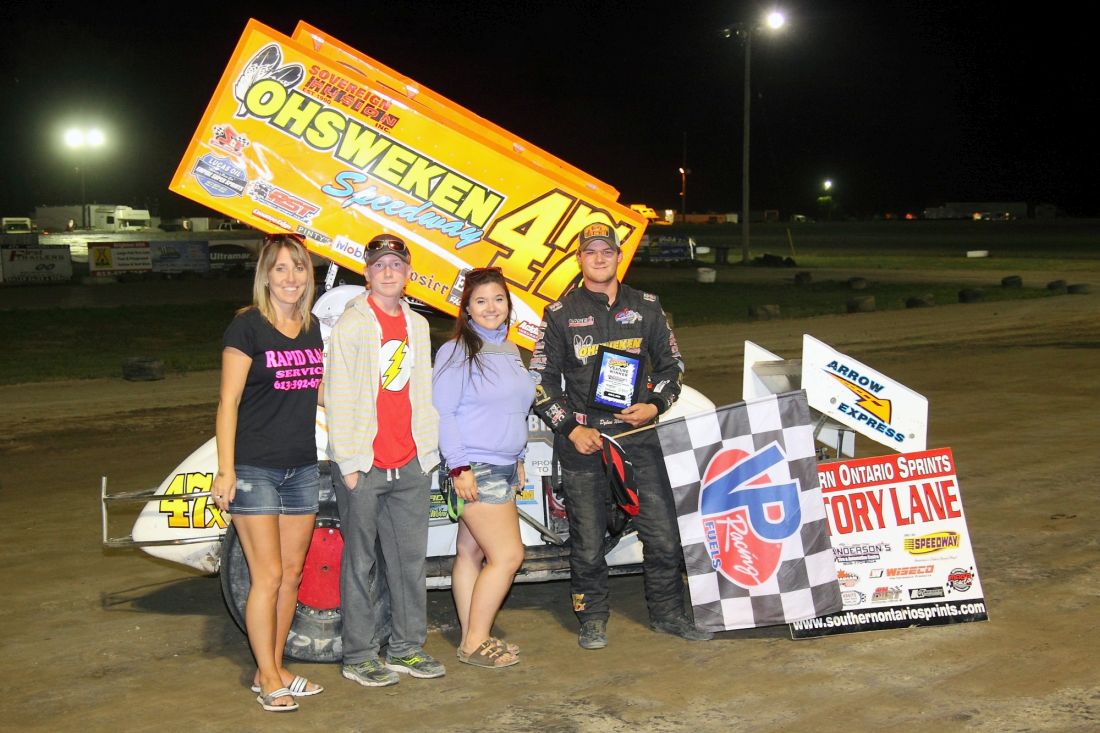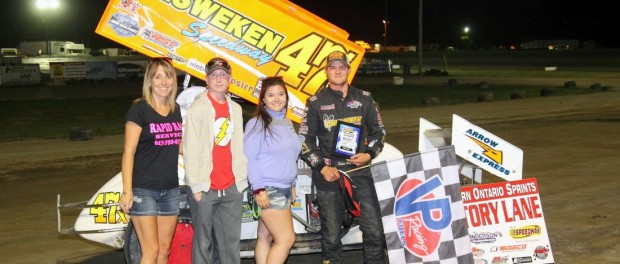 From Tommy Goudge
BRIGHTON, Ont. (August 6, 2016) — Oakland, Ont. native Dylan Westbrook (No.47x Bradshaw Fuels) stole the lead from his car owner Glenn Styres (No.0 Case IH) on lap 10 and never looked back to earn his second straight win with the Southern Ontario Sprints at Brighton Speedway.
The fourth-starting Westbrook quickly jumped to the front, but it was Styres leading the opening nine laps despite Chris Jones' (No.11J Jones Automotive) pole starting position. Dain Naida (No.17x Townline Variety) took the second spot on lap two, but was quickly overtaken by Westbrook on lap five.
Two laps later, a scary incident occurred in turn three. Mitch Brown (No.10 Haldex Brakes) flipped wildy off the track after contact with Rick Wilson (No.42w Draper Doors) in a battle for the fourth position. Brown was uninjured, but understandably shaken.
On the following restart, the 17-year-old Westbrook got an impressive jump and built momentum in the top lane in order to take the lead from Styres out of turn four on the 10th lap.
A trio of restarts from lap 11 to 18 forced Westbrook to be sharp. He set an incredibly slow pace coming back to the green flag. The strategy proved effective as Westbrook got an excellent restart each time.
He survived Styres' slide job attempt on a lap 17 restart and pulled away from Naida by over two seconds at the checkered flag. The win was Westbrook's third this season on the tour. Shawn Sliter (No.22 Giletta Flooring) rallied to a third-place finish.
The series is back in action on Sunday, August 7 at Humberstone Speedway for round eight of the 2016 season.
Southern Ontario Sprints
Brighton Speedway
Brighton, ON
Saturday August 6, 2016
Heat Race #1:
1. 110 – Jake Brown
2. 17x – Dain Naida
3. 47x – Dylan Westbrook
4. 15aw – April Wilson
5. 15 – Mike Ferrell
6. 25 – Warren Mahoney
7. 2 – Lee Winger
8. 57 – Charlie Sandercock
Heat Race #2:
1. 0 – Glenn Styres
2. 10b – Mitch Brown
3. 11j – Chris Jones
4. 42w – Rick Wilson
5. 98 – Paul Pekkonen
6. 1 – Kyle Fraser
7. 22 – Shawn Sliter
Feature:
1. 47x – Dylan Westbrook
2. 17x – Dain Naida
3. 22 – Shawn Sliter
4. 42w – Rick Wilson
5. 0 – Glenn Styres
6. 15aw – April Wilson
7. 110 – Jake Brown
8. 98 – Paul Pekkonen
9. 2 – Lee Winger
10. 11j – Chris Jones
11. 25 – Warren Mahoney
12. 15 – Mike Ferrell
13. 10b – Mitch Brown
14. 1 – Kyle Fraser