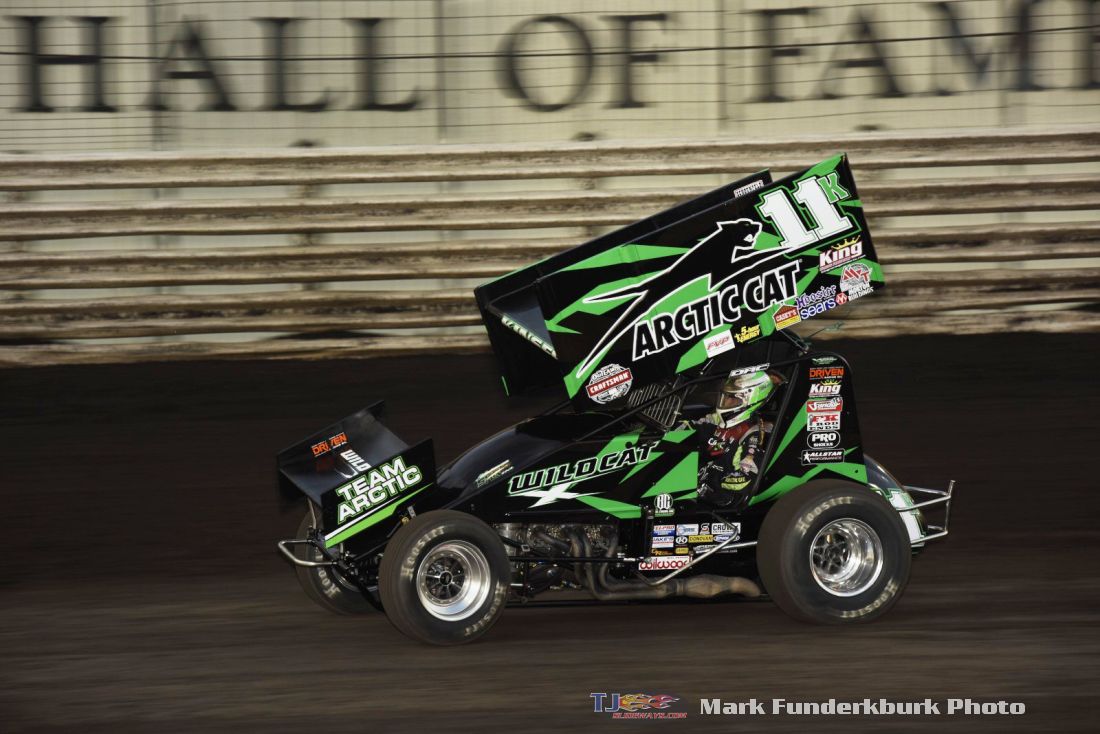 By T.J. Buffenbarger
Kraig Kinser punched his ticket into Saturday's 5-hour ENERGY Knoxville Nationals presented by Casey's General Stores by winning the SPEED SPORT World Challenge Friday night at Knoxville Raceway. Kinser held off challenges from Jason Sides and pulled away over the late stages of the event to claim the $10,000 top prize.
Kraig Kinser and Jason Sides started on the front row. Sides led the opening lap before Kinser took the lead on lap two. Behind them Paul McMahan, Danny Dietrich, and Brooke Tatnell raced three wide for third. Dietrich and McMahan continued to race side by side for third.
The first caution flag appeared during lap four when Brad Sweet and Lynton Jeffrey tangled in turn four. Both Sweet and Jeffrey went to the work area for repairs.
Kinser maintained the lead with Sides pressuring him while Dietrich and James McFadden exchanged the third spot on lap six. Dietrich and McFadden were soon joined by Ian Madsen to make a three car race for the third spot, racing three wide for the position on lap on lap 11.
As Kinser pulled away Sides dropped back to the cars racing for third. Dietrich dove under Sides to take second with four laps to go. One lap later Sides and McFadden split the lapped car of Danny Smith racing for third. McFadden drove by Sides and then by Dietrich. One lap later Dietrich drove back by McFadden for the second spot.
As Kinser pulled away Ian Madsen drove around the outside of McFadden and Dietrich for second.
Up front though it was all Kinser winning the feature over Madsen, McFadden, Dietrich, and Jamie Veal.
56th Annual 5-Hour Energy Knoxville Nationals presented by Casey's General Stores
SPEED SPORT World Challenge
Knoxville Raceway
Knoxville, IA
Friday August 12, 2016
Feature (20 Laps): 1. 11K – Kraig Kinser, 2. 18 – Ian Madsen, 2. 3H – James McFadden, 4. 29 – Danny Dietrich, 5. 71 – Jamie Veal, 6. 7S – Jason Sides, 7. 55 – Brooke Tatnell, 8. 7X – Terry McCarl, 9. 1AUS – Kerry Madsen, 10. 7 – Paul McMahan, 11. 12H – Daniel Harding, 12. 49 – Brad Sweet, 13. 12 – Lynton Jeffrey, 14. 84 – Scott Bogucki, 15. 11N – Randy Hannagan, 16. 4S – Danny Smith, 17. 75 – Glen Saville.