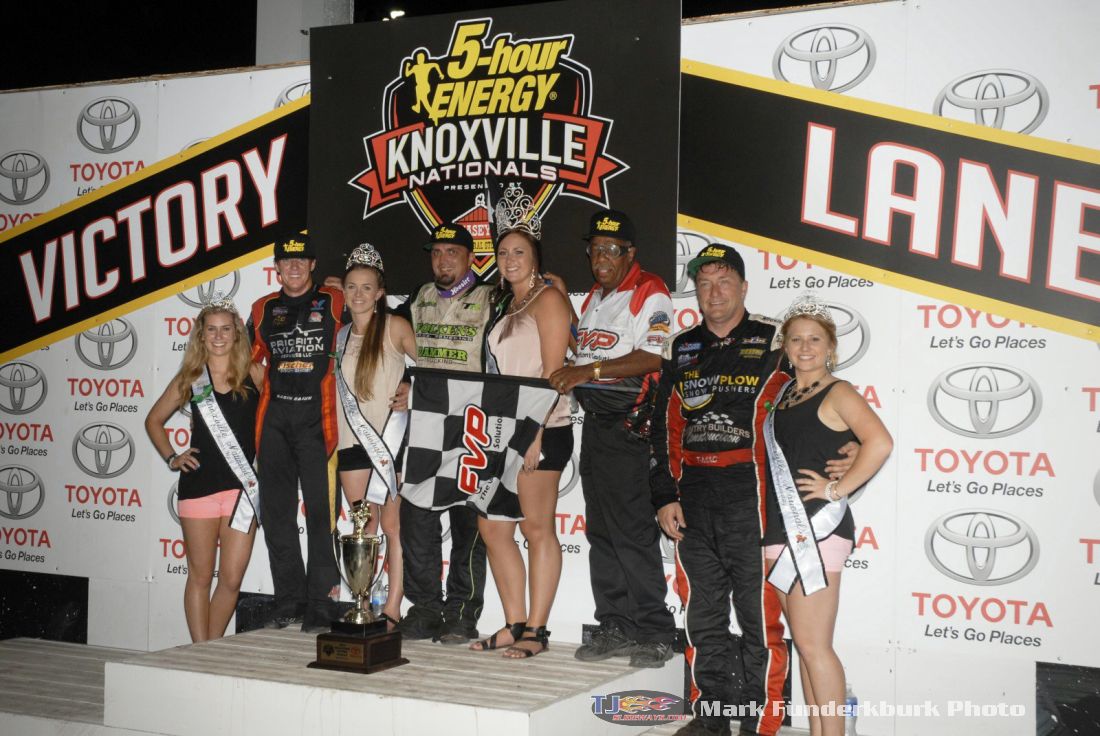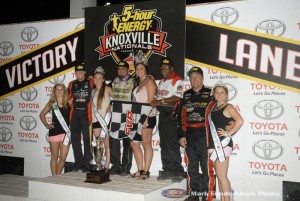 PETERSEN MEDIA
On the biggest stage of the season Tim Kaeding and his Lunstra Motorsports team shined. Winning the Thursday night feature event at the Knoxville Nationals, Kaeding would go on to finish 14th during the Saturday night feature event.
"It was great to have some really good speed again the Knoxville Raceway, and even better to get back into victory lane during the biggest week of the year," Kaeding said. "We had some good runs there at the start of the year so to come back after not running there in a while and run well was awesome."
Taking to the famed ½ mile speedway nestled in the heart of Marion County in Iowa, Kaeding would get his Knoxville Nationals off to a great start as he timed the Folkens Bros. Trucking/Dammer Trucking/Mihm Trucking No. 3K machine 13th fastest in time trials.
From the third row of his heat race, the San Jose, CA driver had his elbows up as he worked his way forward to finish in the third spot, placing him in the 25-lap feature event.
Lining up in the second row for the preliminary night feature event, TK would move into the second spot as he tracked down early leader, Dale Blaney. On the eighth lap, Kaeding would make his move as he got around Blaney out of turn four and never looked back.
Getting into lapped traffic, Kaeding would be held up at times and it would allow Blaney to close in on him, the veteran driver would continue to lead the way.
With a caution flying with 11 laps to go in the race, action would heat up behind the leader, but TK was not phased as he would go on to pick up his ninth win of the season and lock into the Knoxville Nationals feature event.
Finding himself ninth in overall event points, Kaeding would grid the field for the 50-lap feature event from the fifth row. As the feature came to life, Kaeding would run in the Top-10 during the first segment as he would battle with Chad Kemenah and Danny Lasoski for much of the first 25-laps.
Following the mandatory open red, Kaeding would drop a few spots as his adjustments did not work quite how he wanted them to. Falling back as far as 15th in the second half of the race, TK would take the checkered flag with a 14th place finish.
"We would have liked to have had a better result on Saturday night, but we were a Top-10 car for much of the race, and just faded at the end," Kaeding added. "It was a great trip for this Lunstra Motorsports team, and I have to thank Dave and all the guys for their hard work. We have another big weekend ahead and hopefully we can continue to run well at Badlands."
The Lunstra Motorsports team would like to thank Folkens Bros. Trucking, Dammer Trucking, Mihm Trucking, Yager Agriculture Supply, Matt's Repair, and Trac2Trail Arctic Cat for their support in 2016.
ON TAP: TK and the Lunstra Motorsports team will be back at Badlands Friday, Saturday, and Sunday night as they are set to take part in the Rock-N-Roll Gold Cup.
2016 BY THE NUMBERS: Races-43, Wins-9, Top-5's-29, Top-10's-39
STAY CONNECTED: Stay connected to Tim by following him on Twitter at @TKaedingracing, or by clicking over to https://www.facebook.com/pages/Lunstra-Motorsports/127617420603580.
PETERSEN MEDIA: Petersen Media is a promotional agency that can handle your public relations, marketing, and any other media needs. Petersen Media utilizes multiple tactics to help you reach your intended audience, and boost awareness.
For more information contact sales@petersenmediainc.com, by phone at 916-342-3424, visit www.petersenmediainc.com,  www.facebook.com/PetersenMedia, or follow www.twitter.com/petersen_meida.