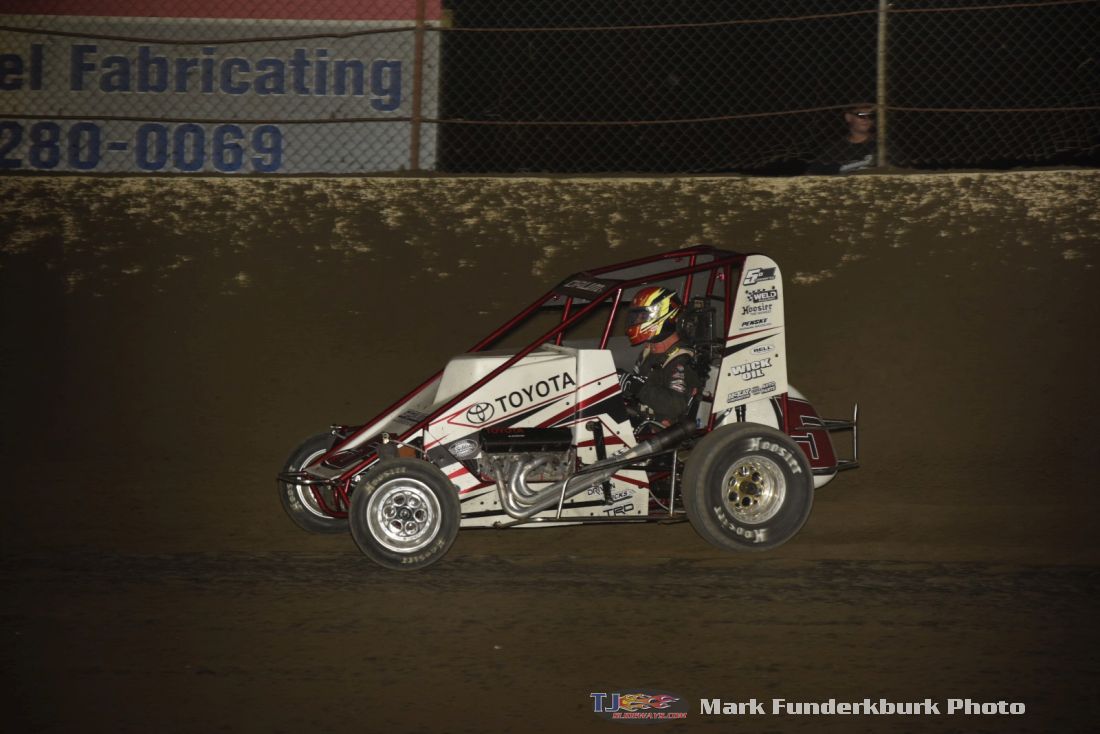 From POWRi
LINCOLN, Ill. (August 19, 2016) — Current leader of the POWRi Lucas Oil National Midget Series points standings, Zach Daum, rallied back against Tanner Thorson at Lincoln Speedway to collect career victory number 17. Daum started on the outside front row and vaulted to an early lead over the pair of Keith Kunz Motorsports entries, Tanner Thorson and Carson Macedo.
Daum held a healthy lead over Thorson until lap 13 when racing was halted for Ryan Robinson who flipped entering turn one. Robinson was alright and able to continue after a quick visit to the work area. Returning to green flag racing, Thorson started to pressure Daum, only to have the action cut short as the red flag appeared for Brayton Lynch who flipped entering turn one and landed on all fours. Lynch would be alright, but damage sustained to his machine would end his night.
Just to the half way point, Thorson again pressured Daum, challenging multiple times before taking the lead entering turn one on lap 26. Daum, not one to give up, persevered and took the lead back from Thorson the following lap off turn four. With three laps remaining, Daum stretched his lead coming to the checkered, and unpredictably his engine burst into flames on the cool down lap. Spencer Bayston finished third, while Holly Shelton took a career-best with fourth. Carson Macedo rounded out the top five.
"The joke of the pit always used to be that Bryan would break or have a flat tire or something after the checkered and he'd finish the race, normally win it, and something would happen after the race," explained Zach Daum. "I guess that's our way of saying we parked it tonight in his fashion. And it's not too often that you drive back by a Keith Kunz car."
"We might have ran second, but I sure had fun," stated Tanner Thorson. "I can't think of any better person to race with than Zach. He's one hell of a race car driver. He's super clean and I always enjoy racing with him. I'm looking forward to tomorrow night; hopefully the rain stays away."
"We were pretty good there," said Spencer Bayston. "The track was pretty hooked up and it took me a while to get going. I was able to get by Carson, but these two guys were out front just cruising and I was struggling to keep up. Hat's off to Zach; it looks like they were going at it."
Midgets
POWRi – National Midget Car Series
Lincoln Speedway
Lincoln, IL
Friday August 19, 2016
Feature: 1. 5D – Zach Daum, 2. 67 – Tanner Thorson, 3. 97 – Spencer Bayston, 4. 67K – Holly Shelton, 5. 71K – Carson Macedo, 6. 32 – Garrett Aitken, 7. 5X – Justin Peck, 8. 3N – Jake Neuman, 9. 27 – Tucker Klaasmeyer, 10. 9K – Kyle Schuett, 11. 71 – Ryan Robinson, 12. 10C – Dalton Camfield, 13. 5B 0- Ariel Biggs, 14. 82 –Eric Johnson, 15. 20 – Cody Wisensel, 16. 17C – Devin Camfield, 17. 1K – Brayton Lynch, 18. 6C – Dave Camfield, 19. 8C – Johnny Petrozelle.