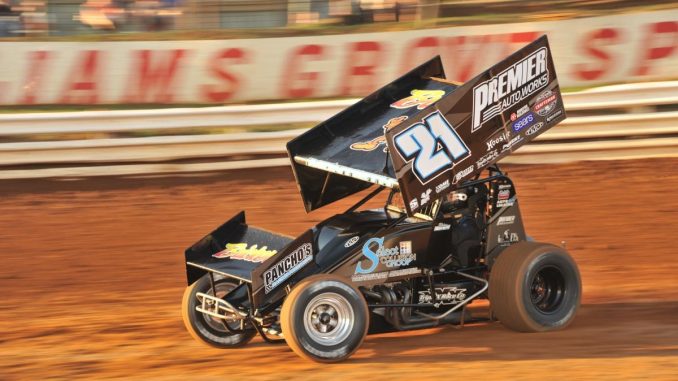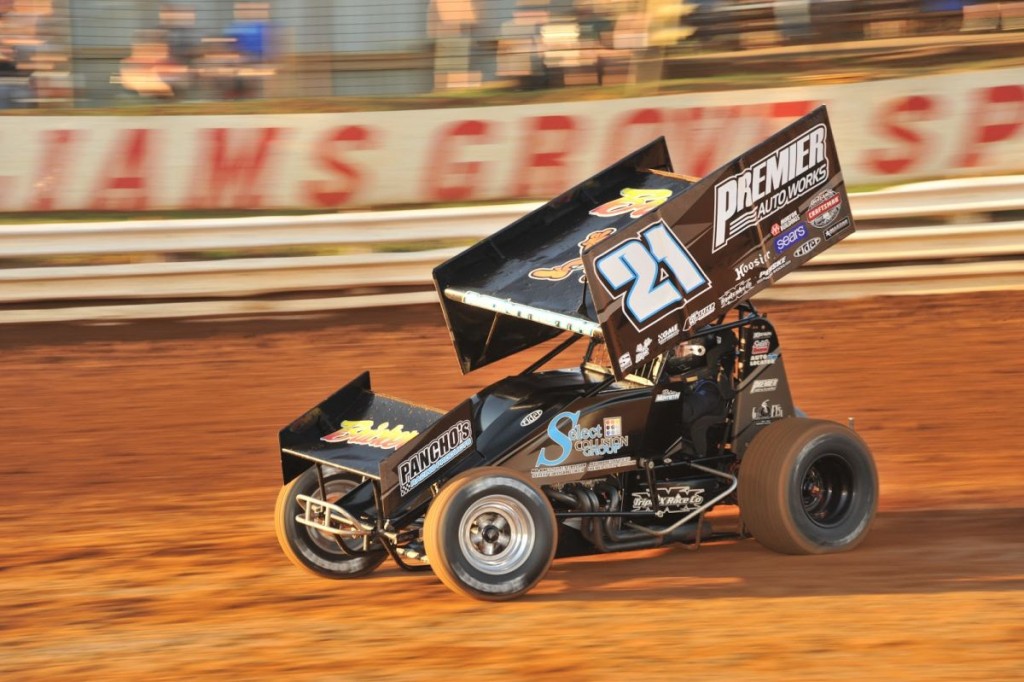 From Tyler Altmeyer
MECHANICSBURG, Penn. (August 19, 2016) — After what seemed to be a lock for Lance Dewease at Williams Grove Speedway on Friday night, taking command during mid-point of the Jack Gunn Memorial main event before charging ahead to a two second advantage, "The Edge" Brian Montieth used his familiar top line of the speedway to track down Dewease during the closing laps, charging under the familiar Donnie Kreitz-owned, No. 69K on the final circuit. The Arctic Cat All Star Circuit of Champions victory was the fourth of Montieth's career, earning $5,000 for his efforts during the non-stop 30-lapper, as well as a first-ever Jack Gunn Memorial trophy. Lance Dewease held on to finish second, followed by Tim Shaffer, Stevie Smith, and Greg Hodnett.
"I was just trying to save fuel," said Brian Montieth in victory lane. "Once he got by me early in the race, my mentality changed to 'hero or zero.' Those last three or four laps, I really pushed myself. That's what you have to do against those guys. Donnie and Lance; those guys are just so consistent during the entire race. If it wasn't for the curb, I don't think I would have caught them. To be here in victory lane, with the season those guys are having, feels great. We are thrilled to be here."
Brian Montieth and Lance Dewease led the 26 feature starters to green on Friday night at Williams Grove Speedway. Montieth jumped to the early advantage, leading Lance Dewease and Tim Shaffer under the flagstand and the completion of lap one. Monteith quickly stretched his advantage, increasing his command by 1.2 seconds just before reaching traffic for the first time on lap seven.
As traffic increased, Montieth's advantage decreased, eventually tracked down and passed by Lance Dewease at the exit of turn two on the 13th circuit. Despite Dewease extending his lead to nearly two seconds during the next 12 circuits, Montieth kept pace and relied on the topside, using the Williams Grove Speedway curb to reel in the nine-time Central Pennsylvania winner in 2016. "The Edge" drove to the tail-tank of Dewease at the white flag, setting up a slide job between turn one and turn two. The slide job attempt would stick, allowing the Phoenixville, Pennsylvania, native to drive off to score his first Arctic Cat All Star Circuit of Champions victory of the season.
"We were just kind of hanging on there at the end," Lance Dewease said. "We weren't very good down the straightaways. I made a mistake there in three and four with two laps to go that kinda hurt us a little bit. I heard Brian (Montieth) behind me at the flagstand coming to the white. I was hoping to drive back underneath him, but I just wasn't good enough to do that. Congrats to those guys. They deserved this one. We've been having a great year so we won't let this get to us."
The Arctic Cat All Star Circuit of Champions will continue their four-day trek through the heart of Central Pennsylvania and Upstate New York with a Saturday night, August 20, visit to the "Fabulous" Lincoln Speedway in Abbottstown, Pennsylvania. Similar to the last two evenings, the Arctic Cat All Star visit to Lincoln Speedway will be a first and only for the series in 2016; the 33rd Lincoln Speedway appearance in Arctic Cat All Star Circuit of Champions history. "The Edge" Brian Montieth is the defending Arctic Cat All Star winner in the Pigeon Hills, securing top honors on June 13, 2015.
Lincoln Speedway will open pit gates at 5:00 pm on Saturday, August 20, followed by the Arctic Cat All Star drivers meeting at 6:30 and hot laps at 7:10. More news and updates can be found on the Web at www.lincolnspeedway.com.
Contingency Awards/Results: Williams Grove Speedway – Friday August 19, 2016:
Event: 34th Annual Jack Gunn Memorial
EMi Driver's Meeting: 36 entries
State Water Heaters Warm-Ups: Dale Blaney – 16.839 seconds
Lincoln Electric Fast Qualifier: Tim Shaffer – 16.773 seconds
Kistler Racing Products Heat #1: Tim Wagaman
All Pro Aluminum Cylinder Heads Heat #2: Stevie Smith
Hunt Brothers Pizza Heat #3: Cory Haas
Hoosier Tire Heat #4: Danny Holtgraver
JE Pistons Dash: Brian Montieth
Daido Engine Bearings Main Event Winner: Tim Shaffer (3rd)
MSD Performance Hard Charger Award: Sheldon Haudenschild (+8)
Outback Steakhouse A-Main 5th Place Finisher: Greg Hodnett
Outback Steakhouse A-Main 10th Place Finisher: Sheldon Haudenschild (11th)
Outback Steakhouse A-Main 15th Place Finisher: Danny Holtgraver
(Lincoln Electric, Daido Engine Bearings, MSD Performance, Outback Steakhouse; Need decal to qualify for contingency award)
Qualifying
1.13-Tim Shaffer, 16.748; 2.69K-Lance Dewease, 16.905; 3.27-Greg Hodnett, 16.961; 4.10H-Chad Kemenah, 17.005; 5.1-Dale Blaney, 17.025; 6.51S-Stevie Smith, 17.062; 7.48-Danny Dietrich, 17.065; 8.O7-Doug Esh, 17.086; 9.1Z-Lucas Wolfe, 17.098; 10.21M-Brian Montieth, 17.131; 11.1*-Tim Wagaman, 17.134; 12.51-Freddie Rahmer, 17.184; 13.87-Alan Krimes, 17.209; 14.44-Rodney Westhafer, 17.213; 15.3Z-Brock Zearfoss, 17.215; 16.94-Ryan Smith, 17.250; 17.70-Danny Holtgraver, 17.252; 18.19m-Brent Marks, 17.261; 19.25-Aaron Ott, 17.268; 20.5-Chase Dietz, 17.315; 21.21-Cap Henry, 17.363; 22.0-Rick Lafferty, 17.397; 23.11c-Cory Haas, 17.433; 24.57X-Andrew Palker, 17.478; 25.11K-Kraig Kinser, 17.481; 26.93-Sheldon Haudenschild, 17.498; 27.52-Austin Hogue, 17.513; 28.81-Lee Jacobs, 17.537; 29.40-Caleb Helms, 17.543; 30.75-Nicole Bower, 17.609; 31.60-Kory Crabtree, 17.635; 32.35-Daryl Stimeling, 17.927; 33.49H-Bradley Howard, 18.069; 34.83-Cody Fairchok, 18.243; 35.12w-Troy Fraker, 18.676; 36.8M-TJ Michael, 99.990;
Heat 1, Group A – (8 Laps)
1. 1*-Tim Wagaman[1] ; 2. 69K-Lance Dewease[3] ; 3. 10H-Chad Kemenah[2] ; 4. 13-Tim Shaffer[4] ; 5. 3Z-Brock Zearfoss[6] ; 6. 81-Lee Jacobs[8] ; 7. 21-Cap Henry[7] ; 8. 87-Alan Krimes[5] ; 9. 83-Cody Fairchok[9]
Heat 2, Group B – (8 Laps)
1. 51S-Stevie Smith[4] ; 2. 48-Danny Dietrich[3] ; 3. O7-Doug Esh[2] ; 4. 19m-Brent Marks[5] ; 5. 5-Chase Dietz[6] ; 6. 0-Rick Lafferty[7] ; 7. 60-Kory Crabtree[8] ; 8. 44-Rodney Westhafer[1]
Heat 3, Group C – (8 Laps)
1. 11c-Cory Haas[1] ; 2. 21M-Brian Montieth[3] ; 3. 51-Freddie Rahmer[2] ; 4. 1Z-Lucas Wolfe[4] ; 5. 93-Sheldon Haudenschild[7] ; 6. 11K-Kraig Kinser[6] ; 7. 57X-Andrew Palker[5] ; 8. 40-Caleb Helms[8] ; 9. 75-Nicole Bower[9]
Heat 4, Group D – (8 Laps)
1. 70-Danny Holtgraver[1] ; 2. 1-Dale Blaney[3] ; 3. 94-Ryan Smith[2] ; 4. 27-Greg Hodnett[4] ; 5. 52-Austin Hogue[6] ; 6. 25-Aaron Ott[5] ; 7. 35-Daryl Stimeling[7] ; 8. 12w-Troy Fraker[9]
Dash 1 – (6 Laps)
1. 21M-Brian Montieth[1] ; 2. 69K-Lance Dewease[5] ; 3. 13-Tim Shaffer[2] ; 4. 51S-Stevie Smith[3] ; 5. 27-Greg Hodnett[6] ; 6. 1-Dale Blaney[4] ; 7. 48-Danny Dietrich[7] ; 8. 1*-Tim Wagaman[8]
B-Main 1 – (12 Laps)
1. 25-Aaron Ott[3] ; 2. 44-Rodney Westhafer[2] ; 3. 11K-Kraig Kinser[7] ; 4. 0-Rick Lafferty[5] ; 5. 57X-Andrew Palker[6] ; 6. 21-Cap Henry[4] ; 7. 81-Lee Jacobs[8] ; 8. 35-Daryl Stimeling[12] ; 9. 75-Nicole Bower[10] ; 10. 60-Kory Crabtree[11] ; 11. 12w-Troy Fraker[14] ; 12. 40-Caleb Helms[9] ; 13. 83-Cody Fairchok[13] ; 14. 87-Alan Krimes[1] ; 15. 49H-Bradley Howard[15]
A-Main 1 – (30 Laps)
1. 21M-Brian Montieth[1] ; 2. 69K-Lance Dewease[2] ; 3. 13-Tim Shaffer[3] ; 4. 51S-Stevie Smith[4] ; 5. 27-Greg Hodnett[5] ; 6. 48-Danny Dietrich[7] ; 7. 1-Dale Blaney[6] ; 8. 19m-Brent Marks[15] ; 9. O7-Doug Esh[12] ; 10. 51-Freddie Rahmer[13] ; 11. 93-Sheldon Haudenschild[19] ; 12. 11c-Cory Haas[10] ; 13. 10H-Chad Kemenah[11] ; 14. 3Z-Brock Zearfoss[17] ; 15. 70-Danny Holtgraver[9] ; 16. 1Z-Lucas Wolfe[16] ; 17. 52-Austin Hogue[20] ; 18. 11K-Kraig Kinser[21] ; 19. 1*-Tim Wagaman[8] ; 20. 5-Chase Dietz[18] ; 21. 44-Rodney Westhafer[22] ; 22. 75-Nicole Bower[26] ; 23. 94-Ryan Smith[14] ; 24. 21-Cap Henry[23] ; 25. 0-Rick Lafferty[24] ; 26. 25-Aaron Ott[25]
Arctic Cat All Star Circuit of Champions Standings (August 19, 2016):
1. Chad Kemenah: 3792
2. Dale Blaney: 3768
3. Sheldon Haudenschild: 3714
4. Danny Holtgraver: 3548
5. Cap Henry: 3544
6. Kraig Kinser: 3458
7. T.J. Michael: 3402
8. Caleb Helms: 3244
9. Lee Jacobs: 3218
10. Andrew Palker: 3030