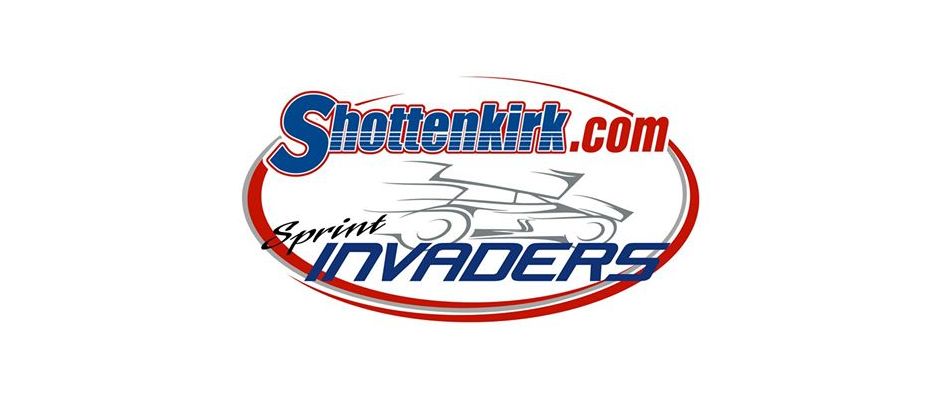 From Bill Wright
WEST BURLINGTON, Iowa — (August 20, 2016) — "Flyin'" Ryan Jamison won for the first time with the Shottenkirk.com Sprint Invaders since 2012 when he won back to back events at Cedar County Raceway in Tipton, Iowa and at the track he won at Saturday night, 34 Raceway near West Burlington, Iowa! The three-time series' champion's win was worth $1,600 to the Mediapolis, Iowa native. It was the sixth career win for Jamison with the Sprint Invaders, and his second at 34 with the series.
Before a lap could be completed, John Schulz, Friday night's winner at Lee County Speedway in Donnellson, Iowa, bicycled in turn three. He got up on two wheels, and then one, but didn't turn over. Damage to the right front sidelined him, however.
After that incident, the 25-lap feature went non-stop. Jamison grabbed the lead from outside the front row at the outset, ahead of pole-sitter, Jacob Glasgow, Harold Pohren and series' point leader, Chris Martin. By lap three, both Pohren and Martin had moved by Glasgow into second and third. Martin tagged the wall on lap seven, breaking his jacob's ladder, but stayed in third.
The leaders entered heavy lapped traffic on lap ten. Young Jake Blackhurst was on the move and shot into fourth on lap ten. Martin continued to work on Pohren for second and slid into the runner-up spot at the halfway point.
Blackhurst joined the top three on lap 17, but Pohren went back by a lap later in a good battle for the show position. With five to go, Jamison led Martin, Pohren, Blackhurst and Ball. Martin would make a bid for the lead with two to go, but the veteran, Jamison, would hold him off for a popular win. Martin held down second to increase his point lead, followed by Blackhurst, who passed Pohren on the last lap for third. Jamie Ball came from outside row five to finish fifth.
Jarrod Schneiderman, Josh Schneiderman, Jon Agan, Glasgow and Dave Getchell rounded out the top ten. Pohren, Blackhurst and Schulz won heat races, while Martin won the Shake-up Dash. Cody Wehrle flipped in his heat. He was uninjured, and returned to action in the feature, where he collected hard-charger honors, driving from 19th to 12th.
"We've had a tough season, and it's been tough to make every show," said and emotional Jamison in Victory Lane. "The Bergquist family found this motor and stuck it in my car for me. It had been sitting there for four years. No one had bid $5,000 for it on e-bay. They picked it up and it took a week to get her to run. We got it pretty good last night, and then tonight, we hit it right on the ass! I kind of smelled (Martin) out of the corner of my eye getting into some lapped traffic. I was dreaming we were going to be around the top at the start. But they chopped that down and made some crumbs. They worked the bottom and we tried it for a few laps. That wore off and we headed back up top. We went straight through the holes and pointed it back the other way. We eased it in and rolled it on down the chute!"
"I certainly tested my luck on every inch of the track," said Martin. "I'm thankful that we even finished the race, let alone finished second. I felt we caught (Jamison) at the end. We just ran out of laps. I knew we had to do something more than just follow the leader. I really enjoy this track, and I've studied it the few years I've been running it. I have a pretty good understanding of it and of my racecar right now."
"I didn't actually know we passed for third," said Blackhurst of his career-best performance with the Sprint Invaders. "I thought we were a little further back, so I was a little upset. I feel if we got by (Pohren) earlier, we could have been better. Going green to checker 25 laps didn't really help us either. We got strung out. Overall, it was a pretty good night on our brand new car. Everyone was avoiding the rut (in turn three), but I was using it to my advantage. I was trying to get the left rear in that rut and grab the moisture."
The Shottenkirk.com Sprint Invaders will next be in action on Sunday, September 4 at Quincy Raceways in Quincy, Illinois! For more information on the Shottenkirk.com Sprint Invaders, visit www.SprintInvaders.com!
Results
Shottenkirk.com A main (started), 25 laps: 1. 51J, Ryan Jamison, Mediapolis, IA (2) 2. 44, Chris Martin, Ankeny, IA (5) 3. 25, Jake Blackhurst, Hanna City, IL (6) 4. 50P, Harold Pohren, Lowell, IA (4) 5. 5J, Jamie Ball, Knoxville, IA (10) 6. 3G, Jarrod Schneiderman, West Burlington, IA (9) 7. 49, Josh Schneiderman, West Burlington, IA (11) 8. 4, Jon Agan, Knoxville, IA (8) 9. 59, Jacob Glasgow, Burlington, IA (1) 10. 83, Dave Getchell, Sperry, IA (7) 11. 69, Justin Buchholz, Davenport, IA (16) 12. 40c, Cody Wehrle, Burlington, IA (19) 13. 3, Nate Van Haaften, Otley, IA (15) 14. 61, Dillan Roth, Burlington, IA (13) 15. 4*, Bailey Goldesberry, Springfield, IL (12) 16. 10T, Tim Moore, Rock Island, IL (17) 17. 58, Andy Krieger, Burlington, IA (14) 18. 1st, John Greenwood, Woodward, IA (18) 19. 19, Rob Weuve, Oakland Acres, IA (20) 20. 12, Nick Eastin, Burlington, IA (21) 21. 99, John Schulz, West Burlington, IA (3). Lap Leader: Jamison 1-25. KSE Hard-charger: Wehrle.
Randall's Performance Heat one (started), Top two to Dash, 8 laps: 1. Harold Pohren (3) 2. Jacob Glasgow (2) 3. Dave Getchell (6) 4. Jamie Ball (5) 5. Dillan Roth (1) 6. Justin Buchholz (7) 7. Cody Wehrle (4)
CenPeCo Lubricants Heat two (started), Top two to Dash, 8 laps: 1. Jake Blackhurst (2) 2. Chris Martin (7) 3. Jon Agan (3) 4. Josh Schneiderman (5) 5. Andy Krieger (4) 6. Tim Moore (1) 7. Rob Weuve (6)
Fraise Mowersports Heat three (started), Top two to Dash, 8 laps: 1. John Schulz (2) 2. Ryan Jamison (3) 3. Jarrod Schneiderman (5) 4. Bailey Goldesberry (1) 5. Nate Van Haaften (6) 6. John Greenwood (4) DNS – Nick Eastin
Budweiser King of Beers – Golden Eagle Distributors Shake-up Dash (started), 6 laps: 1. Chris Martin (2) 2. Jake Blackhurst (4) 3. Jacob Glasgow (1) 4. Ryan Jamison (6) 5. John Schulz (5) 6. Harold Pohren (3)
Contingencies
Pyrotec – Tim Moore
Saldana Racing Products – Jon Agan
Kreitz Oval Track Products – John Greenwood