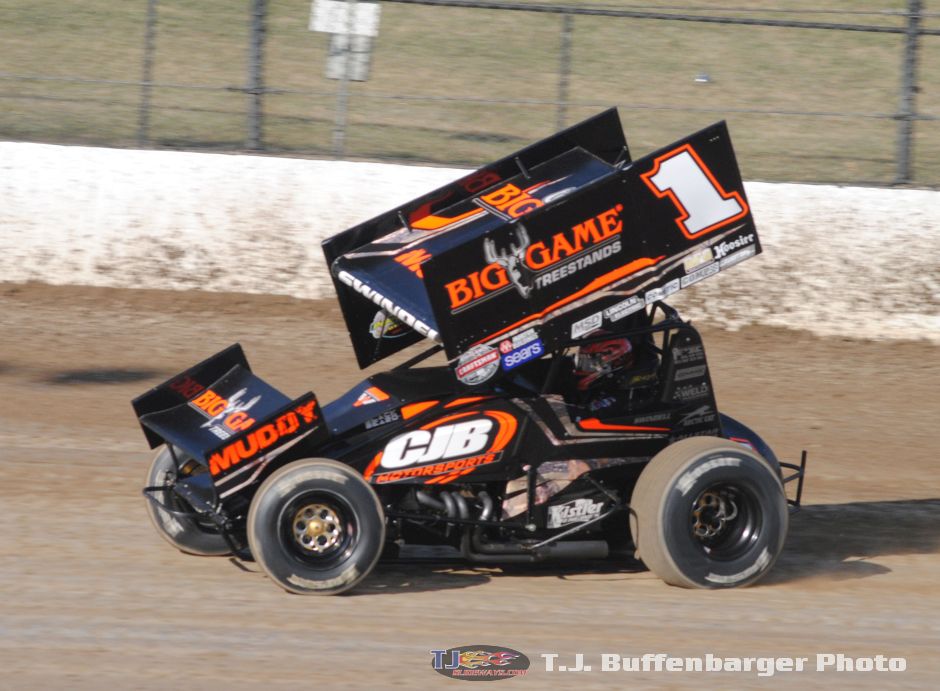 From Tyler Altmeyer
Waiting an extra day to tackle the highbanks of Lebanon Valley Speedway in West Lebanon, New York, proved to be beneficial for Sammy Swindell, outlasting and out dueling the Arctic Cat All Star Circuit of Champions during their first and only New York appearance of 2016. The Germantown, Tennessee, native, who started on the outside of the front row by virtue of dash finish, led all 25 circuits on Monday evening on the Lebanon Valley highbanks, pocketing $7,000 for his efforts, as well as his first Arctic Cat All Star victory since 2011. Kraig Kinser chased Swindell to the final checkers, followed by Chad Kemenah, Tim Shaffer, and Cap Henry, who advanced 11 positions to secure his top-five finish.
"The CJB guys gave me a great car all night long," Sammy Swindell explained. "The key was putting ourselves in position early tonight. I was able to climb up through the dash from 5th to start second in the A-main. That was a big step for us. I had to use a little bit of experience here tonight, too. This place can be tough. You have to race it hard, but yet still be able to race the track. It can definitely use you up."
Back-to-back red flag incidents during the initial start would force the feature field to try three times before officially getting one circuit in the books. The third start proved to be the charm with Dale Blaney and Sammy Swindell bringing the Arctic Cat All Star main event to life. Swindell jumped to the early advantage, leading Blaney, Kraig Kinser, and Chad Kemenah by the flagstand at the completion of lap one. Unfortunately for Swindell, a back-to-back caution situation would return to the speedway on lap three, this time in the form of red, and then yellow, lights. Dale Blaney still raced second, followed by Kraig Kinser and Chad Kemenah.
Green lights brought the feature field back to life once again allowing Sammy Swindell to continue his pace on top. Swindell and Blaney raced one-two during the next several circuits, eventually catching slower cars with 12 laps in the books. Despite traffic acting as an obstacle for Swindell and Blaney, the two Hall of Fame inductees continued to race nearly nose-to-tail, weaving in and out of traffic through the middle of the speedway. Action would quickly come to a rest when caution lights reappeared on lap 16.
Meanwhile, drama started to unfold at Lebanon Valley Speedway when Dale Blaney displayed signs of suffering from a flat right-rear tire during the pair of lap 16 cautions. The "Low Rider" would attempt to bring the tire back to life on his own, but would eventually slow with 17 laps in the books. Swindell continued to lead, with Blaney surrendering his runner-up position to Kraig Kinser.
For the final time of the evening, green flags waved on the Arctic Cat All Star Circuit of Champions feature field. Swindell drove off unchallenged during the remaining circuits, opening up a lengthy advantage in clean air over Kraig Kinser and Chad Kemenah.
"It got tricky on a few occasions," Swindell said. "Especially when we found ourselves in traffic. It gets a little tough to see at times which makes it difficult to really get a run in the corner. We just had ourselves a flawless run. I just have to be thankful that I can keep doing this. Feels good to be back."
Up next on the 2016 schedule sits a pair of programs in Ohio and Indiana for the Arctic Cat All Star Circuit of Champions, including a first and only appearance at the Brownstown Speedway in Brownstown, Indiana. The traveling Arctic Cat All Stars will make their way to Brownstown, the second of two Hoosier State appearances of the 2016 season, on Saturday evening, August 27, and will feature a complete, full point Arctic Cat All Star program. The upcoming weekend will conclude with a visit to the Millstream Speedway in Findlay, Ohio, on Sunday, August 28.
Those seeking additional information should visit Brownstown Speedway and Millstream Speedway live on the Web at www.brownstownspeedway.com and www.millstreamspeedway.net.
Contingency Awards/Results: Lebanon Valley Speedway – Monday, August 22, 2016:
EMi Driver's Meeting: 28 entries
State Water Heaters Warm-Ups: Sammy Swindell: 16.309 seconds
Lincoln Electric Fast Qualifier: Sammy Swindell: 16.503 seconds
Kistler Racing Products Heat #1: Kraig Kinser
All Pro Aluminum Cylinder Heads Heat #2: Justin Barger
Hunt Brothers Pizza Heat #3: Tim Shaffer
JE Pistons Dash: Dale Blaney
Daido Engine Bearings Main Event Winner: Sammy Swindell
MSD Performance Hard Charger Award: Cap Henry (+11)
Outback Steakhouse A-Main 5th Place Finisher: Cap Henry
Outback Steakhouse A-Main 10th Place Finisher: Matt Tanner
Outback Steakhouse A-Main 15th Place Finisher: John Garvin
(Lincoln Electric, Daido Engine Bearings, MSD Performance, Outback Steakhouse: Need decal to qualify for contingency award)
Qualifying
1.1S-Sammy Swindell, 16.503; 2.1-Dale Blaney, 16.628; 3.57X-Andrew Palker, 16.762; 4.11K-Kraig Kinser, 16.805; 5.40-Caleb Helms, 16.891; 6.10H-Chad Kemenah, 16.911; 7.93-Sheldon Haudenschild, 16.980; 8.21-Cap Henry, 16.991; 9.4-Danny Smith, 17.062; 10.1Z-Stewart Friesen, 17.069; 11.95-Hunter Mackison, 17.116; 12.70-Danny Holtgraver, 17.131; 13.25-Aaron Ott, 17.134; 14.53-Shawn Donath, 17.135; 15.8M-TJ Michael, 17.150; 16.13X-Tim Shaffer, 17.264; 17.5-Justin Barger, 17.303; 18.1080-Jordan Mackison, 17.417; 19.11-Steve Kinser, 17.512; 20.90-Matt Tanner, 17.518; 21.1HD-Cory Sparks, 17.700; 22.10-Joe Kata, 17.906; 23.49H-Bradley Howard, 17.940; 24.13-Brandon Matus, 18.117; 25.33-Brent Matus, 19.059; 26.51-John Garvin, 19.059; 27.53x-Dave Donath, 99.220; 28.60-Kory Crabtree, 99.300;
Heat 1, Group A – (8 Laps)
1. 11K-Kraig Kinser[2] ; 2. 1S-Sammy Swindell[4] ; 3. 57X-Andrew Palker[3] ; 4. 40-Caleb Helms[1] ; 5. 10H-Chad Kemenah[5] ; 6. 21-Cap Henry[6] ; 7. 95-Hunter Mackison[8] ; 8. 10-Joe Kata[10] ; 9. 8M-TJ Michael[9] ; 10. 4-Danny Smith[7]
Heat 2, Group B – (8 Laps)
1. 5-Justin Barger[1] ; 2. 53-Shawn Donath[2] ; 3. 1-Dale Blaney[4] ; 4. 25-Aaron Ott[3] ; 5. 49H-Bradley Howard[7] ; 6. 1HD-Cory Sparks[6] ; 7. 1080-Jordan Mackison[5] ; 8. 53x-Dave Donath[8]
Heat 3, Group C – (8 Laps)
1. 13X-Tim Shaffer[1] ; 2. 70-Danny Holtgraver[2] ; 3. 93-Sheldon Haudenschild[4] ; 4. 1Z-Stewart Friesen[3] ; 5. 11-Steve Kinser[5] ; 6. 13-Brandon Matus[7] ; 7. 90-Matt Tanner[6] ; 8. 33-Brent Matus[9] ; 9. 51-John Garvin[8]
Dash 1 – (6 Laps)
1. 1-Dale Blaney[1] ; 2. 1S-Sammy Swindell[5] ; 3. 11K-Kraig Kinser[2] ; 4. 10H-Chad Kemenah[6] ; 5. 70-Danny Holtgraver[4] ; 6. 57X-Andrew Palker[8] ; 7. 40-Caleb Helms[3] ; 8. 53-Shawn Donath[7]
B-Main 1 – (10 Laps)
1. 4-Danny Smith[1] ; 2. 95-Hunter Mackison[2] ; 3. 90-Matt Tanner[5] ; 4. 1080-Jordan Mackison[4] ; 5. 10-Joe Kata[6] ; 6. 51-John Garvin[7] ; 7. 33-Brent Matus[8] ; 8. 53x-Dave Donath[9] ; 9. 8M-TJ Michael[3] ; 10. 60-Kory Crabtree[10]
A-Main 1 – (25 Laps)
1. 1S-Sammy Swindell[2] ; 2. 11K-Kraig Kinser[3] ; 3. 10H-Chad Kemenah[4] ; 4. 13X-Tim Shaffer[9] ; 5. 21-Cap Henry[16] ; 6. 11-Steve Kinser[15] ; 7. 93-Sheldon Haudenschild[11] ; 8. 40-Caleb Helms[7] ; 9. 4-Danny Smith[19] ; 10. 90-Matt Tanner[21] ; 11. 10-Joe Kata[23] ; 12. 1-Dale Blaney[1] ; 13. 1Z-Stewart Friesen[13] ; 14. 49H-Bradley Howard[14] ; 15. 51-John Garvin[24] ; 16. 95-Hunter Mackison[20] ; 17. 1080-Jordan Mackison[22] ; 18. 70-Danny Holtgraver[5] ; 19. 57X-Andrew Palker[6] ; 20. 53-Shawn Donath[8] ; 21. 5-Justin Barger[10] ; 22. 25-Aaron Ott[12] ; 23. 1HD-Cory Sparks[17] ; 24. 13-Brandon Matus[18]
Arctic Cat All Star Circuit of Champions Standings (August 22, 2016):
1. Chad Kemenah: 4050
2. Dale Blaney: 4036
3. Sheldon Haudenschild: 3976
4. Cap Henry: 3800
5. Danny Holtgaver: 3764
6. Kraig Kinser: 3712
7. T.J. Michael: 3592
8. Caleb Helms: 3482
9. Lee Jacobs: 3298
10. Andrew Palker: 3262