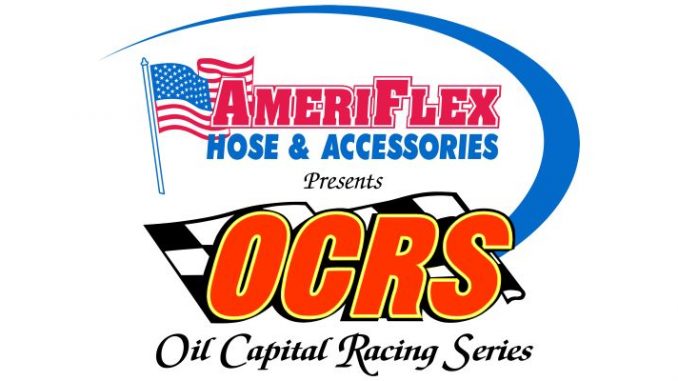 From Lonnie Wheatley
MUSKOGEE, Okla. (August 24, 2016) – The Outlaw Motor Speedway near Muskogee, OK, will get one more serious dose of Sprint Car racing in 2016 as the Oil Capital Racing Series returns to the 3/8-mile clay oval for Friday night's Second Annual Harold Leep Classic.
Along with the OCRS Sprint Car ranks, the track's regular divisions of Grand Nationals, IMCA Stock Cars and Pure Stocks will be in action as well. While lap money has been added to the Sprint Car portion of the night, each of the other divisions is racing for added money as well.
Friday's racing action will get under way at 7:30 p.m.
This week's Harold Leep Classic marks the second visit of the year for the OCRS Sprint Cars after Alex Sewell outdueled Sean McClelland to take victory honors on April 15.
Named for one of the greatest to ever strap into an open wheel race car, the Harold Leep Classic offers up an extra $2,500 in lap money to be doled out to the top three on each lap throughout Friday night's feature race.
Current series point leader Whit Gastineau enters Friday's card as the defending race winner after topping last year's inaugural edition of the Harold Leep Classic.
Gastineau enters Friday's action with a slim nine-point lead over Robert Sellers with Zach Chappell, Sheldon Barksdale and Cameron Hagin also among the top five in OCRS points.
The Stock Car classes will be racing for added money as well with $600 to win for the IMCA Stock Cars, $500 for the Grand Nationals and $400 for the Pure Stocks.
Kevin Flock and Mike Wiseman enter the night tied for the track's IMCA Stock Car points lead with Heath Weston just three points ahead of Dan Leatherman in Grand National points and Jeff Rainbolt 20 points ahead of Susan Lindell in Pure Stock points.
Tickets to Friday's OCRS Sprint Car Harold Leep Classic are just $15 for adults with Seniors and Military admitted for $8 and children 6-12 years of age just $5. Children five and under are admitted for free.
The complete Outlaw Motor Speedway 2016 schedule is available at http://outlawmotorspeedway.net/schedule/.
Outlaw Motor Speedway is located southwest of Muskogee, OK, on U.S. 69 to the Wainwright exit, then 0.1 miles west. It is approximately 12 miles north of the I-40 and U.S. 69 interchange.
For more information, contact the track at 918-625-6200 or check online at http://outlawmotorspeedway.net/.