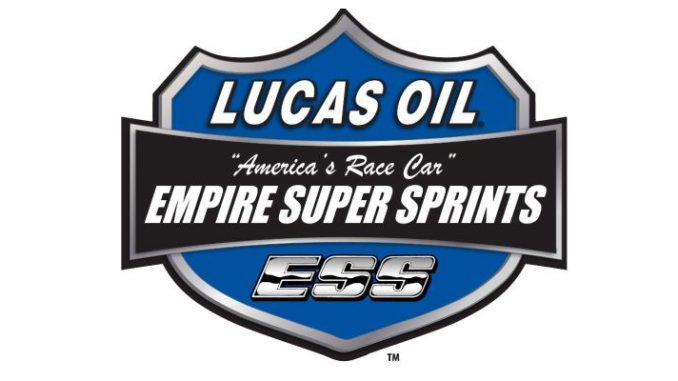 By MIKE MALLETT
MARCEL DE RICHELIEU, QUE – Steve Poirier did what he does in Quebec as he captured yet another Lucas Oil Empire Super Sprint victory in front of the hometown fans at the Le RPM Speedway.  For the St. Mathieu de Beloeil, Que., driver it was win No. 61 of his career.  It was also his second consecutive at the tough quarter-mile facility.
The victory came after a race long battle with good friend Chuck Hebing.  Hebing made a mistake and Poirier was able to take advantage in order to put himself at the front.  From there he kept Hebing at bay as he went on to score the win in the Fondation 4 Saison Quebec Series where he became the champion as well as the Einstein Construction Group Tour of Canada.
"This is cool to win with the huge crowd like this, especially after yesterday," stated Poirier.  "It's always good to win here.  In the states there are (Chuck) Hebing fans and everybody's fans.  We don't have a lot of people following us in the U.S.A. so we don't have many cheering for us.  Here tonight, for sure, being the local guy there were a lot of people cheering for us.  That was cool."
Hebing and Poirier shared the front row for the start of the 25-lap Mach 1 Chassis A-Main event in front of a record crowd.  Hebing jumped to the cushion which propelled him to the top spot.  From there Hebing worked both high and low with Poirier right behind him searching for the fast lane as well.
Once Hebing entered traffic he stayed on the outside and it proved to be the faster lane through the slower cars.  Hebing's challenge in traffic lasted only a circuit as a caution was necessary for Paulie Colagiovanni as he spun in the fourth corner on lap eight.  The ensuring restart saw Hebing beat Poirier for the race to the top of one.  Poirier tried to throw the slide job to take the lead off the second corner to no avail.  Hebing pulled away.
The race reached the midway point with Hebing leading Poirier and a new challenger in Jeff Cook.  Cook had started the race from the inside of the fourth row but found the top lane before the leaders.  He closed rapidly in on the top two and stayed right with them once they moved to the high lane as well.
The turning point of the event came on lap 16 as Tommy Wickham came to a stop in the third turn with a left rear flat tire.  Hebing wasn't as fortunate on the restart this time as Poirier got a perfect run off the outside lane to take the lead heading into the first corner to lead lap 17.
"He got the jump on the first restart but on that one second there was a small clean lane on the outside," said Poirier.  "I thought I might have a chance there.  For sure the guy that got to turn one first was going to have the edge because turn one you had to be on the outside.  I carefully made sure not to spin the tires to get the grip.  I wanted to be beside at the flag-stand so he could see me.  I had just enough to get in there."
From there Poirier set the pace with Hebing now being forced to find a faster lane around the race track.  As he searched Poirier caught the tail of the pack one final time with laps remaining.  This aided Hebing as he again pulled the back bumper.
Hebing made it close on the final lap as he made a strong push off the second corner.  Hebing looked under him in turn three but he was unable to make it stick as Poirier crossed the line just in front of him.  Afterwards, Hebing, of Ontario, N.Y., was upset with himself for taking the wrong line on the restart.  By choosing the inside lane he put himself in a position where he couldn't beat Poirier to the preferred lane.
"I couldn't start early I had to wait because if I did I was going to jump into Steve's (Poirier) door," stated Hebing.  "I was trying to be courteous to him and not run into him.  In hindsight I should have taken the top or run into his door.  I gave him a lot of room.  We are good friends and I didn't want to win the race crashing him.  It was my error, I should have taken the top."
Cook was pleased with his third place effort.  The Antwerp, N.Y., pilot had hoped the top two wouldn't find what he had found on the outside.
"At the beginning I was following the cars on the bottom there and finally I had to make a choice there to go to the top," commented Cook.  "That seemed to be the right one.  I was catching the leaders.  I was side-by-side with Cobra (Hebing) for second.  I'll take third.  We've been struggling all year.  I really have to thank my guys Devin and Robert for sticking with me."
Shawn Donath finished fourth after starting the event from the 23rd position to earn the hard charger honors while Matt Tanner, of Stephentown, N.Y.,  finished off the weekend with a strong fifth place finish. A total of 23 cars entered the night's action.
Mach 1 Chassis A-Main – Steve Poirier ($2,050), Chuck Hebing ($1,300), Jeff Cook ($1,025), Shawn Donath ($1105), Matt Tanner ($815), Michael Parent ($885), Paul Kinney ($730), Paulie Colagiovanni ($645), Jason Barney ($660), Yan Bilodeau ($625), Parker Evans ($635), Dan Douville ($545), Alex Vigneault ($525), Lee Ladouceur ($515), Tommy Wickham ($535), Chris Jones ($505), Tim Axton ($500), Dale Gosselin ($500), Dave Axton ($500), Brandon Kidd ($550), Guilluame Neiderer ($550), Anthony Cain ($500), Chad Miller ($500).
Lap Leaders – Hebing (1-16), Poirier (17-25)
Car Mate Trailers Heat 1 – Poirier, Cook, Evans, Barney, Bilodeau, Gosselin
Car Mate Trailers Heat 2 – Kinney, Parent, Ladouceur, Colagiovanni, Wickham, T. Axton
Car Mate Trailers Heat 3 – Tanner, Hebing, Kidd, Jones, D. Axton, Cain
Bonuses:
Beard Sewer and Drain Best Time – Poirier, Wickham, Hebing – $25
Insinger Fuels Hard Charger – Donath (18 pos.) $50
Engler Machine and Tool Halfway – Hebing $50
E&V Energy – Kidd, Kinney $50
Ohsweken Speedway 21st Anniversary –Neiderer $50
Fondations 55 Pick 5 – Tanner $35
Car Mate Trailers Heats – Poirier, Kinney, Tanner $25
911 Restoration – Barney, Evans $25
Lucas Oil ESS 7-12 Challenge – None  – $500 Sept. 2 at Brewerton
Hoosier Tires –  Donath $200
Vahlco Wheels – Parent $190
For more Information on the Lucas Oil Empire Super Sprints:
Web: www.empiresupersprints.com
Twitter: @ESSprints
Facebook: https://www.facebook.com/EmpireSuperSprints
Android App: Empire Super Sprints
The Lucas Oil Empire Super Sprints are brought to you by: Lucas Oil, Mach 1 Chassis, Einstein Construction Group, SUNY Canton, NAPA Auto Parts, Hoosier Racing Tires, Donath Motorworx, Insinger Performance, Car Mate Trailers, Fondations 4 Saisons, Beard Sewer and Drain, Cobra Coaches, 911 Restoration, Westward Painting Company, Fondations 55, E&V Energy, Panther Frameworx, YorkMont Auctions,, Engler Machine and Tool, Northwood 2 Construction, Brodix Cylinder Heads, Lacaillade Masonry, FX Chevy, ASI Racewear and many, many associate sponsors!!