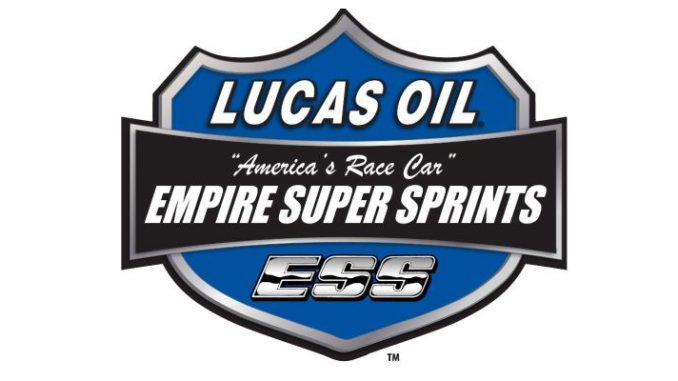 From Mike Mallett
VERNON, NY (September 4, 2016) – Danny Varin broke through on Friday night for his first career Lucas Oil Empire Super Sprint victory. It took the Fonda, N.Y., driver several times over several seasons to finally notch that first win. He wasn't going to wait nearly as long to get his second.
On Sunday night at the Utica-Rome Speedway Varin had everything fall into place as he won the 25-lap Mach-1 Chassis A-Main over a hard charging Steve Poirier. He had some luck along the way, but everything played in his favor as he pocketed $2,075 for his hard work.
"What an amazing weekend. We have been just so close so many times but it does feel good to finally get a win with ESS and then to back it up here tonight," Varin said with a smile ear to ear. "Dave (Cruickshank) gives me great equipment and the crew just works so hard. We always seem to have a fast car but finally it all came together."
Jeff Cook led the opening laps of the NAPA Auto Parts U.S. Tour/SUNY Canton Series feature before he missed the line going through turns one and two on lap six. Varin motored around him on the outside of the speedway in turns one and two to take the lead. One lap later the field was brought under caution as Shawn Donath slowed with issues.
Action picked up again with Varin going back to the front on the restart while Matt Tanner and Poirier moved into the top three. Varin, Tanner and Poirier all work the extreme outside of the race track as they were able to keep their momentum up on the top.
Traffic became an issue for Varin just after halfway on lap 14. He had a decent advantage over the rest of the field but found traffic to be challenging as they raced each other for position. Varin moved all over the track as he tried to keep himself out in front. Tanner used the traffic to close in.
Varin made a mistake on lap 17 which caused him to go over the bank in turns three and four. That allowed Tanner to go on by for the lead. Varin regrouped quickly while now being the one doing the chasing rather than being chased.
"When I made the mistake I thought I gave the race away. I just slipped up," Varin continued. "Matt was fast, I think I was closing in some but I don't know if was going to get by him until he had a little bad luck."
Caution came on lap 21 as Cory Turner got over the bank in turns one and two. The race picked back up with Tanner at the point before another caution came a lap later as Paulie Colagiovanni spun off the top of the banking in turns three and four. Under the caution Tanner headed to the pits giving the lead back to Varin.
The race became a three lap shootout between Varin and the point-leader Poirier. Poirier worked him over the best he could in the final circuits but he couldn't make the move around Varin as grabbed the triumph at his weekly home for Modified racing.
"When I saw Steve next to me I was like, ok, we have to be on top of our game on the restart. I mean he is one of the best," noted the Fonda, NY pilot. "I got a good start and drove as hard I could. They told me after that I pulled away some and I was surprised!"
Poirier extended his point lead over Jason Barney with his second place finish. The St. Mathieu de Beloeil, Que., driver started sixth and ran near the front for most of the race while Barney faded late in the main.
"We brought a new car and motor combination here tonight and it was good. We just have to make a few adjustments, maybe change the shocks around but I was happy with how it went," Steve went on. "Lately we haven't been real good here so we wanted to see what we had, especially for next week (Cole Cup)."
Steve talked about next week's $10,000 to win show. "It's a race we want to win, we will throw everything we have at it. We had two get away from us so hopefully we come prepared and it will work out."
Chuck Hebing had struggled on Saturday night at Thunder Mountain Speedway but he found his speed again on Sunday as he powered his way from the 11th starting position to the final spot on the podium during the final few laps.
"The car was good, the track was a little different tonight with some more bite and we seem to adapt to it," the driver known as the Cobra went on. "The heats, it was perfect, the top and bottom were equal and you could put some speed to it. We will see what happens next week."
Bryan Howland started 15th and finished in the fourth position in the finally rundown while Larry Wight came from tenth to finish fifth.
A total of 37 sprints filled the pits on what was billed as the Cole Cup Tune-Up. Next week for the Lucas Oil ESS gang will be a Saturday night stop at Can-Am which is now under new promoter Charlie Caprara and then the $10,000 to win Cole Cup back at Utica-Rome.
Mach 1 Chassis A-Main – Danny Varin ($2,075), Steve Poirier ($1,025), Chuck Hebing ($825), Bryan Howland ($655), Larry Wight ($565), Jeff Cook ($660), Dylan Swiernik ($430), Mike Mahaney ($490), Justin Barger ($485), Parker Evans ($250), Ryan Turner ($385), Jason Barney ($355), Bill VanInwegen ($350), Mark Smith ($315), Bobby Varin ($285), Brandon Kidd ($280), Jordan Thomas ($325), Chad Miller ($325), Tim Axton ($275), Matt Tanner ($300), Paulie Colagiovanni ($325), Cory Turner ($275), Shawn Donath ($350), Paul Kinney ($275), Jessica Zemken ($425)
Did Not Qualify – Dave Axton, Marc Johnson, Kelly Hebing, Jeremy Quick, Jonathan Preston, Matt Billings, Pete Richardson, Keith Granholm, James Hanson, Dan Bennett, Bob Gray, Steve Doell
Lap Leaders – T. Axton (1-3), Varin (4-25)
Car Mate Trailers Heat 1 – Barney, Poirier, Cook, Thomas, B. Varin
Car Mate Trailers Heat 2 – Tanner, Wight, Kinney, Zemken, VanInwgen
Car Mate Trailers Heat 3 – Smith, D. Varin, Colagiovanni, Donath, T. Axton
Car Mate Trailers Heat 4 – C. Hebing, Mahaney, Swiernik, Howland, R. Turner
Walt's Hobby Town/Cobra Coaches Dash – Zemken, Donath, Howland, Thomas
Lacaillade Masonry B-Main – Miller, Kidd, Barger, C. Turner