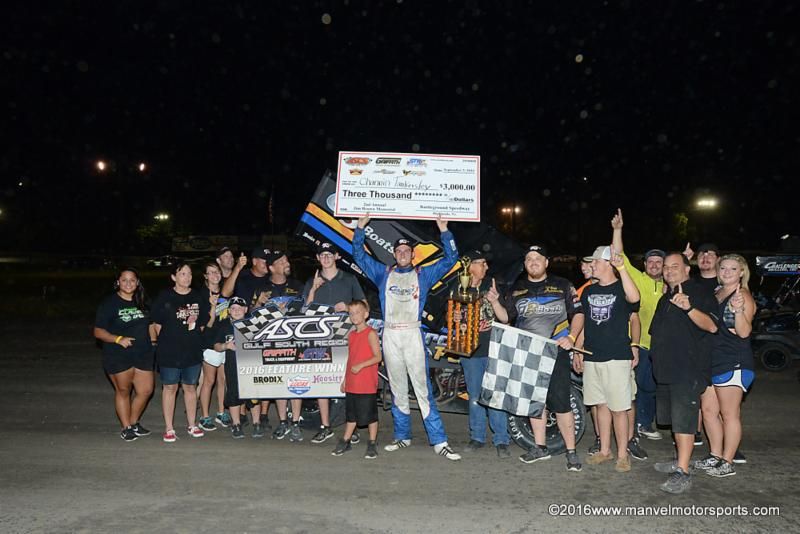 Inside Line Promotions

HIGHLANDS, Texas (Sept. 6, 2016) – Channin Tankersley just set his single-season record by recording his fifth ASCS Gulf South Region feature victory of the year last Saturday at Battleground Speedway.
Tankersley also all but locked up his second regional championship. According to ASCS officials, he only needs to sign in at the final event of the season to capture the title.
"That was my goal at the beginning of the year," he said. "And I really wanted five wins. Any time you can win multiple times in a season it's a good year in my book."
Tankersley opened last weekend by winning his heat race after starting third.
"We just got a good start," he said. "The track was real slick. We got by the guy who was leading it. He went to the top and we went to the bottom and took the lead early to lead every lap."
That advanced Tankersley into the feature redraw, where he pulled the No. 2 to start the main event on the outside of the front row.
"It was a really good race the first four or five laps," he said. "We were side by side. (The polesitter) got going on the bottom, which was the preferred place to be. I started rolling through the middle. It was really cleaned off. I got beside him and started inching my way forward. Finally it worked out where we got by him and as soon as I did I got right to the bottom.
"I never felt like I was getting challenged until I got into traffic. I had looked at the left rear tire under a red about Lap 5 and that thing was toast. I just tried to cruise and not hammer the car. I saw his nose once in traffic. After that I had to step it up."
Tankersley maintained the top spot throughout the remainder of the race to earn the win.
Sunday's event at Golden Triangle Raceway Park in Beaumont, Texas, was postponed to this Saturday because of poor weather.
QUICK RESULTS –
Sept. 3 – Battleground Speedway in Highlands, Texas – Heat race: 1 (3); Feature: 1 (2).
SEASON STATS –
18 races, 4 wins, 10 top fives, 11 top 10s, 13 top 15s, 15 top 20s
UP NEXT –
Saturday at Golden Triangle Raceway Park in Beaumont, Texas, with the ASCS Gulf South Region
MEDIA LINKS –
Facebook: https://www.facebook.com/ChanninTankersley
Twitter: https://twitter.com/TankRacing
APPAREL –
Tankersley has t-shirts ranging from youth medium to XXL for sale at his race trailer.
SPONSOR SPOTLIGHT – G3 Boats
G3 Boats is a Yamaha-owned boat company that manufactures more than 100 models of aluminum fishing boats and pontoons at its location in Lebanon, Mo. For more information, visit http://www.G3Boats.com.
"G3 Boats are the best aluminum boats out there," Tankersley said. "I had my eye on buying one long before they became a partner of mine."
Tankersley would also like to thank Watercraft Plus LLC, Challenger Drilling, Blackfoot Electric, Yamaha, Day Motorsports, Blazer Boats and Sea Chaser Boats for their continued support.
INSIDE LINE PROMOTIONS –
Inside Line Promotions specializes in affordable public relations and media management for motor sports drivers, teams, sponsors, tracks, series, events, organizations and manufacturers. ILP Founder Shawn Miller leverages professional journalism with new media technologies and social networking to improve your exposure and the return on investment for your sponsors.
To meet the media relations needs of your program by joining Team ILP, contact Shawn at 541-510-3663 or Shawn@InsideLinePromotions.com. For more information on Inside Line Promotions, visit http://www.InsideLinePromotions.com.