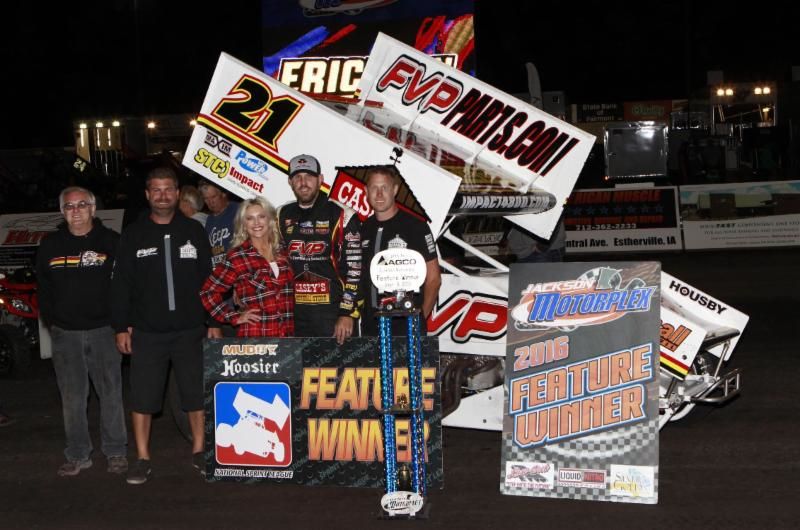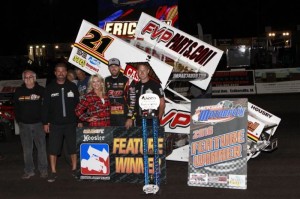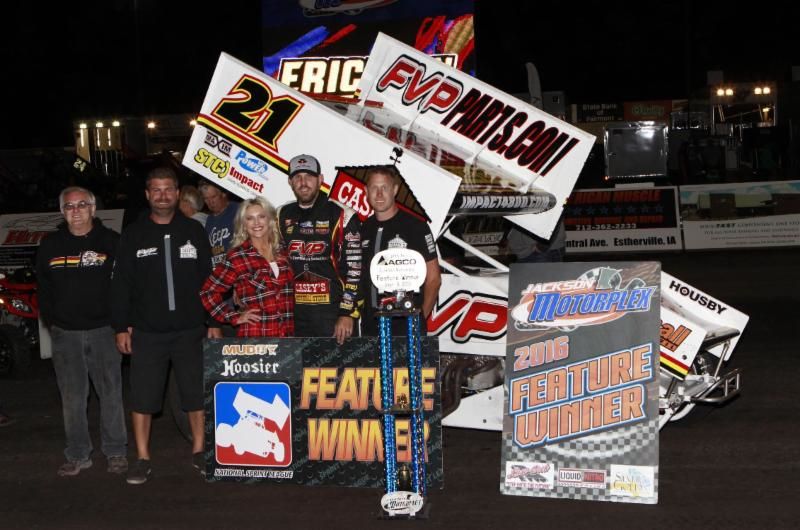 By Bill W

September 7, 2016 – Brian Brown and the Casey's General Stores/FVP #21 team notched another win at the Jackson Motorplex in Minnesota last Saturday night. The victory came in the preliminary feature of the NSL Jackson Nationals. The Grain Valley, Missouri driver would finish third in Sunday's finale. In addition, the team ran double-duty with the ASCS, thanks to Matt Wood Racing. The team will take this weekend off before the World of Outlaws return to the Midwest next week.
You started things well with the NSL on Saturday setting second quick time.
We drew a good number, and we went out there with a good time. We were quick time for a while, before Sammy (Swindell) beat us late. To get second quick, especially when it's a point deal like the Jackson Nationals was very big for us. Every event you're in is critical.
The car looked fast in the heat, and you went from sixth to win that.
At that point, we knew we were in pretty good shape point-wise. We knew that a solid finish in the A would lock us in for Sunday. They drew a "0" invert for the A, which put us on the pole alongside Sammy. I was able to get the lead on the initial start, but it got called back. On the second start, I followed in line. There was a red on lap five, and we could see that the left rear tire was already pretty chewed up. In my opinion, I didn't know if we could make it the distance.
How did that change your driving style?
We went into conservative mode. We let Danny (Lasoski) by us. I just wanted to finish the thing out. With eight or ten to go, I saw Ian (Madsen) out of the corner of my eye on the bottom. I moved down there and there was rubber. At that point, Sammy and Danny didn't know it was down there.
That had to change your approach.
I tried to be aggressive enough to get to them, but not aggressive enough to blow the tire. We were able to put a sneak attack on Danny. If guys like Sammy or Danny can see you or hear you before you get by them, they'll take advantage of that. We were able to get by Danny without him seeing or hearing us. It was kind of the same thing with Sammy. We were able to get to him and wait for the right time to get by him. We were able to keep a pace that kept us out front and saved the tire. It was a huge win for our team. It's a cool win when you can get one at the Jackson Nationals, even if it is a prelim win.
A Pole Shootout determined your starting spot on Sunday.
We were the high point guy going into Sunday, so the worst we were going to start after the Pole Shootout was outside front row. We faced Sammy, and he beat us off the start. That was all she wrote for that.
Would you rather have started on the pole or where you did?
I felt the outside would be the place to take off from. It was, and we were able to get the lead. We set a pretty good pace. We were really good in three and four, but in one and two…we were having trouble keeping the right front on the ground down the frontstretch and that made it difficult to dissect one and two with my feet. We just never really got to where I felt good rolling through there.
That had to be an uneasy feeling.
I knew unless everyone else was having that problem, we were going to be in trouble. I think we led ten laps, and then Ian got by. At that point, we were in heavy traffic. We felt we were equal with Ian. We were waiting to see how the traffic was going to play out, and Kerry (Madsen) passed us both. At that point, I knew we probably weren't going to win. We had a couple cautions and the restarts became a battle royal of decision making. I was passed for third, and we were as far back as fifth. We came back to finish third. The moral of the story is, we had a third place car.
Your team was busy doing double-duty as well.
I was proud of our guys all weekend. We ran double-duty, thanks to Matt Wood loaning us a great motor for the 360's. Hopefully, we can use it a few more times before the end of the year. We had some gremlins Friday night and fought an oil leak. It made for a very difficult night with oil on the wheel, gloves and uniform. We were able to find the leak and we ended up driving from 16th to eleventh in the feature. Sunday night, we just weren't as good as we needed to be to make any passes in the heat. At that point, we decided to concentrate on the 410.
Follow Brian on the Web, Twitter and Facebook!
Follow Brian at his website located at www.BrianBrownRacing.com!
Also keep up with FVP, Casey's and Brian on Facebook and Twitter at the following links…
Twitter Links – @BrianBrown21, @FVPRacing, @CaseysGenStores
Facebook Links
Brian Brown Racing – www.facebook.com/pages/Brian-Brown-Racing/200630163294222
Casey's General Stores – www.facebook.com/pages/Caseys-General-Stores/112073528804354
FVP Racing – http://www.facebook.com/FVPRacing?ref=ts&fref=ts
Other Web site info
Casey's: www.caseys.com
FVP: www.fvpparts.com
Brown's Bits
Brian won at Valley Speedway in Grain Valley, Missouri with the Winged Outlaw Warriors on September 8, 2007. He moved by Jay Russell on lap two, and went on to win over Josh Fisher, Russell, Jesse Hockett and Larry Pinegar II.
About Casey's General Stores
Casey's General Stores is a Fortune-500 company (NASDAQ CASY) operating over 1,850 convenience stores in 14 states through the Midwest. Known for its "Homemade To-Go" pizza, sandwiches, donuts and bakery items, Casey's strives to consistently deliver quality gas, fresh kitchen-prepared food, clean environments and friendly service at every retail location.  Casey's is currently the 5th largest c-store chain and fifth largest pizza chain in the United States.
About FVP
Built on a commitment to quality and delivered with unmatched service, FVP is the confident solution for all of your OEM needs. FVP products are engineered to provide customers with OE quality products that are equal or superior in performance to the major national brands at a competitive price.  FVP is proud to carry a full line of high quality oil, air, cabin air and fuel filters, powerful batteries for multiple applications including cars, trucks, SUV's, commercial, boats and other specialty vehicles as well as automotive chemicals and oil, antifreeze, DEF, hub assemblies, radiators and condensers.    To learn more about FVP or to find out where you can have FVP products installed in your vehicle, visit  FVPparts.com!  FVP…The Confident Solution.
Marketing Partner of the Week – Weld Wheels
Weld ®. The word is virtually synonymous with racing wheels. Their heritage is unmatched; their product is the choice of champions in most forms of motorsports. Founded in 1968 by Greg Weld out of the pure love of racing, the company has undergone many changes over the last forty years, but one thing that hasn't changed is that the product is still designed and manufactured in Kansas City, USA. In November 2008, the heritage and future became one, as Weld Racing, LLC was formed by current Weld management and Granite Creek Partners, LLC, to place ownership and leadership of the company back in the hands of racers. Visit them at www.WeldRacing.com!
Associate Marketing Partner of the Week – XYZ Machining
Brian says – "Tim Norman and his wife do a great job there. We use their mounts and posts. They make a great product."
XYZ manufactures aluminum and titanium racing components as well as custom products for other industries. Their company pays close attention to the three things important to customers: on-time delivery, quality work, and excellent customer service. Visit them on the web at www.XYZMachining.com!
Brian Brown Racing would like to thank Casey's General Stores, FVP, Wormall Civil, Searsboro Telephone Company, MC Power, Impact Signs Awnings Wraps / impact4800.com, Champion Brands, Ditzfeld Transfer, Maxim Racing, Smiley's Racing Products, Weld Wheels, Housby Trucks, Next LED Sports, Schure Built Suspension, Arctic Cat, Lincoln Electric, K&N, www.hostiowa.net, FSR Race Products, TI64, Fuel-Safe Tanks, Wolfe Eye Clinic, Bell Helmets, Hinchman Uniforms, CP Pistons, Carrillo Rods, Vortex Wings, Penray, All Pro Cylinder Heads, Butler Built Seats, AkzoNobel, Kenny's Components, Tru Square, Snap-On Tools, Rod End Supply, KSE Racing Products, Winters Performance, Cometic Gaskets, Shell Shock, Donovan, ISC Racers Tape, Kinsler Fuel Injection, Racing Optics, Hoosier Tires, Klein RV, Duke's Meats, BIGS Sunflower Seeds, NGK Spark Plugs, XYZ Machining, Brown and Miller Racing Solutions, Red Devil Brakes, Schoenfeld Headers, 6B Apparel, Garrett Racing Engines, MSD and Fortress Wealth Management for all their support!