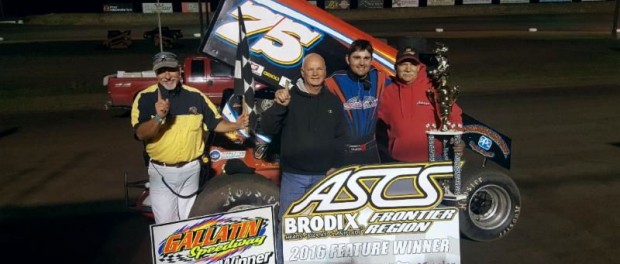 From Bryan Hulbert
BELGRADE, Mont. (September 9, 2016) — The season's final appearance at the Gallatin Speedway for the Brodix ASCS Frontier Region kicked off the Big Sky Super Nationals, and it was South Dakota's D.J. Brink who parked the SMAC Racing No. 75 in Victory Lane for the first time in 2016.
With the evening's racing action also dedicated to Harvey Ostermiller, who passed away over the Labor Day Weekend, Brink now has a pair of ASCS triumphs to his credit. Victory atop the clay of the Gallatin Speedway is his first in ASCS competition at the Montana oval.
Scattering soil from the fourth starting spot, Brink's march to the front was followed by Phil Dietz in the Peterson Racing No. 23n from seventh with series point's leader, Skylar Gee, bringing his No. 99 across the strip third. Joe Perry from ninth crossed forth with Jeremy McCune charging from 13th to complete the top-five.
Shad Peterson advanced six spots to sixth with Bryan Brown seventh. Cody Masse was eighth with Shane Moore from 18th to ninth. Ben Holmberg rounded out the top-ten.
The Brodix ASCS Frontier Region returns to action for the final two nights of the 2016 season on September 23 and 24 at the Atomic Motor Raceway in Blackfoot, Idaho. For continued update son the Brodix ASCS Frontier Region, log onto http://www.ascsracing.com.
Race Results:
ASCS Frontier Region
Gallatin Speedway – Belgrade, Mont.
Big Sky Super Nationals
Friday, September 9, 2016
Car Count: 21
Heat 1 (8 Laps): 1. 75-D.J. Brink; 2. 00-Roger Cummings; 3. 7-Mike Sires; 4. 4P-Cliff Nelson Jr.; 5. (DNF) 4N-John Nelson; 6. (DNF) 1X-Shane Moore; (DNS) 7R-Brian Robinson
Heat 2 (8 Laps): 1. 77-Damon McCune; 2. 99-Skylar Gee; 3. 23N-Phil Dietz; 4. 2-Shad Petersen; 5. 0J-Jeremy McCune; 6. 14-Ben Holmberg; 7. 8X-Kory Wermling
Heat 3 (8 Laps): 1. 37-Trever Kirkland; 2. 35M-Cody Masse; 3. 38B-Bryan Brown; 4. 28-Joe Perry; 5. 33-Robert DeHaan; 6. 24-Leroy Brush; 7. 24R-Lany Reber
A Feature (25 Laps): 1. 75-D.J. Brink[4]; 2. 23N-Phil Dietz[7]; 3. 99-Skylar Gee[2]; 4. 28-Joe Perry[9]; 5. 0J-Jeremy McCune[13]; 6. 2-Shad Petersen[12]; 7. 38B-Bryan Brown[5]; 8. 35M-Cody Masse[10]; 9. 1X-Shane Moore[18]; 10. 14-Ben Holmberg[16]; 11. 00-Roger Cummings[6]; 12. 33-Robert DeHaan[15]; 13. 8X-Kory Wermling[19]; 14. 24R-Lany Reber[20]; 15. 24-Leroy Brush[17]; 16. (DNF) 4N-John Nelson[14]; 17. (DNF) 7-Mike Sires[1]; 18. (DNF) 37-Trever Kirkland[3]; (DNS) 4P-Cliff Nelson Jr.; (DNS) 77-Damon McCune; (DNS) 7R-Brian Robinson