Inside Line Promotions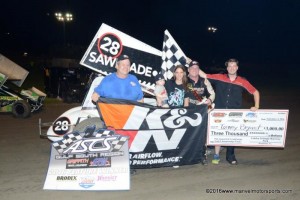 BEAUMONT, Texas (Sept. 13, 2016) – Tommy Bryant got to celebrate his first ASCS Gulf South Region win of 2016 in a very special way – with family, including his 10-month-old son.
The SawBlade.com team driver was dominant at Golden Triangle Raceway Park on Saturday as he led from the green to checkered flag during the region's final race of the season.
"We finally were able to kick that monkey off our backs," he said. "That feature only took like six or seven minutes, but it seemed like hours to me. It seemed like the longest race I've been involved with in a long time.
"It was really cool to have my son in Victory Lane. I'll cherish that forever."
Bryant and Cooper Motorsports took advantage of a little luck as well.
"We had luck on our side all night," Bryant said. "We drew the No. 1 pill, which put us on the pole of our heat. We won that and started on the pole of the feature.
"I ran really hard the first half of the race and when I couldn't hear anyone around me I started pacing myself and focused on turning smooth, consistent laps and maintaining my breathing. I got through traffic very well. They all went to the bottom and I was able to drive around. I think we lapped up to sixth place."
Bryant's dominating performance sealed his first triumph of the season.
"When I got out of the car my adrenaline was kicking in big time," he said. "I wish we could have celebrated a little more, but rain was moving into the area. But we finally parked it for BC."
Bryant finished second in the ASCS Gulf South Region championship standings.
"I have to say a huge thank you to everyone that has taken part in making my dreams a reality," he said. "First, my beautiful, loving and supportive wife, Tracy, for putting up with all of the countless late nights at the shop and all the weekends away. She makes it possible for me to do what I love to do no matter how hard it makes her life at home caring for our three kids.
"Thanks to James and Richard Cooper who have stuck behind me even though there were times I probably couldn't even drive a peddle car. They never lost faith in me and have always provided me with the best equipment you can buy.
"My crew chief Brad Benic at Momentum Racing Suspensions has had our shock and setup package on point all year. But the most valuable asset has to be Brad's positive coaching. Thanks to the best crewman in all of ASCS, Austin Zimmerman. We couldn't have done it without all his hard work throughout the season and to Douglas Roberts who has kept these engines running flawlessly all season. Also thanks to Bubba Andrew for always keeping everyone entertained and being a huge help at the track. And my dad, Leo Bryant, for all of his help and talking me up even when I suck. And of course for cooking some great food at the track. Frank Coleman, thank you for being our truck driver and crew man during Speedweek."
Bryant also sends his condolences to the family of Lanny Edwards.
"Our prayers are with Lanny's family," he said. "I always enjoyed being around him and he always treated us right."
QUICK RESULTS –
Sept. 10 – Golden Triangle Raceway Park in Beaumont, Texas – Heat race: 1 (1); Feature: 1 (1).
SEASON STATS –
23 races, 1 win, 11 top fives, 14 top 10s, 18 top 15s, 19 top 20s
UP NEXT –
TBD
MEDIA LINKS –
Website: http://www.SawBlade.com
Twitter: https://twitter.com/SawBladecom
Facebook: https://www.facebook.com/SawBladecom
SPONSOR SPOTLIGHT – SawBlade.com
SawBlade.com, which is located in Houston, Texas, is redefining the way industrial, hardware and home use band saw blades are made and distributed. For more information, visit http://www.SawBlade.com.
"SawBlade's support has been so critical to our success," Bryant said. "These are great people and a company that we all need to stand behind and support. They gave away an Evolution saw this past Saturday and the guy who won it just happened to be a fan of ours and travels all over Texas to watch us race to that was really cool."
Bryant would also like to thank Cooper Motorsports, Central Tube and Bar, Dissolvalloy, Momentum Racing Suspensions, Westside Truck and Trailer, Leo's Automotive and DRII Racing Engines for their continued support.
INSIDE LINE PROMOTIONS –
Inside Line Promotions specializes in affordable public relations and media management for motor sports drivers, teams, sponsors, tracks, series, events, organizations and manufacturers. ILP Founder Shawn Miller leverages professional journalism with new media technologies and social networking to improve your exposure and the return on investment for your sponsors.
To meet the media relations needs of your program by joining Team ILP, contact Shawn at 541-510-3663 or Shawn@InsideLinePromotions.com. For more information on Inside Line Promotions, visit http://www.InsideLinePromotions.com.
*PHOTO BY RON SKINNER PHOTOS*