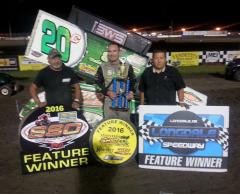 From URSS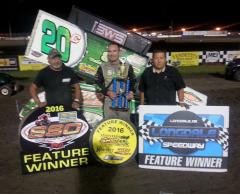 Longdale, Oklahoma – September 17, 2016 – Current Myers Racing Engines United Rebel Sprint Series point leader Luke Cranston worked lapped traffic to his advantage, taking the lead with two laps to go to win an exciting Sprint Series of Oklahoma IMCA Racesaver Sprint Car/URSS co-sanctioned event at Longdale Speedway in Longdale, Oklahoma on Saturday night.
SSO regulars Chris Kelly and Cody Whitworth started on the front row for the twenty-five lap feature with Kelly getting the jump and taking the lead as the green flag fell on the twenty-six car field. Whitworth, Brandon Long and Cranston were the top four running order after the first lap with Kelly holding on to a two car length lead.
Whitworth wasted no time making his move, driving underneath Kelly coming out of turn two to take the lead down the backstretch on lap three. He would open a half stretch lead before reaching the slower cars on lap seven while, behind him, Long would pass Kelly for the runner up position.
Lap ten saw fifth starting Cranston get around Kelly for third as he set his sights on Long and the runner-up position.
At the races midway point it was Whitworth, followed by Long, Cranston, sixth starting Andy Shouse and Kelly as Whitworth's lead dwindled to six car lengths as the leaders continued to enter slower traffic.
Lap sixteen saw Cranston make his move, passing Long for the runner-up position and looking to cut into the leaders ten car length lead. Meanwhile Shouse, who came into the night current SSO and IMCA Racesaver Sprint national point leader, passed long for the third position with five laps to go.
Heavy traffic slowed Whitworth's pace up front allowing Cranston to move to within striking distance with three laps to go. Lap twenty-four saw Cranston drive down low coming out of turn two and would take the lead heading down the backstretch.
That would be all the Ness City, Kansas driver would need as he went on to claim the ten car length victory, his third on the Myers Racing Engines URSS national tour and first with SSO.
Whitworth settled for a series best second while Shouse came home third. Long crossed the finish line fourth while
Ty Williams rounded out the top five. The Keizer Aluminum wheels Hard charger of the feature was veteran Mike Peters. "MP" started seventeenth and came home with a ninth place finish.
The full twenty-five laps went caution free with a time of six minutes and forty-seven seconds.
The three, eight lap heat races for the twenty-six car field were won by Cranston, Jeb Werner and Chad Koch.
Longdale Speedway/Longdale, Oklahoma
09/17/16
26 Cars
Martens Machine Shop 1st Heat: 1) Luke Cranston, 2) Brandon Long, 3) Steven Richardson, 4) Ty Williams, 5) Taylor Velasquez, 6) Joe Wood, Jr., 7) Keefe Hemel, 8) Blake Dacus, 9) Justin Fisk
Messmer Racing 2nd Heat: 1) Jeb Werner, 2) Chris Kelly, 3) Kip Hughes, 4) Tanner Conn, 5) Brian Herbert, 6) Jake Martens, 7) Alison Slaton, 8) Mike Scott, 9) Blake Scott
Randy Pierce 3rd Heat: 1) Chad Koch, 2) Cody Whitworth, 3) Andy Shouse, 4) Shayla Waddell, 5) Tracey Hill, 6) Mike Peters, 7) Loyd Clevenger, 8) Jerry Jumper
A Feature: 1) (5) Luke Cranston, 2) (2) Cody Whitworth, 3) (6) Andy Shouse, 4) (3) Brandon Long, 5) (4) Ty Williams, 6) (8) Chad Koch, 7) (1) Chris Kelly, 8) (15) Jake Martens, 9) (17) Mike Peters, 10) (11) Taylor Velasquez, 11) (7) Jeb Werner, 12) (9) Steven Richardson, 13) (19) Joe Wood, Jr., 14) (14) Brian Herbert, 15) (13) Shayla Waddell, 16) (16) Tracy Hill, 17) (21) Blake Dacus, 18) (10) Kip Hughes, 19) (23) Loyd Clevenger, 20) (18) Keefe Hemel, 21) (20) Alison Slaton, 22) (26) Blake Scott, 23) (25) Justin Fisk, 24) (22) Mike Scott, 25) (12) Tanner Conn, 26) (24) Jerry Jumper
Lap Leaders: Kelly 1-2; Whitworth 3-23; Cranston 24-25
0 Cautions