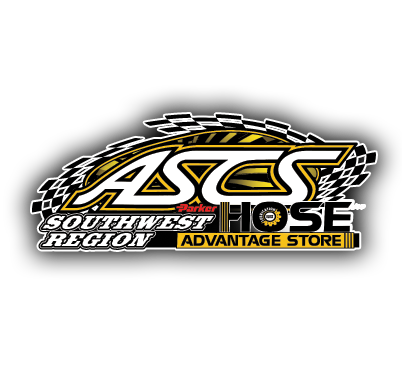 By Bryan Hulbert
TULSA, Okla. (September 20, 2016) Just off the Lealand McSpadden Classic, the Carlyle Tools ASCS Southwest Region will return to the Arizona Speedway in Queen Creek, Ariz. for the series sixth visit of the 2016 season on Saturday, September 24, 2016.
Into the final few dates on the 2016 lineup, six nights remain as the points battle has tightened to a 25 point margin between undefeated ASCS Southwest Regional Champion, Rick Ziehl, and Non-Wing ace turned winged warrior, Bob Ream, Jr. Moving up from the Micro ranks, and not to be counted out, ASCS Southwest Rookie of the Year contender, Colton Hardy, sits only 41 points removed from the top-spot.
Lance Norick holds fourth with Casey Buckman making up the top-five. Jesse Baker, Cody Sickles, Kaylene Verville, Darrell Sickles, and James Aragon make up the top-ten in tour standings.
Four winners in the series last five runs at the Arizona Speedway, Ziehl is the only repeat on the season at the three-eighths mile oval for his third and fourth career wins at the Queen Creek oval.
Billy Chester became the most recent winner on the season with his victory in the McSpadden Classic, making nine winners in 14 A-Features. In all, 19 nights have been contested at the Arizona Speedway under the ASCS Southwest banner since 2013 with 18 A-Features finding 11 different winners.
Paired with the NAPA Non-Wing Series, the Carlyle Tools ASCS Southwest Region will also be joined by IMCA Sport Modifieds and Pure Stocks. Saturday, September 24 will open at 5:00 P.M. with racing at 7:00 P.M. (MST) Admission is $15 for adults, $12 for seniors, and free for children 11 years and younger. Arizona Speedway is located at four miles south of U.S. 60 on Ironwood Dr. just five minutes from Mesa, Ariz. For more information, log onto
http://www.arizonaspeedway.net
or call (480) 926-6688.

Quick Stats:
ASCS Southwest Winners – Arizona Speedway (Queen Creek, Ariz.) – 3/30/2013 – Logan Forler; 7/6/2013 – Rick Ziehl; 10/5/2013 – Logan Forler; 3/15/2014 – Bob Ream, Jr.; 5/17/2014 – Lance Norick; 7/5/2014 – Bob Ream, Jr.; 10/4/2014 – Casey Buckman; 10/25/2014 – Mike Rux, Jr.; 4/25/2015 – A-Feature Rained Out; 5/9/2015 – Bob Ream, Jr.; 6/6/2015 – Casey Buckman; 8/29/2015 – Rich Ziehl; 10/10/2015 – Dusty Zomer; 11/7/2015 -Lorne Wofford; 3/19/2016 – Colton Hardy; 5/14/2016 – Stevie Sussex; 6/4/2016 – Rick Ziehl; 7/9/2016 – Rick Ziehl; 9/10/2016 – Billy Chester III;
2016 Winners: John Carney II 3; Rick Ziehl 2; Logan Forler 2; Lance Norick 2; Colton Hardy 1; Bob Ream, Jr. 1; Stevie Sussex 1; Lorne Wofford 1; Billy Chester III 1;
Driver Standings (Top 10) 1. Rick Ziehl 1,780; 2. Bob Ream, Jr. 1,755; 3. Colton Hardy 1,739; 4. Lance Norick 1,599; 5. Casey Buckman 1,538; 6. Jesse Baker 1,456; 7. Cody Sickles 1,273; 8. Kaylene Verville 1,249; 9. Darrell Sickles 1,148; 10. James Aragon 1,039;