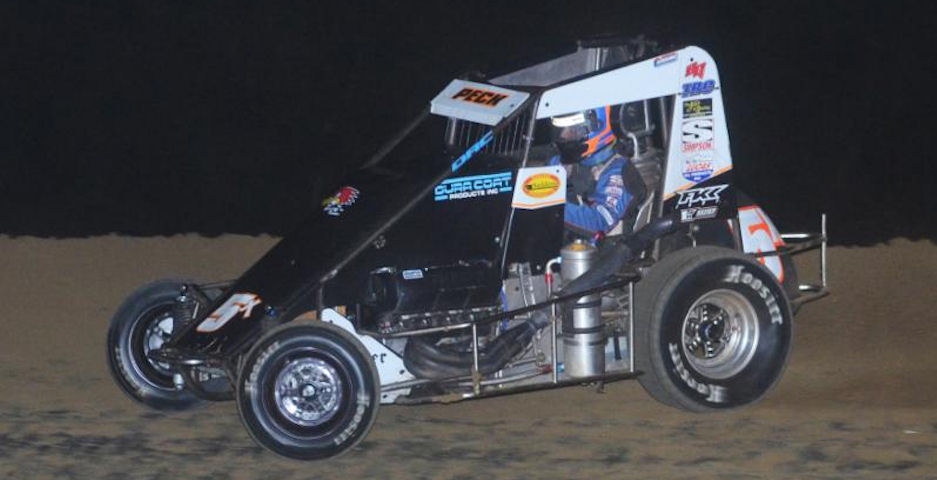 From POWRi
JACKSONVILLE, Ill. (October 15, 2016) — Justin Peck of Monrovia, Indiana impressed a full house at Jacksonville Speedway, taking his second-career POWRi Luca Oil National Midget Series victory. Pacing the field to start the 30 lap main event, Andrew Felker and Colten Cottle shared the front row. When engines roared to life, it would be Kansas, Illinois' own Colten Cottle jumping to the early lead as freshly crowned 2016 POWRi Lucas Oil National Midget Series champion Zach Daum quickly worked his way to the front. However, the action would slow on lap 10 as AJ Burns slowed on the front stretch.
Returning to racing Cottle struggled to deflect Daum's challenges and on lap 14 Daum worked past for the lead exiting turn two. One lap later, the yellow was displayed as Andy Malpocker sat spun in turns one and two. On the restart, misfortune would strike as fifth and six place runners, Brayton Lynch and Jake Neuman would get together in the middle of turns three and four, causing "the big one," collecting Austin Brown, Zane Hendricks, Ariel Biggs, Terry Babb, Andy Malpocker, Dalton Camfield, and Kyle Schuett. With the track blocked, the red flag was displayed.
Under the red, leader Daum's left rear tire went flat and his machine wouldn't re-fire. Entering the work area and eventually getting the issues fixed, Daum re-fired and tagged the back of the field. Inheriting the lead with 15 to go, Cottle took off with Peck in close proximity. On lap 20, Peck capitalized and stole the top position from Cottle, only to have his momentum slowed on lap 20 for Daum's machine in turn two.
Restarting with seven to go, Peck powered back to the top side of the high-banked quarter mile and put distance between himself and Cottle, as Tucker Klaasmeyer moved into the third position. With two laps to go the action slowed again as Dalton Camfield sat spun off turn four. Returning to green flag racing with a two lap shootout to the finish, Justin Peck rode on to collect career victory number two, followed by Colten Cottle and Tucker Klaasmeyer. Brayton Lynch took the fourth position, while Andrew Felker rounded out the top five.
"After the way the season has been going and the way this weekend was going, starting last night and going into tonight blowing the other car up, it's been a long time coming," commented Justin Peck. "We felt like we've been so close so many times and just wasn't able to get the job done. I've got to give thanks to my crew, they gave me an awesome car tonight. Toyota came on board this year and really stepped it up for us."
"I really wanted to win that one bad," said Colten Cottle. "I thought after Zach dropped out, we had a pretty good shot at winning, but Justin was a lot better than me in three and four. I felt like I was a little bit better in one and two, but I just couldn't get a run on him to throw a slider. This is a heck of a lot better than last night."
"Now it's just perfect to finish a race, no matter where it might be," stated Tucker Klaasmeyer. "Hat's off to Justin, he did a heck of a job. I hated to see Zach go out like that again. I kind of got into him last night and ruined his night last night and I hate to see that happen."
POWRi National Midget Car Series
Jacksonville Speedway
Jacksonville, IL
Saturday October 15, 2016
Feature:
1. 5x – Justin Peck
2. 5c – Colten Cottle
3. 27 – Tucker Klaasmeyer
4. 1k – Brayton Lynch
5. 11a – Andrew Felker
6. 88 – Terry Babb
7. 22 – Andy Malpocker
8. 1- Zane Hendricks
9. 9k – Kyle Schuetf
10. 50 – Zach Daum
11. 58 – Ariel Biggs
12. 87 – Dave Camfield
13. Ioc – Dalton Camfield
14. 023 – A.J. Hill
15. 513 – Ryan Jamison
16. 3n – Jake Neuman
17. 7 – Austin Brown
18. 15m – Shane Morgan
19. 27b – A.J. Burns
20. 73 – Broc Hunnell
21. 7t – Adam Taylor
POWRi / Illini Racing Series D2 Midget Car Feature:
1. 22 – Andy Malpocker
2. 108 – Patrick Bruns
3. 30t – Tyler Vantoll
4. 73 – Broc Hunnel
5. 56 – Mitchell Davis
6. 22b – Johnny Heydenreich
7. 103 – Robby Mcquinn
8. 15m – Shane Morgan
9. 40 – Chase Mcdermand
10. 11- Brandon Smith
11. 17 – Aidan Roosevans
12. 5 – Jacob Sollenberger
13. Ior – Jack Routson
14. 21x – Andy Baugh
15. 43t- Josh Thomas
16. 99 – Ryan Probst
17. – Adam Taylor
18. 47 – Ryan Mangold